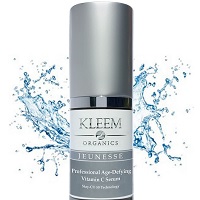 Product Name:  Kleem Organics Vitamin C Serum
Overall Rating: 

Serum Type:  Anti-aging
Size:  1 fl oz
Price:  $69.99
Cost Per Ounce:  $69.99
Where to Buy:  Click Here
# of Ingredients:  17
Notable Ingredients:  Vitamin C, Hyaluronic Acid, Witch Hazel, Organic Jojoba Oil, Rose Ether, Organic Aloe Vera, Horsetail, Dandelion, and Geranium Plant Extract
Overall Opinion:
I honestly can't get over how much I like Kleem Organics Vitamin C Serum.  From the first time I used it, I could tell that I was going to enjoy using this face serum.  It is easy to apply, feels extremely comfortable on your skin, and smells absolutely delicious.
Other than the ease and enjoyment of using the actual face serum, it completely delivers on the anti-aging claims it makes on the packaging. From decreasing fine lines and wrinkles and minimizing the appearance of dark sun spots, to increasing hydration and leaving my skin with a vibrant glow, there is a lot to love about this serum.
Unfortunately, if you're looking for a face serum to decrease your pores, Kleem Organics Vitamin C Serum fails to deliver those results, but if you're in the market for almost any other anti-aging benefits, this serum is one to consider (even if it has a higher price tag)!
Detailed Opinion:
Texture/Feel
Kleem Organics Vitamin C Serum has a texture very similar to your average face serum.  It has more of a gel-like consistency, and left a very moisturizing, and soft, feeling behind on my face and neck after I applied it.
The feel of this face serum is genuinely one of the most comfortable face serums I've ever applied and worn, and didn't feel like I had anything on my skin once it had absorbed.
Application
The application of Kleem Organics Vitamin C Serum is extremely easy. I love that it has the pump packaging, and you only need about half a pump worth to cover your face and neck.  A little goes a long way so definitely push the pump slowly so you don't get too much product out.
To use this serum, simply cleanse your face, and if you use a toner like me, apply that beforehand, as well.  Once the toner has dried, apply the serum to both your face and neck.  Once that's absorbed, follow with your moisturizer and any other face products you use.
Use this serum both morning and night! Bonus—you can easily wear this under your makeup without getting oily, which is great for anyone with oily or combination skin!
Drying Time
Kleem Organics Vitamin C Serum absorbs super quickly, which I love!  After applying the serum to my face and neck, it took about 20 seconds for it to be fully absorbed.
Smell
I absolutely LOVE the smell of Kleem Organics Vitamin C Serum.  This is exactly the type of smell I expect from a Vitamin C serum.  It has a sweet, citrus smell, and made me feel like I was in a high-end spa.
The smell isn't overpowering, but it doesn't dissipate once it absorbs into your skin.  I personally loved that aspect about it, but someone who is sensitive to smells may not like that about this serum.
Immediate Results
As I do with every new face serum I try, I used Kleem Organics Vitamin C Serum at night first.  My first thought was how much I loved the experience of actually using the serum.
When I woke up the next morning, I could tell I was going to like this serum. I had such a refreshed, vibrant appearance to my skin when I woke up.  The glow was no joke, and my skin felt so supple!  I was honestly amazed at how quickly I saw these results and how beautiful my skin looked after sleeping all night.
Long Term Results
I can't get over how amazing the results I achieved with Kleem Organics Vitamin C Serum are.  This is truly an anti-aging serum that delivers on its claims.
I saw a major difference in my sun and age spots, and in my fine lines and wrinkles, too! I also experienced insane hydration and plumpness to my skin, as well as the most vibrant glow.  I may not be that old, but this serum gave me more of a youthful look than most other serum I have ever tried, specifically when it came to the overall firmness of my skin.
This serum really does rewind the clock on your face, in many different aspects.  The only claim it made that I don't think it delivered on was minimizing my pores.  I personally struggle with large pores in my T-zone, and I just didn't see any change there.
Price/Value
This product is SO worth the money!  And when I was gathering the facts for this review, they had Kleem Organics Vitamin C Serum on sale, too, so it was less than $35.
While this may be on the higher end of the price scale for face serums, the results this serum delivers, and how incredible the actual act of using it is, made it so easy and enjoyable to incorporate into my skincare routine.  And it actually delivers on its anti-aging claims, which is the most important part.
I'd be willing to spend even more than $70 on this serum, so I can say without a doubt that it's absolutely worth the money you pay for it.
Guarantee
Kleem Organics offers a 100% money-back guarantee on all of their products.
Where To Buy
To purchase Kleem Organics Vitamin C Serum, click here.
Kleem Organics Vitamin C Serum: Summary
| | |
| --- | --- |
| Factor | Kleem Organics Vitamin C Serum |
| Overall Rating | |
| Texture/Feel | Average face serum consistency; doesn't leave behind any residue—extremely moisturizing and soft feeling on skin once absorbed |
| Application | Apply half a pump worth of product to clean, dry skin. Once the product has absorbed, apply moisturizer and other products on top. Use twice daily. |
| Drying Time | 20 seconds |
| Smell | Sweet, citrus smell; not overpowering but does not go away once absorbed |
| Immediate Results | Brighter complexion; vibrant, refreshed look on my face |
| Long Term Results | Decrease in wrinkles and age spots, increase in glow, hydration, and overall skin firmness.  Doesn't decrease size of pores as advertised |
| Ingredients | Vitamin C, Hyaluronic Acid, Witch Hazel, Organic Jojoba Oil, Rose Ether, Horsetail, Dandelion, and Geranium Plant Extract, Organic Aloe Vera |
| Price | $69.99 |
| Guarantee | 100% money-back guarantee |
| Where To Buy | Click Here |