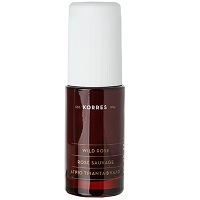 Product Name:  Korres Wild Rose Brightening & Line Smoothing Serum
Overall Rating: 

Serum Type:  Skin brightening, anti-aging
Size:  1.01 fl oz
Price:  $48.00
Cost Per Ounce:  $47.52
Where to Buy:  Click Here
# of Ingredients:  55
Notable Ingredients:  Baobab tree polysaccharides, wild rose oil, vitamin C, ginseng extract, provitamin B5
Overall Opinion:
The results you achieve from Korres Wild Rose Brightening serum are impressive, but add that to the incredible price point, and this face serum is a complete winner.
While patience is required to begin to see these results, they are well worth the wait.  The decrease in skin discoloration and redness, and the overall luminosity and dewiness your skin achieves is something worth waiting for.
Korres Wild Rose serum fails to deliver on its claim to smooth out lines, so I definitely wouldn't consider it an anti-aging serum.  However, it stands firm on its own two feet in the skin brightening serum category.
The undeniably noticeable results, partnered with how easy it is to incorporate this serum into your daily routine, makes this a great option to change up your complexion.
Detailed Opinion:
Texture/Feel
Korres Wild Rose Brightening serum has a very traditional serum feel to it, both in the consistency of the product and how it feels on your face.
For a face serum that has so many different plant-based oils in it, I was surprised at how well the product dried down on my face.
I expected a very oily residue to be left behind, but instead, I found that once the serum absorbed into my face, it was extremely comfortable to wear.
You can definitely sense that you have a serum on your face, but it just feels slightly sticky, as you would expect when applying a face serum.
In fact, I was able to wear this serum both day and night as it didn't impact my makeup application at all.
Application
Application of Korres Wild Rose Brightening serum is super simple.  Like most face serums, I applied this on clean, dry skin both morning and night.
The directions did say to avoid using it on your under eye area, but I actually didn't read that until I had applied it there for multiple days, and I didn't have any reaction whatsoever.
With Korres Wild Rose serum, a little goes a long way.  I made the mistake of using two pumps the first night, and I had to wash extra product off of my hands.
The next morning, I used one pump and even that felt like a little too much, so I would make sure you push down slowly when pumping the face serum out.
Once the serum had absorbed, I applied my other face products on top, and found that they applied virtually the same as they do with any other serum, so nothing major to note there.
Drying Time
For a face serum with as many oils as Korres Wild Rose Brightening serum has, I'm pretty surprised at how quickly this serum dries.
Within 15 seconds, the product was noticeably less wet on my face.  I opted to wait another 15 seconds before applying my moisturizer and retinoid on top.
So I would say that Korres serum feels truly absorbed within 30 seconds of applying it to your face and neck.
Smell
No surprise here—Korres Wild Rose Brightening serum smells like a bouquet of roses.
I personally liked the smell and found it to be very perfume-like, but it is definitely a very strong odor, and the smell isn't super "high end".
While smells in other face serums tend to go away once it's been applied to the skin or other products have been applied on top, the fragrance of Korres Wild Rose serum definitely lingers around.
Immediate Results
As I do with every new face serum I try, I applied Korres Wild Rose Brightening face serum at night first.  My first thought when applying this face serum was how gentle it felt.
While I can't speak for every skin type, I definitely feel like this is a serum that would do well with sensitive skin, since it just brings an immediate calmness to your skin.
However, it may be trickier for anyone with oily skin because of how many additional oils it has in it.
I tend to avoid any face products that have oils in them since I have combination skin and have found water-based products to work better for me.
So the next morning, I did notice a few bumps on my face in more sensitive areas, such as around my mouth.  They never turned into true blemishes, but my skin definitely had a slight reaction to the oils in the product.
I also noticed how comfortable it was to wear, and was pleasantly surprised when I applied it in the morning and it didn't impact my makeup application at all.
Long Term Results
When it comes to the skin brightening aspects of Korres Wild Rose Brightening face serum, this product is a total slam-dunk.
While other face serums I've tried being to show results at a much earlier point, by continuing to use Korres Wild Rose serum, you'll absolutely achieve beautiful results.
I saw a major difference in my complexion.  Sun damage was noticeably gone, discoloration had decreased, and my skin overall just looked very even and smooth.
All of that led to a very dewey, healthy-looking complexion.  I think the dewiness had to do with the hydrating aspect of Korres Wild Rose serum, which was something I experienced the entire time using this serum.
Unfortunately, I don't think Korres Wild Rose serum does much in the way of anti-aging.  So while part of the name is "line smoothing serum," I don't think it really delivers on that promise.
I personally didn't experience any anti-aging benefits in that department, so I found that to be disappointing, especially since they included that anticipated result in the name of the product.
Price/Value
At $48.00 for a little over an ounce, Korres Wild Rose Brightening serum is definitely on the more affordable end of the spectrum for face serum.
Given the results, and how a little product goes such a long way, I'm really surprised at home cheap this face serum is!
The results themselves make Korres Wild Rose Brightening serum well worth the money, and the product will last you a very long time, in my opinion.
Guarantee
Korres has a 30-day return policy on unused products.
Where To Buy
To purchase Korres Wild Rose Brightening & Line Smoothing Serum, click here.
Korres Wild Rose Brightening & Line Smoothing Serum: Summary
| | |
| --- | --- |
| Factor | Korres Wild Rose Brightening & Line Smoothing Serum |
| Overall Rating | |
| Texture/Feel | Typical serum consistency and texture. Very comfortable to wear. Slight sticky residue left behind once dried. |
| Application | Apply both morning and night on clean, dry skin. Avoid the under eye area. |
| Drying Time | 15-30 seconds |
| Smell | Strong floral scent, like a bouquet of roses. Smell lingers after absorbed and other products have been applied. |
| Immediate Results | Gentle feel to the skin, slight skin irritation from oils in face serum |
| Long Term Results | Decrease in skin discoloration and sun damage; healthy, dewey skin; no change in fine lines or wrinkles |
| Ingredients | Baobab tree polysaccharides, wild rose oil, vitamin c, ginseng extract, provitamin B5 |
| Price | $48.00 |
| Guarantee | 30-day return policy on unused products |
| Where To Buy | Click Here |