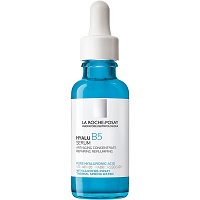 Product Name:  La Roche-Posay Hyalu B5 Serum
Overall Rating: 

Serum Type:  Anti-aging
Size:  1 fl oz
Price:  $29.99
Cost Per Ounce:  $29.99
Where to Buy:  Click Here
# of Ingredients:  22
Notable Ingredients:  Glycerin, Panthenol, Dimethicone, Sodium Hyaluronate, Hydrolyzed Hyaluronic Acid
Overall Opinion:
La Roche-Posay Hyalu B5 Serum completely earns a nearly perfect star rating for a plethora of reasons!  The most obvious reason being that it actually delivers on anti-aging results.
After just a couple of days of use, my skin was more hydrated, and after a couple weeks of using the product both morning and night, my skin looked amazing.  I had fewer fine lines and acne spots and saw an increase in skin elasticity and plumpness.  Overall, my skin looked glowing and even, which is always the goal.
The fact that this serum is easy to use on a daily basis and has an affordable price tag is just the cherry on top! If you're looking to improve your skin tone in any way, anti-aging or otherwise, this product is definitely a serum to consider.
Detailed Opinion:
Texture/Feel
La Roche-Posay Hyalu B5 Serum has an average consistency, which makes it really easy to apply.  However, with this face product, it actually applies more like a moisturizer than a serum, which was a nice surprise!
Once the serum absorbed into my skin, it left behind almost no residue at all, which I loved.  Overall, this was probably one of the most comfortable face serums I've ever worn.
Application
The application is really easy.  While I normally complain about dropper applicators, this actually worked out really well for this serum.  They instruct to apply 3-4 drops on clean, dry skin, which was both the perfect amount, and really easy to get out with this dropper.
The instructions do say you can use this serum alone or underneath a moisturizer.  I can actually see with this face serum why they say that.  This serum is super moisturizing, so you could probably get away with applying this solely.  However, I personally chose to layer my moisturizer and other face products on top.
The layering was simple because of the lack of residue left behind, and it was seamless to incorporate into my daytime and nighttime skincare routines for the same reason.
Drying Time
The dry time is about 30 seconds, so pretty average.
And, like I stated before, once it dries down, it leaves behind virtually no residue, so it's pretty obvious once the serum has absorbed completely.
Smell
La Roche-Posay Hyalu B5 Serum has a strong odor, but I can't totally tell what it smells like.
Sometimes it has a very clean scent to me, and other times it smells floral.  That might sound crazy, but I just can't quite figure it out! Either way, it's a pretty strong scent, so if you're sensitive to that, you'll want to be cautious.
I personally didn't mind the scent, but it does linger even after applying your other face products.
Immediate Results
One of the concerns La Roche-Posay Hyalu B5 Serum specifically says it's going to address is dehydrated skin, and this was one of the first results I experienced with this serum.
After just a couple days, my skin looked and felt super hydrated, and I began to see small changes in the fine lines on my face.
Long Term Results
La Roche-Posay Hyalu B5 Serum delivered undeniable anti-aging results, which is super exciting!  I saw a decrease in the fine lines on my face, and an increase in skin plumpness and elasticity.
More so than just the anti-aging results, however, my entire complexion simply looked better.  I had a natural glow to my skin, zero acne spots pop up, and my skin tone looked more even overall.
I'm very happy with the results I achieved while using this serum!
Price/Value
I absolutely think that La Roche-Posay Hyalu B5 Serum is worth the money!  The serum is enjoyable to wear, and genuinely delivers anti-aging results.
The price tag is competitive with other face serums on the market, too, so this is a great option for anyone looking to improve their complexion.
Guarantee
La Roche-Posay has a 30-day money-back guarantee.  This is a pretty average return policy, and I think it's really fair.
They do want you to return items in their original packaging, so make sure you don't throw the box away until you know that you love the serum like I did!
Where To Buy
To purchase La Roche-Posay Hyalu B5 Serum, click here.
La Roche-Posay Hyalu B5 Serum: Summary
| | |
| --- | --- |
| Factor | La Roche-Posay Hyalu B5 Serum |
| Overall Rating | |
| Texture/Feel | Average face serum consistency. Feels more like a moisturizer when applied and leaves behind no residue once absorbed |
| Application | Apply 3-4 drops of serum on clean, dry skin both morning and night. Can be used alone or with a moisturizer, but layer products on top once absorbed |
| Drying Time | 30 seconds |
| Smell | Strong odor; sometime smells clean and other times floral. Scent hangs around even after applying other products |
| Immediate Results | Immediate hydrated-looking complexion |
| Long Term Results | Great anti-aging results—fewer fine lines and increase in skin elasticity and plumpness. Overall, beautiful complexion with natural glow and more even skin tone |
| Ingredients | Glycerin, Panthenol, Dimethicone, Sodium Hyaluronate, Hydrolyzed Hyaluronic Acid |
| Price | $29.99 |
| Guarantee | 30-day money-back guarantee |
| Where To Buy | Click Here |