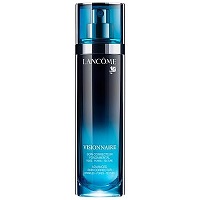 Product Name:  Lancôme Paris Visionnaire Advanced Skin Corrector
Overall Rating: 

Serum Type:  Anti-aging
Size:  1 fl oz
Price:  $79.00
Cost Per Ounce:  $79.00
Where to Buy:  Click Here
# of Ingredients:  28
Notable Ingredients:  Glycerin, Rye Seed Extract, Dimethicone, Sodium Hyaluronate
Overall Opinion:
The results I achieved from using Lancôme Visionnaire face serum are worth the wait—but you do have to be patient in order to actually see the anti-aging benefits it promises.
As a thicker, more oily serum, it was initially slightly difficult to work into my skincare routine, and I even noticed some less than ideal side effects upon initial application.
However, by sticking to using Visionnaire serum both morning and night, I was super impressed at how well it managed my pore size, and evened out my skin tone.  It even gave me super soft skin, which was an added bonus!
While the long-term results are impressive, the initial experience with the serum, partnered with a strong odor, makes this serum worth exactly what you pay for it—but not a penny more.
Detailed Opinion:
Texture/Feel
Lancôme's Visionnaire skin corrector is thicker than your average face serum.  I would say the texture is closer to a face moisturizer than a serum.
Despite the thickness of the serum when you initially pump it out, it doesn't feel super heavy or thick on your face once you've rubbed it in.
Visionnaire leaves a bit of an oily feel behind, though.  It isn't super overwhelming like some other silicone-feeling serums, but you can definitely see a noticeable sheen left behind on your skin after application.
Application
To apply Lancôme Visionnaire, cleanse, tone, and dry your face before applying.
Since the serum comes out of a pump, I opted to use two pumps as I felt like that was the right amount of serum to fully cover my face.
Visionnaire should be used both morning and night.  Once the serum sunk in, I applied my moisturizer and eye cream on top of it.
Drying Time
For how oily Lancôme Visionnaire skin corrector feels when you apply it, it actually dries relatively quick.
Within 5-10 seconds, the serum is dry enough to apply your moisturizer and other products on top of it.  There is still a residue left on your skin from applying the serum, so it doesn't feel like nothing is on your skin, but it is noticeably absorbed at that point.
Once other products have been applied on top, there is definitely still a sheen and slight oily feel on your skin, but it's not overwhelming.
Smell
Lancôme Visionnaire has an extremely strong smell.  As someone who isn't affected by odors in my products, I was surprised at just how overwhelming this smell was.
The odor is similar to a floral hand soap or lotion.  It isn't necessarily a bad smell, but it does smell sort of cheap.
It's also really overwhelming, even after you've applied the serum on your face.  That's something that normally disappears after application, but that wasn't the case with Visionnaire.
Immediate Results
As I do when trying out any new face serum, I applied Lancôme Visionnaire at night first.
When I woke up the next morning, my skin had a very soft feel to it, which ended up making my makeup application especially great that day.
I did, however, notice that my pores, especially on and around my nose, were much more noticeable.  It looked like I had blackheads that needed to be popped (TMI…I know, I know).
I ended up doing quite a bit of extractions, which made my face pretty irritated.  So I was a little thrown off at that initial experience, especially since the serum is supposed to minimize pores.
Long Term Results
After using Lancôme Visionnaire skin corrector both morning and night for weeks, I definitely noticed changes in my skin.
For starters, even though my pores were initially congested and much larger, Visionnaire eventually minimized my pores significantly, which I was really excited about, especially since that's harder to find in a face serum.
My skin tone evened out quite a bit too, and while I didn't see a big change in sun or age spots, I did find that my skin was less blotchy and red, leaving me with a nice glow and flawless looking complexion.
The softness of my skin also continued, which made my foundation apply really nicely!
Price/Value
At $79.00 for a 1 fl. oz., Lancôme Visionnaire skin corrector is worth what you pay for it—but I wouldn't be willing to pay any more for it.
I think that is absolutely delivers on the anti-aging claims that it makes.  However, you have to deal with less than desirable skin initially, and the results take longer to see than with other anti-aging serums on the market.
Also, as silly as it may sound, the smell of Visionnaire is another reason I wouldn't want to spend more money on this product.
Guarantee
Lancôme offers a 100% money-back guarantee at any point after you've purchased their products.
Where To Buy
To purchase Lancôme Paris Visionnaire Advanced Skin Corrector, click here.
Lancôme Paris Visionnaire Advanced Skin Corrector: Summary
| | |
| --- | --- |
| Factor | Lancôme Paris Visionnaire Advanced Skin Corrector |
| Overall Rating | |
| Texture/Feel | Thicker serum—similar to a face moisturizer. Does not feel thick on the skin, but does have an initial oily component to it once applied |
| Application | Apply evenly to clean, dry face morning and night before applying moisturizer |
| Drying Time | 5-10 seconds |
| Smell | Very strong odor; smells similar to hand soap or lotion |
| Immediate Results | Smooth skin, but pores seemed more enlarged and black heads more prominent |
| Long Term Results | Extremely smooth skin, even complexion, natural glow, noticeable changes in pore size |
| Ingredients | Glycerin, Rye Seed Extract, Dimethicone, Sodium Hyaluronate |
| Price | $79.00 |
| Guarantee | 100% money-back guarantee at any point after purchase |
| Where To Buy | Click Here |