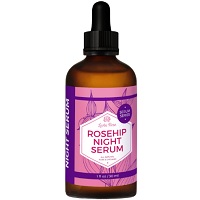 Product Name:  Leven Rose Rosehip Night Serum
Overall Rating: 

Serum Type:  Anti-Aging
Size:  1 fl oz
Price:  $19.97
Cost Per Ounce:  $19.97
Where to Buy:  Click Here
# of Ingredients:  10
Notable Ingredients:  Pure Organic Rosehip Seed Oil, Jojoba Oil, Pomegranate Seed Oil, Carrot Seed Oil, Tomato Seed Oil, Lavender Essential Oil
Overall Opinion:
Leven Rose Rosehip Night Serum promises everything under the sun as far as what this serum can do for your skin.  From protecting it from free radicals and reversing signs of aging, to brightening your skin tone and increasing collagen, this seems like the best possible serum—and it can be yours for less than $20!
Unfortunately, none of that is actually achieved with this face serum.  With an odor that smells like cough medicine, and little to no instructions on how to properly apply and use this facial oil masked as a face serum, you'll end up doing a lot more damage to your skin than good.
After just 10 days of use, my skin was broken out in blackheads and pimples, and I had dry, chapped skin around my nose, mouth, and eyes.  I truly couldn't be less happy with how my skin looks after using Leven Rose Rosehip Night Serum.
Save yourself the trouble of having to return this serum for a full refund and avoid purchasing it altogether.
Detailed Opinion:
Texture/Feel
Based on the ingredients of Leven Rose Rosehip Night Serum (which is entirely made up of different oils), it's no surprise that this face serum has an extremely oily consistency.  I'm pretty sure this should be marketed as facial oil instead of a serum actually.
The serum is easy to apply to your face and neck, but it does leave behind a very oily residue, which is expected with facial oil, but not necessarily with a face serum.
Applying other face products on top of the serum was a bit challenging as they went on very slick and it was difficult to keep them in the areas that I wanted specific products to be in.  For example, my eye cream or retinol product was sliding all over the place. It also didn't feel like my other face products were able to sink in with the oil there, which was a bit concerning.
Application
I wish that Leven Rose Rosehip Night Serum would've come with more detailed instructions on how to apply it!  It seems much more like facial oil than a serum, and I always apply face oils last and face serums first when it comes to my skincare routine, so I was a bit confused on how to proceed.
When their website didn't provide that information either, I decided to apply it to my skin first.  So I cleansed and toned my skin, and once my face and neck were dry, I applied 3-4 drops to cover that entire area.  Since this has an oily consistency to it, a little goes a long way, so you really don't need more than a few drops.
I found that this didn't really dry, so I just waited about a minute before applying my other products on top of it!
Finally, since this is called a "night serum," as well, I only applied this in my nighttime skincare routine, so I used it once daily instead of two times a day.
Drying Time
Leven Rose Rosehip Night Serum is extremely oily.  In fact, I really think it should be considered facial oil instead of a face serum.
If you've used facial oil before, you know there isn't really a dry time, which is normally fine since you're applying it last in your skincare routine.  However, since you apply this first, I just waited about 60 seconds before I applied my other face products on top of the oil, hoping it wouldn't spread my retinol and other more intense products into sensitive spots on my face.
Smell
Unfortunately, I really didn't enjoy the smell of Leven Rose Rosehip Night Serum.  I found that is smelled more like cough medicine to me than rosehip oil.
I'm pretty surprised at the scent, too, because it contains lavender essential oil, which I absolutely love the smell of!  Maybe the mixture of all the different oils gave it a strong, medicinal odor, but I definitely didn't love it.
It's a very overwhelming smell, as well, and it doesn't go away once you've applied other products on top.  I wouldn't avoid using the product simply because of the smell, but for rosehip oil, and something you're wearing all night, I definitely wish it had a different scent.
Immediate Results
I always apply new face serums at night first, but since Leven Rose Rosehip Night Serum is specifically designed to be used only at night, that's when I first applied it.  My initial thoughts were of confusion since I really didn't know whether to apply it to my skin first or last in my skincare routine.
When I woke up the next morning, my skin was very irritated.  My chin was red, and I had dry skin around my nose, near my eyes, and all over my chin.  I personally think the oiliness of the face serum caused products to seep into areas on my face that they weren't intended to be on, causing an irritation.
Long Term Results
Despite an initial negative experience with Leven Rose Rosehip Night Serum, I continued to use the serum nightly for the next 10 days.  That proved to be a really bad mistake.  I had extremely dry skin around my nose, eyes, and chin, and was peeling constantly, which is super embarrassing.  The skin on my chin, as well, was very painful and chapped.
I also had a lot of skin congestion.  Not only were my blackheads super gross on my chin and nose, but I had pimples popping up on my forehead and cheeks, as well.
Maybe this is a face serum that is supposed to be applied on top of your other products, but that was not made clear at all in the instructions. And applying it like you would any other face serum left me with really dry, congestion skin.  I'm super unhappy with how my skin looks after using this face serum.
Price/Value
I definitely appreciate how affordable Leven Rose Rosehip Night Serum is, and what an awesome return policy Leven Rose offers.  The return policy is especially important for me since I had such a terrible experience with this serum.
I don't think this is worth the money at all.  Given how dry, painful, and congested it made my skin, I would never want to use this face serum again, even if it's super affordable.
In my opinion, this is absolutely not worth the money, and will leave your skin in worse condition than when you started using it.
Guarantee
Leven Rose offers a 100% money-back guarantee for the lifetime of the product.  You can simply reach out to them on their website, and they will refund you your money, no questions asked.
Obviously, this is an incredible amazing return policy, especially given how affordable their products are to begin with!
Where To Buy
To purchase Leven Rose Rosehip Night Serum, click here.
Leven Rose Rosehip Night Serum: Summary
| | |
| --- | --- |
| Factor | Leven Rose Rosehip Night Serum |
| Overall Rating | |
| Texture/Feel | Consistency is more like facial oil than a serum.  Very thin, oily texture. Leaves behind extremely oily residue on your face and doesn't ever dry down.  Hard to apply products on top of (very slick). |
| Application | Use nightly after cleansing and toning skin.  Only need 3-4 drops to cover face and neck. |
| Drying Time | No real dry time, but waited 60 seconds before applying other products on top. |
| Smell | Not a great odor; Has a strong, cough medicine smell to it. Does not go away when applied to skin or when products are applied on top of it. |
| Immediate Results | Immediately had dry skin around nose, on chin, and under eyes.  Very red skin on my chin, as well. |
| Long Term Results | A ton of skin congestion.  A lot of blackheads and pimples popping up on my face.  Very dry, flaky skin around my nose and on my chin, as well.  Very unhappy with results. |
| Ingredients | Pure Organic Rosehip Seed Oil, Jojoba Oil, Pomegranate Seed Oil, Carrot Seed Oil, Tomato Seed Oil, Lavender Essential Oil |
| Price | $19.97 |
| Guarantee | 100% money-back guarantee for lifetime of the product |
| Where To Buy | Click Here |