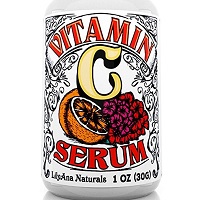 Product Name:  LilyAna Naturals Vitamin C Serum
Overall Rating: 

Serum Type:  Skin-Brightening
Size:  1 fl oz
Price:  $19.99
Cost Per Ounce:  $19.99
Where to Buy:  Click Here
# of Ingredients:  15
Notable Ingredients:  Botanical Hyaluronic Acid, Vitamin C, Organic Aloe Leaf Juice, Organic Jojoba Oil, Wild Geranium Extract, Organic Dandelion Extract
Overall Opinion:
I curse the day LilyAna Naturals Vitamin C Serum was created.  I'm not even being dramatic—this face serum was absolutely terrible!  I'd read quite a few positive reviews on Amazon and other websites about this brand and specific serum, but I could not disagree more with their findings.
With a horrible scent, stinging sensation upon application, and longer-than-average dry time, the actual experience of incorporating this face serum into your skincare routine is less than ideal.  The results, however, are what completely did me in.  After using it for a week, I experienced the worst dry skin I have ever had.  My skin was literally peeling off around my mouth and nose, and my skin was extremely red and painful.
I truly wouldn't recommend LilyAna Naturals Vitamin C Serum to anyone I know—not even my worst enemy.  After 10 days of applying Vaseline to my face, I am just now recovering from my reaction.  Do yourself a favor and steer clear of this serum, no matter what your skin type is.
Detailed Opinion:
Texture/Feel
LIlyAna Naturals Vitamin C Serum is thicker than many serums.  I actually found that it was hard to get it out of the dropper applicator because of how thick it was.
Despite how thick it is, it didn't feel super heavy on my skin once I had applied it.  It also didn't leave behind any tacky or slick feeling.  The feeling it did leave behind, however, was worse.
Once the serum had dried, it literally made my skin feel dry and scaly.  I have never had that feeling after applying a product.  My face and neck felt like I hadn't applied moisturizer in days.  It made my skin feel chapped, which I absolutely hated.
Application
To apply LilyAna Naturals Vitamin C Serum, cleanse, tone (if desired), and let your face fully dry before applying the serum.  I found that I needed an entire dropper full of product in order to cover my face and neck. Once the serum has dried, apply a moisturizer on top.  Use twice daily.
Each time I applied this face serum, it gave me a stingy sensation all over my face.  It wasn't full blown painful, but it was definitely uncomfortable and made me a little concerned.  The feeling did dissipate after about 20 seconds, and fully went away when I began to apply other products on top.
However, I found that aspect extremely difficult, as well, because once the serum had dried and I applied my acne cream and moisturizer, I could barely rub it in.  This was super weird since my skin didn't feel sticky after it absorbed, but instead, dry.  However, the way the products were layering simply wasn't working.
Overall, applying LilyAna Naturals Vitamin C Serum was both painful and also a complete pain in the butt.
Drying Time
For how dry this serum made my skin feel, I was surprised at how long of a dry time it had.  Maybe it's because it's a thicker serum, but it took almost a full minute before it stopped feeling wet to the touch and had actually absorbed into my skin.
Smell
LilyAna Naturals Vitamin C Serum smells absolutely terrible.  It actually smells like a product you would clean your house with—similar to bleach.
With how strong and horrible the odor was, it's no surprise that it literally stung my skin when I applied it.  It actually feels like what I would assume bleach would feel like, and what your skin would look like, if you applied it directly to your face and neck.
The smell does go away after you've applied other products on top of it, so luckily it isn't super overpowering, but left without anything on top, and you'd likely develop a headache, or simply cave and wipe it off.
Immediate Results
As I do with every new face serum I try, I used LilyAna Naturals Vitamin C Serum at night first.  My initial thoughts were how much I disliked using the serum—from the smell and how it made my skin feel dry, to the stinging sensation that followed for 20 seconds.
When I woke up the next morning, I didn't see anything different with my skin, but I continued to use the serum both morning and night for the next week hoping that the results would be worth using this face serum.
Long Term Results
LilyAna Naturals Vitamin C Serum didn't deliver any positive results for my skin.  With promises to produce visible changes such as evening out and brightening skin tone, fading scars, reducing dark circles and fine lines, I was optimistic that I would achieve even one or two of these results.
Instead, what I got was peeling, painful skin.  After about 7 days of using LilyAna Naturals Vitamin C Serum twice a day, I started to notice that I was peeling slightly around my mouth and nostril areas.  That skin was also looking a little pink and slightly painful to the touch.
After a couple days of that, the skin in that area started peeling off in large chunks.  It was so painful—it looked like I had a sunburn on my face, and even applying Vaseline was painful.  My skin was so chapped and damaged.
I immediately discontinued using the serum, and after about three days, my skin started to heal.  About a week after that, my dry skin had finally gone away.  I've never had this reaction to a product before, and it was genuinely one of the worst skin experience I've ever had.
Price/Value
I wouldn't wish LilyAna Naturals Vitamin C Serum on my worst enemy, so I can confidently say that it's not worth a penny of the $19.99 it costs.
The damage it did to my skin, partnered with the fact that the actual act of using it is unpleasant, and that it warrants zero results are enough of a reason to send everyone running in the opposite direction.
Save your $20 and go spend it on one of the many skin-brightening face serums that would be a million times better for your skin.
Guarantee
LilyAna Naturals is sold on Amazon, so any returns or exchanges are on a case-by-case basis at Amazon's discretion.
Where To Buy
To purchase LilyAna Naturals Vitamin C Serum, click here.
LilyAna Naturals Vitamin C Serum: Summary
| | |
| --- | --- |
| Factor | LilyAna Naturals Vitamin C Serum |
| Overall Rating | |
| Texture/Feel | Thick face serum; doesn't leave a residue behind but makes your skin feel extremely dry and chapped once absorbed |
| Application | Apply on clean, dry skin twice daily after toning (if desired). Once dry, follow with moisturizer. Stinging sensation upon application. |
| Drying Time | 60 seconds |
| Smell | Very strong, horrible scent; smells like bleach |
| Immediate Results | No immediate results besides initial pain with application |
| Long Term Results | Zero positive results; horribly dry face that resulted in red, peeling skin around mouth and nose; skin painful to the touch even after days of discontinued use of serum |
| Ingredients | Botanical Hyaluronic Acid, Vitamin C, Organic Aloe Leaf Juice, Organic Jojoba Oil, Wild Geranium Extract, Organic Dandelion Extract |
| Price | $19.99 |
| Guarantee | LilyAna Naturals can only be purchased on Amazon so returns are up to their discretion. |
| Where To Buy | Click Here |