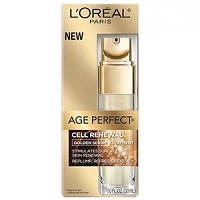 Product Name:  L'Oréal Paris Age Perfect Cell Renewal Golden Serum
Overall Rating: 

Serum Type:  Anti-aging
Size:  1 fl oz
Price:  $24.99
Cost Per Ounce:  $24.99
Where to Buy:  Click Here
# of Ingredients:  29
Notable Ingredients:  Glycerin, Dimethicone, Paeonia Suffruticosa Extract, Sodium Hyaluronate
Overall Opinion:
I'm just going to come right out and say it—I don't think I have ever hated a face serum more than I hate L'Oréal Paris Age Perfect face serum.
From an overwhelming, perfume-like smell that doesn't go away after application, to a burning sensation when you initially apply it, to a horrible breakout within two hours of using the product, there is absolutely nothing redeeming about this face serum.
As an anti-aging face serum you can pick up at any drugstore, L'Oreal Paris Age Perfect Serum is far from cheap, and leaves your skin worse off than before you used it.  Do yourself a big favor and pick up almost any other anti-aging face serum for better results.
Detailed Opinion:
Texture/Feel
L'Oréal Paris Age Perfect face serum is extremely thick.  When you pump the serum out into your hands, it almost looks as though you have soap in your hand.  The texture of the serum itself is very similar to hand soap, as well.
Once it's applied to your skin, it somehow feels both sticky and slick at the same time, which seems impossible.  Your face has that silicone feeling when you run your fingers on top of it, but it also feels tacky and makes applying your other skincare products difficult to rub in.
Application
To apply L'Oreal Paris Age Perfect Serum, use it both morning and night on clean, dry skin.  While the instructions for applying it sound super simple, it is anything but that.
When I used one pump of serum on my face and neck, I found that is actually burned on initial application.  I don't have sensitive skin at all—I can practically use anything on it without being bothered.  But within 5-10 seconds of applying this product, my face was stinging.
I wouldn't say it was overly painful, but it was definitely uncomfortable and concerning, especially since I have never had a face serum sting like that before.
Drying Time
L'Oreal Paris Age Perfect Serum takes extremely long to dry and absorb into your skin.  I would say it took about 30 seconds before the stinging sensation went away, and another 30 seconds after that before it felt like it had dried.
So overall, I would say wait a full minute before using any other face products on top of the serum.
Smell
I can't express enough how much I absolutely HATE the smell of L'Oreal Paris Age Perfect Serum.  I truly have never used any face product that has this strong of a smell that will not go away.
It is the most overwhelming, intense perfume smell, and the perfume is not a good one.  It honestly smells like a perfume your grandmother would wear.  Once you apply the face serum, the smell remains on your face and hands.
Had I been able to keep the face serum on all night (more on that later…), I honestly don't know if I could sleep with that smell on my face.  It truly gave me a headache.
Immediate Results
As always, I used L'Oréal Paris Age Perfect face serum at night first.  The night I decided to use it, I was getting ready for bed earlier in the night and then watched a movie with my husband.
After the initial shock of how uncomfortable the serum felt when applying it, I used all of the other face products I normally use on top and started watching the movie.
Less than two hours later, I could just tell that my skin was having a horrible reaction to the serum.  I have never seen my face break out like this before—it was immediate and all over my face.  And it was PAINFUL!
I immediately washed the face serum off and reverted back to one I've used before that I knew I loved and helped combat congestion.  Luckily, the breakout only hung around for a few days.
I don't know if it was an allergic reaction or what, but it only took using this face serum once for me to realize that I absolutely hate it—and so does my skin.
Long Term Results
After that initial experience, I would never, ever put L'Oreal Paris Age Perfect Serum on my face ever again, so I truly can't say if there would be any long term results.
What I can tell you is that there are plenty of other anti-aging face serums on the market that I have tried that smell way better, are way more comfortable on your skin, and won't cause a massive breakout all over.
Price/Value
Since I had a horrible reaction to L'Oreal Paris Age Perfect Serum, it is absolutely not worth the money!  And for a face serum that you can purchase in any drugstore, this is definitely on the more expensive end of the spectrum.
I wasn't able to use the face serum long enough to see if I could actually achieve anti-aging results, but with the horrible fragrance of the product and how uncomfortable it was to wear, I can say for certain that there are a bunch of other anti-aging face serums on the market, even ones less expensive than this, that would be much more enjoyable to use and give you awesome results.
Guarantee
L'Oréal Paris doesn't have any information on their website regarding return policy or money back guarantees, which completely shocked me!  For a brand this size, you would think they'd have a built out FAQ page, but there is nothing on their website!
When I typed in a question asking what their return policy was, it directed me to call them if I was having an issue with their products.  That's super weird to me.
Where To Buy
To purchase L'Oreal Paris Age Perfect Serum, click here.
L'Oreal Paris Age Perfect Serum: Summary
| | |
| --- | --- |
| Factor | L'Oreal Paris Age Perfect Serum |
| Overall Rating | |
| Texture/Feel | Thick face serum; texture similar to hand soap |
| Application | Easy to apply but extremely uncomfortable to wear.  Burns your skin when initially applied to the skin! |
| Drying Time | Longer dry time—closer to 1 minute |
| Smell | Horrible smell; smells like extremely strong old lady perfume |
| Immediate Results | Immediate breakout all over my face—had to wash it off within 2 hours of applying it |
| Long Term Results | Based on terrible initial reaction and experience, could not use long enough to see what, if any, long term results there were |
| Ingredients | Glycerin, Dimethicone, Paeonia Suffruticosa Extract, Sodium Hyaluronate |
| Price | $24.99 |
| Guarantee | No information listed on website about return policy or money back guarantee |
| Where To Buy | Click Here |