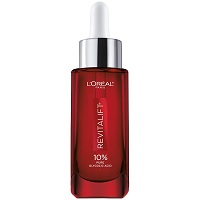 Product Name:  L'Oréal Paris Revitalift Glycolic Acid Serum
Overall Rating: 

Serum Type:  Anti-aging
Size:  1 fl oz
Price:  $19.99
Cost Per Ounce:  $19.99
Where to Buy:  Click Here
# of Ingredients:  12
Notable Ingredients:  Glycolic Acid, Glyercin, Aloe Leaf Juice
Overall Opinion:
As one of the better-known skincare lines, I was intrigued to see how L'Oréal Paris Revitalift Glycolic Acid Serum would stack up again other anti-aging serums on the market.  Sadly, I was sorely disappointed.
I normally try to start with a few positives about each serum I trial, but for this one, there really aren't many.  The affordable price tag is a bonus, as well as the fact that the serum itself is odorless.  But that's pretty much where the positives end.
L'Oréal Paris Revitalift hurts to apply, is difficult to incorporate into your skincare routine, and will honestly leave your skin worse off than before.  Additionally, you won't achieve any anti-aging results either.
With a populated market of skin serums readily available, I think this serum is one to skip.
Detailed Opinion:
Texture/Feel
L'Oréal Paris Revitalift Glycolic Acid Serum has an average face serum consistency, both in texture and in how it feels when applied to your face.
It leaves behind a very slick residue, however, which was unexpected since the serum itself isn't oily.  Even after the serum absorbed into my skin, it still felt very slippery when I applied my other products on top.
This was an aspect of the face serum I didn't enjoy.
Application
The application isn't difficult, but it isn't enjoyable either.  The instructions are straightforward—apply 4-5 drops (about a pea-size amount) to clean, dry skin both morning and night.
The aspect of application that caught me off guard was how my skin reacted when the product was applied.  About 10 seconds after I used the serum, my skin started to sting all over.  It only lasted for about 20 seconds, but it definitely isn't comfortable.
As I stated above, L'Oréal Paris Revitalift leaves behind a very greasy residue, so applying my other face products on top of it, such as moisturizer, was very difficult as the other products slid around my face.
Additionally, this is near impossible to wear under makeup as it makes your skin extremely oily!  So that was a challenging aspect about this serum, as well.
Drying Time
The dry time is about 30 seconds, but in all honesty, it's pretty difficult to discern.
Since the residue left behind is overly greasy, it's a bit tricky to figure out exactly when the serum actually absorbs.  But I did notice a difference at around the 30 second mark, and when I waited longer than that, the serum felt the same on my skin.
Smell
L'Oréal Paris Revitalift Glycolic Acid Serum is odorless.
Immediate Results
I was both concerned and intrigued when I first applied this product.  The stinging/burning aspect of the serum was going to do one of two things in my mind—either really dry out my skin and cause major issues, or give me pretty immediate results.
Strangely enough, neither of those outcomes happened.  My skin looked exactly the same for the first week of application, so no immediate results were experienced.
Long Term Results
I'm not impressed with the results I achieved, or how my overall complexion looks as a result of using this face serum.
For starters, I didn't achieve any anti-aging results.
Secondly, my skin was much worse off because of this product.  My complexion looked dull and greasy the entire time I was using it, and I had acne spots pop up all over my face, specifically on my nose, chin, and upper cheeks.
I was pretty embarrassed by the way my skin looked, and truthfully don't have any positive remarks about this serum.
Price/Value
I don't think that L'Oréal Paris Revitalift Glycolic Acid Serum is worth the money.  While it's an affordable face serum, it simply doesn't deliver on any results, and left my skin worse off than before I used it.
For that reason, I don't think this is a good option for anyone.
Guarantee
L'Oréal Paris Revitalift is sold on third-party websites, such as Amazon, and in different stores, such as Walgreens and Target.
The return policy is dependent on each individual retailer, so make sure you check before purchasing this product.
Where To Buy
To purchase L'Oréal Paris Revitalift Glycolic Acid Serum, click here.
L'Oréal Paris Revitalift Glycolic Acid Serum: Summary
| | |
| --- | --- |
| Factor | L'Oréal Paris Revitalift Glycolic Acid Serum |
| Overall Rating | |
| Texture/Feel | Average face serum consistency. Leaves behind very slick residue after serum has absorbed. Stings/burns when applied to skin |
| Application | Apply a pea-size amount on clean, dry skin both morning and night. Once absorbed, apply other products on top. Very difficult to wear under makeup |
| Drying Time | 30 seconds |
| Smell | Odorless |
| Immediate Results | No immediate results experienced |
| Long Term Results | Greasy, dull-looking skin. Acne spots and congestion on jaw, chin, nose, and cheeks. No anti-aging results achieved. |
| Ingredients | Glycolic Acid, Glycerin, Aloe Leaf Juice |
| Price | $19.99 |
| Guarantee | Sold on third-party websites and in stores. Return policy dependent on individual retailers |
| Where To Buy | Click Here |