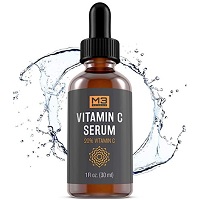 Product Name: M3 Naturals Vitamin C Serum
Overall Rating:

Serum Type: Anti-aging
Size: 1 fl oz
Price: $16.92
Cost Per Ounce: $16.92
Where to Buy: Click Here
# of Ingredients: 16
Notable Ingredients: Aloe, Vitamin C, Botanical Hyaluronic Acid, Witch Hazel, Jojoba Oil, Vitamin E
Overall Opinion:
Whenever I use a serum from a brand I've never heard of, which was the case with M3 Naturals Vitamin C Serum, I'm always a bit skeptical. If this serum is actually great and going to deliver results, then why haven't I heard of it before?
Well, I'm here to spill the beans on M3 Naturals Vitamin C Serum. This anti-aging face serum is awesome, and actually delivers visible results in a matter of weeks. From fewer fine lines and wrinkles to an overall healthier-looking complexion, I feel really confident about my skin after using this serum.
Aside from the awesome results, M3 Naturals Vitamin C Serum is easy to use, has a light, refreshing scent, and a price point that competes with many others on the market. Do yourself a favor and find out if this serum is a good fit for your skin, too!
Detailed Opinion:
Texture/Feel
M3 Naturals Vitamin C Serum has a consistency similar to water. It's very thin and runny when you drop it into the palm of your hand. However, once you rub your fingers together and apply it to your face and neck, it has a gel-like texture to it. I really enjoyed this surprising feature of the serum. It made it super easy to work with, which is always a bonus!
Once the serum had absorbed into my skin, it left behind a very mild, tacky residue. It didn't make layering my moisturizer on top difficult or anything like that. I could simply feel that there was something on my face and neck, but it was very comfortable to wear.
Application
The application for M3 Naturals Vitamin C Serum couldn't be any simpler! Simply wash and tone your face, and once your skin is completely dry, apply four drops of serum to your face and neck. Once the serum has mostly absorbed into your skin, layer your moisturizer and any other face products used daily.
This serum should be used both morning and night, as well, which I found very easy to do. It wears perfectly under makeup, and didn't cause any issues with my other skincare products. It's as easy as that!
Drying Time
The dry time for M3 Naturals Vitamin C Serum is pretty quick—about 15-20 seconds.
On one hand, that was a bit surprising for me since it's a thinner serum. However, you have to use such a small amount of product to cover your face and neck that it ends up drying down really quickly.
Smell
M3 Naturals Vitamin C Serum has a refreshing, natural scent to it. It's extremely mild, and the odor goes away once the serum has absorbed into your skin. However, I really enjoyed the light scent!
I think it smells most like aloe and geranium extract, which makes sense since those are two of the ingredients present in the face serum. Like I said, however, the scent is very mild and goes away within seconds of application.
Immediate Results
I used M3 Naturals Vitamin C Serum at night first. Full transparency—I'm pregnant right now, so the added hormones are causing my skin to have more breakouts than normal. So going into using this serum for the first time, I was definitely battling some minor acne in different spots on my face.
When I woke up the next morning, there weren't any major signs of change present, but my face did look calmer overall. I felt like there was less irritation surrounding those congested areas, and my skin just looked healthier.
Long Term Results
I'm really impressed with the long-term results I achieved with M3 Naturals Vitamin C Serum. Within days of adding this serum into my skincare routine, my nasty acne had completely cleared up. And not only did it take away the gross spots, but it made my entire complexion look more clear, from skin discoloration to redness.
Additionally, I found this serum to be very hydrating! I didn't have any dry-skin issues while using it, and I saw an added plumpness to my face that helped "puff out" some of my fine lines and wrinkles. If that doesn't scream 'anti-aging,' then I don't know what does!
Finally, my skin simply looked healthy while using this. I think the added hydration in my face, partnered with the clear complexion and healthy-looking glow left me with skin I could truly feel confident in. M3 Naturals Vitamin C Serum is a major win!
Price/Value
M3 Naturals Vitamin C Serum is a wonderful anti-aging serum, and truly follows through on many of the skin benefits it claims. Not only are the results noteworthy, but you also need such a small amount of product each time you use the serum, so a single bottle will last you a long time.
For these reasons, partnered with the amazing price point, M3 Naturals Vitamin C Serum is absolutely worth the money!
Guarantee
M3 Naturals sell their products on third-party websites such as Amazon. For guarantees regarding this serum and other products from this brand, contact the retailer directly before purchasing.
Where To Buy
To purchase M3 Naturals Vitamin C Serum, click here.
M3 Naturals Vitamin C Serum: Summary
| | |
| --- | --- |
| Factor | M3 Naturals Vitamin C Serum |
| Overall Rating | |
| Texture/Feel | Thin serum, consistency similar to water. However, it has a gel-like feel to it when applied to your skin, which makes it very easy to work with |
| Application | Apply four drops of serum to clean, dry skin both morning and night. Once absorbed, apply moisturizer and any other face products used daily |
| Drying Time | 15-20 seconds |
| Smell | Very light, fresh odor. Smells natural like aloe and geranium extract, which makes sense since those are two of the ingredients present in the serum |
| Immediate Results | No real immediate results, but skin appeared to be calmer. Less irritation surrounding acne spots, and an overall healthy look to my face |
| Long Term Results | Helped clear up unwanted skin blemishes, left face much more hydrated and helped puff out fine lines and wrinkles, and clear, healthy-looking glow and complexion |
| Ingredients | Aloe, Vitamin C, Botanical Hyaluronic Acid, Witch Hazel, Jojoba Oil, Vitamin E |
| Price | $16.92 |
| Guarantee | M3 Naturals is sold on third-party sites, such as Amazon. Return policies are dependent on each individual retailer to contact them directly for any guarantee. |
| Where To Buy | Click Here |