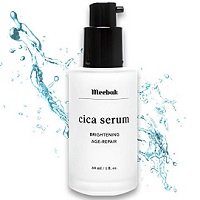 Product Name: Meebak Cica Serum
Overall Rating:

Serum Type: Skin Brightening; Anti-Aging
Size: 1 fl oz
Price: $16.97
Cost Per Ounce: $16.97
Where to Buy: Click Here
# of Ingredients: 59
Notable Ingredients: Glycerin, Fig Fruit Extract, Dimethicone, Aloe Leaf Juice, Ginseng Berry Extract, Sunflower Seed Oil, Shea Butter
Overall Opinion:
If achieving a dewy complexion that'll have strangers stopping you on the street is at the top of your skincare goals, then Meebak Cica Serum is the product for you! While it takes a few weeks to actual start seeing those results, the results themselves are undeniable.
If, on the other hand, you're hoping to see anti-aging changes in your skin instead, you'll want to look for a different serum as Meebak Cica Serum falls short in that category.
The serum itself does leave behind a bit of a "dirty" feeling on your skin when you wake up in the morning, but overall, it's really easy and enjoyable to use, and seamless to work into your daily skincare routine. And did I mention the price tag is pretty unbeatable, too?
Overall, Meebak Cica Serum is a winner if you're willing to be patient and if you have your sights set on skin brightening results!
Detailed Opinion:
Texture/Feel
The texture of Meebak Cica Serum is slightly thicker than the average face serum. It definitely doesn't have the consistency of a face moisturizer, but it's somewhere between a serum and lotion.
Once you apply it to your face and neck, however, it leaves behind almost no residue at all, which was really nice! The very minor residue it does leave behind feels more moisturizing than tacky or slick, like many other face serums have.
Application
The application for Meebak Cica Serum is super straightforward. Apply two pumps on clean, dry skin both morning and night. Once the serum has absorbed into your skin, apply any other face products you use daily.
I found this face serum super easy to incorporate into both my daytime and nighttime skincare routine. For starters, it wore nicely under makeup and didn't impact the appearance or wear time of my foundation. For nighttime use, the lack of residue left behind makes it super easy to layer my other face products on top of.
So overall, this was a really easy face serum to use!
Drying Time
The dry time for Meebak Cica Serum is pretty average—about 30 seconds. And as I explained previously, it doesn't leave behind much of a residue at all, so it's pretty clear when it's absorbed into your face and neck.
Smell
Meebak Cica Serum is completely odorless.
Immediate Results
As I do with almost every new face serum I try, I used Meebak Cica Serum at night first. When I woke up the next morning, I did notice that my skin felt a bit dirty. If I rubbed my fingers on the side of my nose or on my chin, I had product sort of "ball up" in my hand. So it wasn't actually dirt, but it felt a little gross.
With this serum, it took a couple of weeks before I saw results, so definitely don't expect to see anything major right off the bat. However, the results are definitely worth the wait!
Long Term Results
After about two weeks of using Meebak Cica Serum both morning and night daily, I saw gorgeous results—specifically in terms of skin brightening. My complexion looked amazing. I had a dewy appearance to my skin, and my entire complexion looked very clear and hydrated. I truly didn't wear foundation for over two weeks after that and multiple people commented on how beautiful my skin was.
When it comes to the anti-aging aspect of the skin serum, however, I didn't really see any results. All of my fine lines and wrinkles stayed the same, and besides some added plumpness due to the hydration in my skin, I didn't see any increase in skin elasticity.
So while this is a stellar serum to achieve skin-brightening results, it's probably not the best option for someone looking for anti-aging results.
Price/Value
Meebak Cica Serum is extremely affordable, and for the results it produces, it's absolutely worth the money! While I do think you'll go through this product a little quicker than many other face serums (since you need two pumps to cover your face and neck), I think it's still an extremely affordable option.
However, I think it's only worth the money as a skin brightening serum, which it does a phenomenal job at! As far as anti aging, however, there are definitely better options available.
Guarantee
Meebak sells their products on third-party websites such as Amazon. The return policy for these products is dependent on the individual retailers, so make sure you check that before purchasing.
Where To Buy
To purchase Meebak Cica Serum, click here.
Meebak Cica Serum: Summary
| | |
| --- | --- |
| Factor | Meebak Cica Serum |
| Overall Rating | |
| Texture/Feel | Slightly thicker face serum consistency; leaves behind little to no residue |
| Application | Apply two pumps of serum to clean, dry skin both morning and night. Once absorbed, apply any other face products used daily |
| Drying Time | 30 seconds |
| Smell | Odorless |
| Immediate Results | No immediate results— did make my skin feel a bit dirty. Took a couple of weeks before I saw any results |
| Long Term Results | Amazing skin brightening results—clear complexion, dewy glow, and hydrated appearance. No real anti-aging results were achieved |
| Ingredients | Glycerin, Fig Fruit Extract, Dimethicone, Aloe Leaf Juice, Ginseng Berry Extract, Sunflower Seed Oil, Shea Butter |
| Price | $16.97 |
| Guarantee | Sold on third-party websites; return policy unique to individual retailers |
| Where To Buy | Click Here |