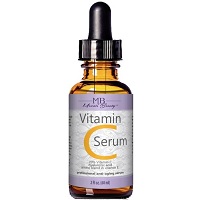 Product Name: Meera's Beauty Vitamin C Serum
Overall Rating:

Serum Type: Anti-aging
Size: 2 fl oz
Price: $10.95
Cost Per Ounce: $5.47
Where to Buy: Click Here
# of Ingredients: 17
Notable Ingredients: Aloe, Vitamin C, Hyaluronic Acid, Witch Hazel, Vitamin E, Vegetable Glycerin, Jojoba Oil
Overall Opinion:
If you're in the market for an anti-aging serum, Meera's Beauty Vitamin C Serum isn't the one for you. However, if you're looking for an affordable serum that hydrates your skin, leaving you with a gorgeous glow, you'll definitely want to read on!
Unfortunately, many of the results Meera's Beauty promises with this Vitamin C serum aren't achieved, so don't expect to see a change in fine lines or skin elasticity. However, if you're patient and willing to use the serum daily for a few weeks, you'll start to notice real changes in your complexion. From intense hydration to a gorgeous, healthy-looking glow, this face serum is definitely one to consider as we head into summer.
The price point is spot on, and the product itself is super easy to incorporate into your daily skincare routine. So if affordability and a dewy, glowing complexion are at the top of your skincare goals, check out this face serum.
Detailed Opinion:
Texture/Feel
Meera's Beauty Vitamin C Serum mostly has the consistency and texture of an average face serum. I do think it's slightly thicker than some, but it definitely isn't alarming when you first drop it out, nor is it difficult to apply to your face and neck.
Once the product absorbs into your skin, it leaves behind a slight tacky residue. You can definitely feel that you have a serum on when layering other face products on top, but they weren't difficult to apply by any means, and the residue didn't impact the wear of my makeup during the day, either.
Application
The application for this product is super straightforward. Cleanse your face, and use your toner if you use one, and allow your skin to fully dry. Then apply a small amount of product to your face and neck. I found that I needed about 3 large drops to cover my face and neck, so not very much product at all!
Once the product has absorbed, apply your other face products, such as your moisturizer and any other products used daily. This serum was also super easy to wear both during the day and at night since it didn't impact the wear of my makeup, or leave a greasy residue behind.
Drying Time
I was pretty surprised at how quickly it dried down. Since it's a bit thicker and tackier than other face serums I've tried before, I expected it to take a while before it dried down. However, this wasn't the case at all.
Within 15 seconds of application, the serum is completely absorbed and has left behind a slightly tacky residue. As I say with every serum that has a fast dry time, I really appreciate this aspect of Meera's Beauty Vitamin C Serum.
Smell
Meera's Beauty Vitamin C Serum is completely odorless. I thought maybe it would have a nice floral scent since it contains both Dandelion Extract and Geranium Extract, but it doesn't have any scent at all.
I used to expect Vitamin C serums to have a citrus smell, but I have quickly learned that that is rarely the case, so the lack of odor wasn't surprising and would likely be appreciated by many customers.
Immediate Results
Unfortunately, it took a while before I started to see actual changes to my skin with this product. So while I definitely didn't experience any skin breakouts or negative reactions to the serum initially, I also had to really push myself to continue using it both morning and night day after day.
So I didn't experience any immediate anti-aging results from Meera's Beauty Vitamin C Serum, but I did ultimately achieve some results, which is the most important part!
Long Term Results
Meera's Beauty markets this Vitamin C Serum as an anti-aging face product. Unfortunately, I have to disagree with that assessment completely. Or, at least, that's not how my skin changed as a result of implementing this into my daily skincare routine. I didn't see any change in my fine lines and wrinkles, or any improvement in collagen and skin elasticity.
However, I definitely think this serum worked as far as giving me a natural glow and hydrating my skin! I experienced a lot of plumpness on my face, specifically on my cheeks, and felt like my complexion overall looked really healthy. I wouldn't say I saw a change in skin discoloration, as far as sun and age spots are concerned, but I didn't have any blemishes or redness, and my skin just looked very hydrated and dewy.
As I said previously, it did take quite a while to see these results, so you need to be patient, but I was happy with how my complexion looked, even if I didn't look any younger.
Price/Value
While I wouldn't classify this as an anti-aging serum, and definitely felt let down by those results, I still think that Meera's Beauty Vitamin C Serum is worth the money. For starters, it's extremely affordable, so you won't be breaking the bank by purchasing it.
Secondly, I think the hydrating and healthy-looking complexion you do achieve from using the serum, even if it takes weeks to achieve, are well worth $10!
Guarantee
Meera's Beauty sells their skincare products on third-party websites, such as Amazon. For more information on return policy and other guarantees, contact your chosen retailer directly.
Where To Buy
To purchase Meera's Beauty Vitamin C Serum, click here.
Meera's Beauty Vitamin C Serum: Summary
| | |
| --- | --- |
| Factor | Meera's Beauty Vitamin C Serum |
| Overall Rating | |
| Texture/Feel | Slightly thicker than the average face serum but very easy to work with. Leaves behind a mild tacky residue once absorbed |
| Application | Apply three drops to clean, dry skin both morning and night. Follow up with other skincare products used daily once absorbed |
| Drying Time | 15 seconds |
| Smell | Odorless |
| Immediate Results | No immediate results—serum took longer to achieve results than most face serums |
| Long Term Results | Hydrated, healthy-looking complexion—left me with a gorgeous glow. No anti-aging results as marketed, which was a bummer |
| Ingredients | Aloe, Vitamin C, Hyaluronic Acid, Witch Hazel, Vitamin E, Vegetable Glycerin, Jojoba Oil |
| Price | $10.95 |
| Guarantee | Sold on third-party retailers; contact chosen retailer directly for return policy |
| Where To Buy | Click Here |