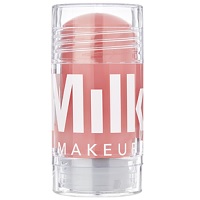 Product Name:  Milk Watermelon Brightening Serum
Overall Rating: 

Serum Type:  Brightening, Hydrating
Size:  1.2 oz
Price:  $36.00
Cost Per Ounce:  $30.00
Where to Buy:  Click Here
# of Ingredients:  44
Notable Ingredients:  Glycerin, Bitter Orange Flower Water, Watermelon, Strawberry, and Apple Fruit Extract, Sea Water, Sodium Hyaluronate
Overall Opinion:
Milk Watermelon Brightening Serum has to be the coolest face serum I've ever tried.  Unlike the traditional liquid serums, this face serum comes in a solid, chapstick-like tube that you apply directly to your face.
Despite its name, this odorless face serum is relatively easy to work into your skincare routine, despite how foreign of a product it may be, and can easily be worn under makeup.
While there's a lot to love about Milk Watermelon Brightening face serum, it doesn't impress when it comes to the results it delivers, both in the hydrating and skin brightening departments.  For me, this serum could be 'take it or leave it' for a variety of reasons.
Detailed Opinion:
Texture/Feel
Milk Watermelon Brightening Serum is unlike any other serum texture I've ever used.  Since it's a solid instead of a liquid, the feeling of this texture was completely foreign compared to any other serum I've tried previously.
When I applied it to my face, it felt like I was putting chapstick on my skin.  It felt really smooth and easy to glide over the different parts of my face.  However, it didn't leave behind any residue at all—sticky, slick, or otherwise.  It almost felt like I hadn't actually put anything on my face, which was super weird.
Application
I know a face serum seems pretty straightforward, but Milk Watermelon Brightening Serum literally doesn't give any instructions.  I looked both on the packaging and online… so I thought that was a bit strange.
I ended up applying it like I do most other face serums—I washed, toned, and let my face completely dry before using it.  Then I rubbed the stick all over my face, making sure each area of my skin had a thin layer.
Once I had applied it with the stick, I attempted to use my fingers to move the product around, but it's basically dry upon application, which made that tricky.  So make sure you hit each part of your face with the actual stick because moving the product is pretty difficult.
Since the serum doesn't really have a dry time, I was able to immediately apply my acne cream and moisturizer, both of which went on with complete ease. I also chose to use the serum both morning and night, and was able to wear the serum easily under my makeup.
Drying Time
Since it's a solid and not a liquid, Milk Watermelon Brightening Serum doesn't have a dry time.  It is dry the second you apply it on your skin.
You can't really move the product once it's placed on your face because of how dry it is, and it doesn't feel like anything is on your face, so you can't really wait for a drying sensation before applying anything else. So all that being said, the dry time on this serum is 0 seconds.
Smell
For a face serum that has "watermelon" in the name of it, you would expect Milk Watermelon Brightening Serum to smell like watermelon.  Nope.  It literally doesn't smell like anything—both when you apply it on your face, and when you actually sniff the tube directly.
This was a bit of a bummer since I was expecting a delicious smell, but watermelon is definitely a polarizing odor, so it may be the best call that they avoided having it scented.
Immediate Results
As I do with every new face serum I try, I used Milk Watermelon Brightening Serum at night first.  My initial thought was how cool of a product it was, and how easy it was to actually use it.
The next morning, I didn't notice any immediate changes to my skin.  In fact, this serum took a bit longer than most to start showing the benefits of using it.
Long Term Results
Overall, I think Milk Watermelon Brightening Serum does a better job at hydrating your skin than it does at brightening it.  I definitely noticed a little extra plumpness to my skin after using this for a few weeks, and I didn't experience any dry skin either.
When it came to the brightening aspect of it, I saw very minor changes.  I found that I had more of a fresh, dewy look to my skin, but I don't think it did much to decrease dark spots on my face.
With this serum, I had to be really patient to see these results.  While other serums start to show changes in my skin in a couple of weeks, this took closer to three or even four weeks before I noticed any of those minor changes.
Price/Value
I'm a little torn on whether I think Milk Watermelon Brightening Serum is worth the money.  At $36, it definitely isn't a cheap serum—but it isn't going to break the bank either.  It's such a cool product, and I love how unique and innovative it is, so every part of me wants to love it at this price point.
I'm not sure that the results it warrants, and in the time period it takes to see those results, are totally worth the money, though.  However, if you're a die-hard Milk fan, I don't think you'll feel like you wasted your money here.
Guarantee
Milk offers a 30-day money back guarantee.
Where To Buy
To purchase Milk Watermelon Brightening Serum, click here.
Milk Watermelon Brightening Serum: Summary
| | |
| --- | --- |
| Factor | Milk Watermelon Brightening Serum |
| Overall Rating | |
| Texture/Feel | Solid face serum; feels like a chapstick when applying it; leaves no residue behind |
| Application | Apply a thin layer of serum on clean, dry skin twice daily.  Use moisturizer and any other face products immediately after |
| Drying Time | 0 seconds |
| Smell | Odorless |
| Immediate Results | No immediate results |
| Long Term Results | Increase in skin plumpness and hydration; small changes in skin brightness and dewiness—results weren't super impressive |
| Ingredients | Glycerin, Bitter Orange Flower Water, Watermelon, Strawberry, and Apple Fruit Extract, Sea Water, Sodium Hyaluronate |
| Price | $36.00 |
| Guarantee | 30-day money-back guarantee |
| Where To Buy | Click Here |