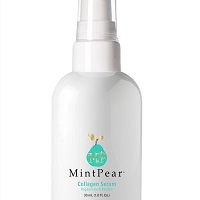 Product Name:  MintPear Collagen Serum
Overall Rating: 

Serum Type:  Reparative and Renewing
Size:  1 fl oz
Price:  $49.00
Cost Per Ounce:  $49.00
Where to Buy:  Click Here
# of Ingredients:  27
Notable Ingredients:  Glycerin, Dimethicone, Sea Salt, Aloe Leaf Juice
Overall Opinion:
The best word to describe MintPear Collagen Serum?  Average.  From the price point to the results, and everything in between, this serum has nothing spectacular about it.
In all fairness, you can expect to see a decrease in the size of your pores, and even fine lines and wrinkles on your face, which seems awesome.  However, you should also prepare yourself for terrible congestion around your mouth and nose in the form of nasty blackheads and little white bumps.
While the application is straightforward, and it's easy to wear under makeup, MintPear Collagen Serum also smells like cough syrup, and the company fails to offer any refunds on their products, which is absolutely ridiculous!
The smaller pores and wearability underneath makeup does not make MintPear Collage Serum worth the few positives at all, and this is definitely a serum to skip.
Detailed Opinion:
Texture/Feel
MintPear Collagen Serum is slightly thicker than your average face serum.  I was definitely still able to apply the serum, but it requires a bit more work to massage it into your face because of how thick and sticky-feeling it is.
Once you apply it to your skin, it leaves behind a pretty tacky feeling.  Luckily, I was still able to apply my other face products on top of it, but you can definitely feel that there's something already on your skin that you're layering other products on top of.
Application
The application for MintPear Collagen Serum is super simple!  You can use this serum both morning and night, and I found that it was super easy to wear under my makeup!  It does specifically instruct to wait about 5 minutes before applying makeup, but I wait at least that long normally so that wasn't a big deal for me.
To actually apply the serum, MintPear says to avoid the eye area, and to massage it into your face and neck in circular motions to ensure absorption.  That's normally how I apply face serums, so that was pretty straightforward!  I'm not sure why you have to avoid the eye area because this serum seems pretty gentle to me, but I would make sure to follow that instruction just in case!
Finally, just like you would with any other face serum, make sure you are applying this on clean, dry skin, and waiting until it's absorbed to apply your other face products on top of it!  Super easy!
Drying Time
Because of the thickness and sticky nature of MintPear Collagen Serum, this definitely takes longer to dry than most face serums.  It was at least 60 seconds before I could apply my moisturizer, and even when I did that, I had to work a little harder to massage it into my face because of the sticky residue left behind.
I really hate when it takes forever for a serum to dry, so this is definitely a strike against this face serum for me!
Smell
I really dislike the smell of MintPear Collagen Serum.  It smells exactly like cough syrup to me, which definitely isn't a smell I enjoy.
The good news is that the odor goes away once you apply other products on top of the serum, and it isn't super overpowering to begin with.  But the odor is definitely a negative for me when it comes to MintPear Collage Serum.
Immediate Results
Like I do with every new face serum I try, I used MintPear Collagen Serum at night first.  Nothing really jumped out at me as far as unique qualities or aspects about the serum itself, other than the long dry time (which was super annoying!).
When I woke up the next morning, my skin looked exactly the same as it did the night before, as was the case for the next few days, so I didn't experience any immediate results with this serum.
Long Term Results
The results I achieved with MintPear Collagen Serum were just okay.  As a positive, I saw a major difference in pore size, which was awesome!  I really struggle with large pores on my inner cheeks near my nose, and they always look bad when I put foundation on, so this was a nice plus!  I also noticed a decrease in my fine lines and wrinkles, specifically around my eyes, which was perfect.
Other than that, I didn't see any positive improvement with my skin.  MintPear promised to plump up, hydrate, and reenergize the appearance of my skin, which definitely didn't occur.
On the flip side, I noticed a major increase in skin congestion around my mouth and nose.  They weren't flat out pimples, but a ton of blackheads and small white dots.  It was seriously nasty, and super unattractive!  The difference I did see in the pores and fine lines is not worth the gross congestion I had around my mouth and nose.
Price/Value
I don't think MintPear Collagen Serum is worth the money.  While it's definitely in the middle range as far as price point goes, I think you'll go through this serum quickly.  You use an entire pump of product to cover your face and neck, and it seems like quite a bit of product comes out with each pump.
Additionally, the gross congestion I experienced around my mouth and nose is not something I would sign up for again, which is the main reason why this serum isn't worth the money to me.
Guarantee
MintPear doesn't offer any refunds, which is absolutely ridiculous to me!  You can return the product for an online credit, but you can't get your money back.
I think that's completely inappropriate for a brand to do, especially when it comes to a skincare line that can react very differently to skin types.  This is an absolutely horrible return policy!
Where To Buy
To purchase MintPear Collagen Serum, click here.
MintPear Collagen Serum: Summary
| | |
| --- | --- |
| Factor | MintPear Collagen Serum |
| Overall Rating | |
| Texture/Feel | Slightly thicker consistency than most face serums. Difficult to layer products on top of as it leaves behind a very sticky residue. |
| Application | Use both morning and night on clean, dry skin. Very easy to wear under makeup! Massage into face and neck to help with absorption, avoiding the eye area. Follow up with other skincare products, such as moisturizer. |
| Drying Time | 60 seconds; very long dry time |
| Smell | Smells like cough syrup; smells dissipates once other products are applied on top |
| Immediate Results | No immediate results |
| Long Term Results | Positive change in pore size and fine lines around eyes; Increase in skin congestion around mouth and nose in the form of blackheads and white bumps |
| Ingredients | Glycerin, Dimethicone, Sea Salt, Aloe Leaf Juice |
| Price | $49.00 |
| Guarantee | No returns accepted; horrible return policy |
| Where To Buy | Click Here |