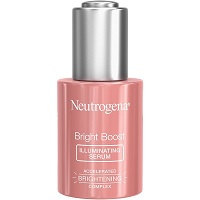 Product Name: Neutrogena Bright Boost Illuminating Serum
Overall Rating:

Serum Type: Skin Brightening
Size: 1 fl oz
Price: $19.99
Cost Per Ounce: $19.99
Where to Buy: Click Here
# of Ingredients: 20
Notable Ingredients: Glycerin, Dimethicone, Turmeric Extract
Overall Opinion:
Neutrogena Bright Boost Illuminating Serum might be a face serum that works well for individuals with a dry skin type. However, for me with normal skin, this serum proved to be pretty terrible for my complexion.
There's no doubt that this face serum delivers on the results it says it's going to deliver. After just a few days of twice-daily use, my skin looked radiant. I had an obvious illumination to my skin, and I even saw an improvement in my skin tone.
However, after about a week, I had an absolutely terrible breakout, specifically around my nose and chin. I think the greasy residue left by this product is the cause of this. It simply didn't work well with my skin type.
There are just as many positives (cheap price tag, nice scent, etc.) as there are negatives (can't wear under makeup, terrible blemishes) with this face serum, but unfortunately, the way my skin ended up looking is reason enough for me to avoid Neutrogena Bright Boost Illuminating Serum.
Detailed Opinion:
Texture/Feel
Neutrogena Bright Boost Illuminating Serum has an average face serum consistency, but something I did want to point out is the look of the serum. It seems to have a pearl-like appearance to it, which gives an almost immediate brightening look to my complexion.
When applying the serum, it feels more like a moisturizer than a serum, which is why the greasy residue the serum leaves behind isn't too surprising.
The residue isn't super overpowering, but it did impact the wear of my other products. They slid around my face quite a bit more, and my makeup looked terrible with this serum under it, which was a bummer.
Application
The application for Neutrogena Bright Boost Illuminating Serum is pretty straightforward. Simply apply 4-5 drops of serum onto clean, dry skin both morning and evening.
While the serum has a dropper applicator, it isn't very easy to get out actual drops of serum, so I'd aim to get a pea-size amount out, which ended up being the perfect amount to cover my face.
Once the serum is absorbed, layer your other face products on top, such as your moisturizer. I personally found that the residue left behind from this serum made my other products slide around quite a bit.
It was also was a very hard serum to wear under makeup as it made my complexion (and makeup) look greasy as the day wore on.
Drying Time
The dry time for Neutrogena Bright Boost Illuminating Serum is 30 seconds, which is pretty average.
It's a little bit harder to decipher the dry time for this serum since the residue it leaves behind is so greasy, but I could tell a noticeable difference between the serum feeling wet and greasy at about 30 seconds.
Smell
Neutrogena Bright Boost Illuminating Serum has a fresh, out-of-the-shower odor to it. I think this is a scent that most people would enjoy, but it's pretty strong. In fact, it doesn't really go away when you apply other products on top of it.
I personally enjoyed the scent and found it to be a positive, but again, it's a stronger scent.
Immediate Results
I'm not sure if it's due to the pearl-like appearance of the serum itself, but I experienced pretty immediate results with Neutrogena Bright Boost Illuminating Serum. The illuminating appearance it gave my skin began just a few days after I started using it, and was beautiful.
I did notice right away that this was a challenging face serum to wear during the day. The greasy residue this serum leaves behind made my foundation slide all over my face, and slowly look greasier as the day wore on. It was very unattractive!
Long Term Results
After a couple weeks of using Neutrogena Bright Boost Illuminating Serum, my skin completely blew up in zits. I mainly had congestion on my chin and around my nose, but I had a few spots pop up elsewhere, too.
I had noticed a few spots popping up after a few days, but I think I was so amazed at how even my skin tone looked, and just how illuminated my skin was. However, after about a week, the congestion was really terrible around my nose and on my chin.
I think it might've been because of how greasy this serum made my skin, because once I discontinued using the serum, my face slowly started to clear up.
So while I had awesome skin-brightening results, as the serum promised, no serum is worth the amount of skin congestion I experienced. I don't think you could even tell how illuminated my skin looked because of how obvious the blemishes were.
Price/Value
Neutrogena Bright Boost Illuminating Serum could be a great fit for some skin types, so it's hard for me to say whether this product is worth the money or not.
On one hand, it's very affordable, especially given what a small amount of product you have to use daily, and it really did deliver amazing skin-brightening results.
For me, however, it caused such terrible breakouts on my chin and around my nose that the skin-brightening results simply weren't worth it. So this definitely isn't worth the money.
Guarantee
Neutrogena offers a 30-day money-back guarantee, which seems very fair. The customer does have to pay for return shipping, however, which is also pretty common.
Where To Buy
To purchase Neutrogena Bright Boost Illuminating Serum, click here.
Neutrogena Bright Boost Illuminating Serum: Summary
| | |
| --- | --- |
| Factor | Neutrogena Bright Boost Illuminating Serum |
| Overall Rating | |
| Texture/Feel | Average face serum consistency that leaves behind a greasy residue. It actually feels more like a moisturizer than a face serum |
| Application | Apply 4-5 drops to clean, dry skin both morning and night. Once absorbed, apply other face products on top. Difficult to wear under makeup due to greasy residue left behind |
| Drying Time | 30 seconds |
| Smell | Fresh, out-of-the shower scent. Pretty strong odor that sticks around after applying moisturizer, but seems to be a scent most people would enjoy |
| Immediate Results | Skin looked brighter and skin tone looked more even after just a few days of use; impressive immediate results |
| Long Term Results | Definitely brighter skin but a lot of horrible skin congestion and blemishes around my nose and chin. Positives of the skin illumination don't outweigh the negatives of my terrible-looking skin |
| Ingredients | Glycerin, Dimethicone, Turmeric Extract |
| Price | $19.99 |
| Guarantee | 30-day money-back guarantee (must pay for return shipping, however) |
| Where To Buy | Click Here |