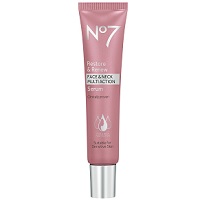 Product Name:  No7 Restore & Renew Serum
Overall Rating: 

Serum Type:  Reparative and Renewing
Size:  1 fl oz
Price:  $33.99
Cost Per Ounce:  $33.99
Where to Buy:  Click Here
# of Ingredients:  50
Notable Ingredients:  Dimethicone, Glycerin, Hibiscus Extract, Sodium Hyaluronate, Ginseng Root Extract
Overall Opinion:
As a very popular and beloved brand, I was excited to try No7 Restore & Renew Serum.  Having tried other serums from No7 that I didn't love, I hoped this one would be different.  While the results were absolutely incredible, the actual wear and application of using the face serum proved to be difficult.
With a very overpowering scent, and a formula that stings any dry patches on your face, I was initially worried about what this face serum would do to my skin. While it was easy to incorporate into my skincare routine, it left my skin feeling a bit dirty after wearing it for an extended period of time.
Despite my less-than-positive thoughts on actually using and wearing No7 Restore & Renew Serum, the results you achieve when using this serum are undeniable.  From more hydrated, glowing skin, to an extremely clear complexion, free of almost any discoloration, it's safe to say that this serum performs better than most on the market.
With a fair price tag and results worth every penny, this face serum is one you should be racing out to buy.
Detailed Opinion:
Texture/Feel
No7 Restore & Renew face serum has a thicker texture.  It isn't as thick as Vaseline, but it does have a similar appearance, and is definitely thicker than an average face moisturizer, let alone a face serum.
Once you apply the serum to your face, it has a very silicone feel to it.  In the past, I've really disliked serums with this texture.  While it makes it super easy to apply other products on top of, it tends to make me extra greasy in my T-zone area, and makes my makeup look super cakey.
Unfortunately, this was the case with No7 Restore & Renew Serum, as well.  However, it's a very comfortable face serum to actually wear, despite what it looks like under makeup.
Application
The application of No7 Restore & Renew Serum is super easy.  As I do with every face serum, I cleanse and tone my skin, and wait for my face and neck to be fully dry before applying the serum.  Then I applied a small amount, about the size of a pea, to the tips of my fingers and rubbed it all over my face and neck.
Since this is a thick, silicone-like face serum, it doesn't really have much of a dry time.  But once it felt as absorbed as it was going to feel, I applied my other face products on top of it.  I found that my other products applied really easily on top.  They almost felt slick going on, which isn't normally the case with some of the thicker face products I use.
This serum should also be used both morning and night.  Despite the fact that silicone-feeling face serums make me extra greasy in my T-zone, I did use this both morning and night, and just opted to use grease pads when my makeup started to look bad.
Drying Time
I personally have a hard time deciphering the dry time of silicone feeling face serums.  They sort of feel a little dry as I'm applying them, so I'm tempted to say they don't have any dry time.
However, with No7 Restore & Renew Serum, I found that after about 15-20 seconds, the product felt more absorbed into my skin than when I initially applied it, so I think that's a safe dry time to work with before applying other face products on top of the serum.
Smell
No7 Restore & Renew Serum has an extremely strong odor.  I actually went back and looked at the ingredient list and saw that they have "Parfum (Fragrance)" way higher up in the ingredient list than most other products, face serum or not.
The odor itself comes across as very cheap to me, and it's a very floral perfume scent.  I personally hated it, and found that it lingered on my face until I masked the scent with other products I applied on top.
I also think the fragrance is part of the reason this serum stung the dry spots on my face when I applied it.  It almost felt like I was spraying perfume on those chapped areas, which was obviously painful.
Immediate Results
When I first applied No7 Restore & Renew Serum, I was super worried.  It stung the dry patches I had on my face around my nose and mouth, and I have used a lot of silicone feeling face serums, most of which I really don't like.  I thought for sure this was going to cause my skin to freak out.
When I woke up the next morning, I didn't experience any results—good or bad.  I did find that my face felt pretty dirty, which I've experienced with nearly every silicone face serum, so that didn't really surprise me.
It definitely took a bit longer to see results with this face serum than others I've used.
Long Term Results
No7 Restore & Renew Serum delivered some of the best results I've ever experienced with a face serum.  Despite disliking almost everything else about the serum itself, it's impossible to deny the results I achieved.
First, the dry patches on my face that the serum actually stung were completely gone in less than a week of using it, and I found that the overall hydration on my skin had increased.  Additionally, I found that I had such a gorgeous glow from that plump, hydrated look and feel the serum gave me.
The biggest difference I saw was in skin discoloration.  The dark spots I have from sun damage and age are almost completely gone.  My skin looks airbrushed.  I can't even believe how beautiful my skin looks and how much I don't want to cover it up with foundation.  I always wear foundation and I'm opting to leave the house with just a BB cream instead.  The results in this department are almost unbelievable.
Finally, No7 Restore & Renew kept any acne and skin congestion away completely.  Any blackheads I had around on my chin and nose were slowly going away after a few weeks, and I didn't see any redness or spots pop up.  In fact, it helped clear away blemishes I had before starting the serum.
I'm honestly blow away at the results, especially since so much of the product isn't fun to actually use.
Price/Value
No7 Restore & Renew Serum is absolutely worth the money!  I still can't believe the results it delivered.
While using the product isn't as great of an experience, I think the price tag of this face serum is totally fair, and the results make it easier to look past the unsatisfactory aspects of it.
I would definitely continue using this face serum and paying the price tag it has.
Guarantee
No7 products can only be purchased from third-party sites, such as Target, Walgreens, and other local stores.  For return policy and guarantees, it is left up to the discretion of the place of purchase.
Where To Buy
To purchase No7 Restore & Renew Serum, click here.
No7 Restore & Renew Serum: Summary
| | |
| --- | --- |
| Factor | No7 Restore & Renew Serum |
| Overall Rating | |
| Texture/Feel | Thick face serum; has a silicone texture upon application.  Other products apply very slick on top of serum. Leaves skin feeling dirty after wear. |
| Application | Cleanse and tone skin, then apply serum to dry skin.  Once absorbed, apply other skin products as normal. Use both morning and evening. |
| Drying Time | 15-20 seconds |
| Smell | Extremely strong scent; smells like a cheap, floral perfume |
| Immediate Results | No noticeable immediate results; did sting dry areas on face so initial concern over how good this serum would be |
| Long Term Results | Incredible skin—no acne, major decrease in skin discoloration, increase in skin hydration and overall glow |
| Ingredients | Dimethicone, Glycerin, Hibiscus Extract, Sodium Hyaluronate, Ginseng Root Extract |
| Price | $33.99 |
| Guarantee | Products can only be purchased through third-party retailers to return policy is dependent on their store policy |
| Where To Buy | Click Here |