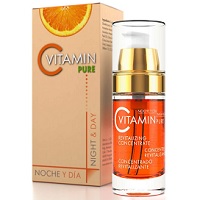 Product Name: Noche Y Día Pure Vitamin C Serum
Overall Rating:

Serum Type: Anti-aging
Size: 1 fl oz
Price: $29.95
Cost Per Ounce: $29.95
Where to Buy: Click Here
# of Ingredients: 11
Notable Ingredients: Dimethicone, Bitter Orange Peel Oil, Kiwi Seed Oil, Lemon Fruit Oil
Overall Opinion:
Noche Y Día Pure Vitamin C Serum was an interesting serum to trial in many ways, and unfortunately, it simply didn't give me the results I expect from an anti-aging face serum.
I enjoyed the sweet, citrus smell of the serum, and found that despite its greasy residue, I could wear the product underneath my makeup during the day. Additionally, I love that the brand offers a 365-day return policy, which is almost unheard of!
Unfortunately, those nice aspects weren't enough to sway me to rate the serum higher than I did. I battled with terrible acne while using the product, and experienced dry skin around my eyes and mouth. Overall, my skin looked much worse post-serum than before.
For these reasons, and many more I dive into below, I wouldn't recommend using this serum, regardless of your skin type.
Detailed Opinion:
Texture/Feel
Noche Y Día Pure Vitamin C Serum is much thicker than the average face serum, so that caught me off guard when I first used it.
Additionally, it's super greasy; in fact, it's easily the greasiest face serum I've ever used. When I first applied it, I tried to pick up the glass bottle before I washed the product off my hands, and I dropped the bottle and almost broke it. It honestly feels like you're applying olive oil to your skin.
I will say that the product absorbs much better than I expected. After about a minute, much of the greasy residue is completely gone, which is good. I'm not sure how you could use it period if this wasn't the case! However, it does still leave behind a considerable greasy residue post-absorption.
Application
The application is relatively easy and straightforward, but it has some aspects about it that are more difficult than other face serums.
As you do with any other serum, make sure you're applying it on clean, dry skin. You only need half a pump of product to cover your entire face and neck. I used a full pump the first time and it was way too much.
They recommend only using the serum at night, but I personally used it both morning and night. I was pretty surprised I could incorporate it into my daytime routine since it's such a greasy product, but I didn't have any problem applying makeup after the fact.
Once the serum has absorbed into your skin (which will require a lot of massaging), apply your other face products, such as sunscreen and moisturizer. The products definitely slide around your face more so than normal because of the greasy residue, which makes the application a bit tricky.
Drying Time
The dry time for Noche Y Día Pure Vitamin C Serum is 60 seconds, so definitely much longer than the average face serum.
I do think the absorption is impressive because you see a noticeable difference in the level of grease on your skin, but you have to wait quite a bit before you can attempt application of any other products.
Smell
This serum has a sweet, citrus scent to it. I personally love it, and it's what I'm normally expecting with a Vitamin C serum.
The odor is pretty strong, but it does dissipate once you apply your other products. Again, I liked the smell but it's worth mentioning since it has a perfume-like fragrance to it.
Immediate Results
I was really uneasy about using Noche Y Día Pure Vitamin C Serum because of how greasy it is. I truly have never used a face serum this oily before, and those types of products normally don't work well with my skin.
While I was surprised at how well the serum absorbed into my skin, I could tell almost immediately when I woke up the next morning that this serum could cause my skin trouble.
My chin and lower jaw had a bunch of small bumps on it that looked like little whiteheads. I did continue to use the serum for another five days, however.
Long Term Results
I'm super disappointed in how my complexion looked after using Noche Y Día Pure Vitamin C Serum. What started out as congestion on my chin turned into a much worse breakout on my entire face.
I've had serums before that cause my skin to break out, but this actually gave me zits on my neck, too. This was both extremely painful and super unattractive.
In addition to the acne, I also experienced dry skin around my eyes and mouth, which was surprising given how greasy the face serum is.
Sadly, I also didn't see any positive skin changes, anti-aging or otherwise, while using this face serum, so I'm very unhappy with the way my complexion looks post-serum.
Price/Value
I don't think that Noche Y Día Pure Vitamin C Serum is worth the money. I personally didn't achieve any positive results while using it, and my complexion was much worse off after the fact.
There are plenty of other face serums, anti-aging and other types too, that are even more affordable than this serum and provide real results.
Guarantee
Noche Y Día has an awesome return policy. You have an entire year to return the product for a full refund.
This is beyond generous, especially since you'll know whether you like the serum or not well before then. So this is definitely a positive aspect about the brand, and takes away any risk of trying it!
Where To Buy
To purchase Noche Y Día Pure Vitamin C Serum, click here.
Noche Y Día Pure Vitamin C Serum: Summary
| | |
| --- | --- |
| Factor | Noche Y Día Pure Vitamin C Serum |
| Overall Rating | |
| Texture/Feel | Thicker consistency than average face serum. Leaves behind a very greasy residue—felt like I was rubbing olive oil into my skin |
| Application | Apply half a pump of product on clean, dry skin at night. Once absorbed, apply moisturizer and other face products. Can be used during the day, too |
| Drying Time | 60 seconds |
| Smell | Sweet, citrus scent; strong odor but dissipates when other products are applied |
| Immediate Results | Increased congestion on chin and lower jaw in the form of small bumps |
| Long Term Results | Acne spots on my face AND neck, increased blackheads on chin and nose, and dry skin around eyes and mouth |
| Ingredients | Dimethicone, Bitter Orange Peel Oil, Kiwi Seed Oil, Lemon Fruit Oil |
| Price | $29.95 |
| Guarantee | 365-day money-back guarantee—awesome customer service! |
| Where To Buy | Click Here |