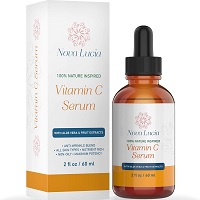 Product Name:  Nova Lucia Vitamin C Serum
Overall Rating: 

Serum Type:  Skin Brightening/Anti-Aging
Size:  2 fl oz
Price:  $17.95
Cost Per Ounce:  $8.97
Where to Buy:  Click Here
# of Ingredients:  23
Notable Ingredients:  Glycerin, Aloe Vera Extract, Sea Buckthorn Extract, Rosemary Extract, Apple, Watermelon, and Lime Extracts
Overall Opinion:
To simply cut to the chase, I had a terrible experience with Nova Lucia Vitamin C Serum. I can't totally figure out why that's the case either, especially since I'm a big fan of nearly all of the ingredients included in the product.
After just a single use, I noticed major skin irritation. And not just in one area on my face but all over—hairline, cheeks, chin, nose, etc. And not just small little blemishes either. I had large, painful zits all over.
I'm always cautious about attributing a breakout to a single product, but the longer I used this serum, the worse my skin got. And it wasn't until I stopped altogether after about 5 days that my skin finally took a turn toward the positive.
I'm not swearing this off for everyone, especially since the ingredient list is impressive. I'm simply saying this was not a good fit for my skin, and I wasn't able to use it long enough to see if skin brightening or anti-aging results could be achieved.
Detailed Opinion:
Texture/Feel
Nova Lucia Vitamin C Serum feels like an average face serum, so there won't be any surprises in that department when you start using the product.
Once the serum absorbed into my skin, it left behind a tacky residue. It wasn't overpowering in the least, and I was able to easily layer my other skincare products on top of it.
However, on days that I didn't wear makeup, I could definitely feel that tacky residue remaining on my skin even after my moisturizer and other products were applied, so I didn't love that.
Application
The application is super easy. I don't love that it's a dropper applicator, but I found I needed about a pea-size amount of product to cover my entire face.
Other than that, you'll apply this serum on clean, dry skin both morning and night. Once the serum absorbs into your skin, layer your other skincare products on top.
This also wore well underneath makeup, so for the most part, it's really easy to incorporate into both daytime and nighttime skincare routines.
Drying Time
Nova Lucia Vitamin C Serum has an average dry time—about 15-20 seconds.
Smell
Since Nova Lucia Vitamin C Serum has so many strong-smelling ingredients in it, such as rosemary and lime extracts, I assumed the serum itself would have some sort of odor. However, that wasn't the case.
This product is totally odorless, which I know is a major plus for many potential customers.
Immediate Results
I used this serum at night first, and didn't have any initial thoughts or reactions about the product itself. It was easy to use in my skincare routine, and I went to bed without any concerns.
Unfortunately, I woke up with a pretty obvious and strong reaction. I had major skin congestion all over. On my hairline, inner cheeks, chin, and nose to be exact.
And they weren't just tiny whiteheads. I had seemingly grown major underground, painful zits overnight. My complexion both looked and felt awful and painful.
Long Term Results
I didn't want to attribute my breakout simply to this product, so I used the serum for another 5 days. Boy, was that a mistake!
The longer I used the product, the worse my skin got. The zits I had were getting progressively more inflamed, and new spots continued to appear on my face.
After 5 days, I finally stopped using it, and my skin began to take a turn in the right direction. However, I did have to go get a facial to help clear up my face.
Price/Value
Nova Lucia Vitamin C Serum gives you a lot of product for a very affordable price, but that still doesn't make it worth the money—or at least not for me.
I don't have a clear answer as to why my skin had such a negative reaction to this product, especially since I like most of the ingredients in the ingredient list.
Since my skin completely broke out, I can't tell whether this has actual skin brightening or anti-aging effects, but even if it did, it wouldn't be worth the complete mess it made of my complexion.
Guarantee
Nova Lucia Vitamin C Serum is sold on third-party website, such as Amazon. Make sure you reach out to the vendor directly before purchasing to find out what their return policy is.
Where To Buy
To purchase Nova Lucia Vitamin C Serum, click here.
Nova Lucia Vitamin C Serum: Summary
| | |
| --- | --- |
| Factor | Nova Lucia Vitamin C Serum |
| Overall Rating | |
| Texture/Feel | Average face serum consistency. Leaves behind a tacky residue. Couldn't feel residue when makeup was on but could feel the tacky residue even after moisturizer was applied |
| Application | Apply pea-size amount to clean, dry skin both morning and night. Once absorbed, layer other face products on top |
| Drying Time | 15-20 seconds |
| Smell | Odorless |
| Immediate Results | Immediate irritation on complexion. Big, underground zit all over face—unattractive and painful skin after 12 hours |
| Long Term Results | Skin congestion grew worse the longer I used the product. Zits all along hairline, inner cheeks, chin, and nose |
| Ingredients | Glycerin, Aloe Vera Extract, Sea Buckthorn Extract, Rosemary Extract, Apple, Watermelon, and Lime Extracts |
| Price | $17.95 |
| Guarantee | Sold on third-party websites. Return policy depends on each individual retailer |
| Where To Buy | Click Here |