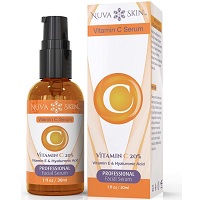 Product Name:  Nuva Skin Vitamin C Serum
Overall Rating: 

Serum Type:  Skin-brightening
Size:  1 fl oz
Price:  $8.97
Cost Per Ounce:  $8.97
Where to Buy:  Click Here
# of Ingredients:  15
Notable Ingredients:  Vitamin C, Seaweed Extract, Vitamin E, Salicylic Acid, Glycerin, Peony and Rose Extracts
Overall Opinion:
I was a little hesitant to use Nuva Skin Vitamin C Serum because of how cheap it was. Anyone else feel like a quality skincare product couldn't possibly be that affordable?
I'm so thankful I tried it, however, because I absolutely loved this face serum. The product was easy to incorporate into my daytime and nighttime skincare routines, and delivered undeniable results.
My skin was definitely brighter, and I experienced a significant decrease in skin discoloration and congestion. Overall, I'm so happy with how my complexion looks!
This serum does take longer to see results than most other face serums I've used, so you definitely have to be patient, because if you are, it's absolutely worth the wait.
Detailed Opinion:
Texture/Feel
Nuva Skin Vitamin C Serum has an average face serum consistency. Once it absorbed into my skin, it left behind a nice moisturizing residue.
I found this serum to be very comfortable to wear, and allowed me to wear it seamlessly underneath my makeup.
Application
I didn't follow the brand's instruction on how to apply. The way I applied it was to use two pumps of product on clean, dry skin both morning and night. Once the serum had absorbed, I layered my other skincare products on top of it.
They recommend applying it on damp skin, which never works for me, and to only use 4-5 drops. That definitely wouldn't be enough product, and getting drops out of a pump applicator would be near impossible.
I found that the way I applied this serum worked perfectly, so I would recommend following my steps instead of theirs if you want to achieve undeniable results.
Drying Time
The dry time is about 30 seconds.
Smell
Nuva Skin Vitamin C Serum is odorless.
Immediate Results
I applied at night first, as I do with most new face serums.
When I woke up the next morning, my skin looked and felt exactly the same. This was the case for the first 2-3 weeks of using the serum, however, so I definitely didn't experience any immediate results with this product.
Long Term Results
I'm really happy I stuck with Nuva Skin Vitamin C Serum. Patience is key when it comes to this product; it can be super frustrating to use a serum twice daily and not see any changes to your skin for multiple weeks.
The results I achieved after about 2 weeks are undeniable. I have a brighter complexion overall, making my skin look and feel much healthier.
I also see a major decrease in discoloration and congestion all over my face, which were added bonuses I don't normally expect from a skin-brightening face serum.
Overall, I am really happy with how my skin looks and feels after using this serum.
Price/Value
I can hardly believe just how cheap this product is. It's actually something that made me a bit nervous to use this serum to begin with.
Not only is the price tag affordable for literally everyone, but it's also worth every penny. I'd be willing to pay even more for this product based on the results I achieved.
Guarantee
Nuva Skin sells their products on third-party websites, such as Amazon.
The return policy, and any other product guarantees, is dependent on each individual retailer, so make sure you check with them before purchasing.
Where To Buy
To purchase Nuva Skin Vitamin C Serum, click here.
Nuva Skin Vitamin C Serum: Summary
| | |
| --- | --- |
| Factor | Nuva Skin Vitamin C Serum |
| Overall Rating | |
| Texture/Feel | Average face serum consistency. Leaves behind a moisturizing residue. Overall, a very comfortable serum to wear and easy to wear underneath makeup |
| Application | Apply 2 pumps on clean, dry skin both morning and night. Once absorbed, layer other skincare products on top. I applied it differently than the instructions suggested |
| Drying Time | 30 seconds |
| Smell | Odorless |
| Immediate Results | No immediate results—takes 2-3 weeks before experiencing noticeable changes |
| Long Term Results | Increase in skin brightness, decrease in discoloration and skin congestion. Very impressive results but longer to achieve said results |
| Ingredients | Vitamin C, Seaweed Extract, Vitamin E, Salicylic Acid, Glycerin, Peony and Rose Extracts |
| Price | $8.97 |
| Guarantee | Sold on third-party websites. Return policy is different for each individual retailer |
| Where To Buy | Click Here |