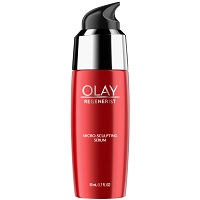 Product Name: Olay Regenerist Micro-Sculpting Serum
Overall Rating:

Serum Type: Anti-aging
Size: 1.7 fl oz
Price: $33.49
Cost Per Ounce: $19.70
Where to Buy: Click Here
# of Ingredients: 26
Notable Ingredients: Glycerin, Dimethicone, Olive Oil Carboxylate, Carob Fruit Extract, Citric Acid
Overall Opinion:
As a very popular skincare line with a cult following, I was really excited to give Olay Regenerist Micro-Sculpting Serum a try! Promising to increase skin elasticity and firmness while decreasing fine lines and wrinkles, Olay advertised anti-aging results I simply couldn't pass up.
Unfortunately, this serum ended up being a major flop for me. Not only did I not experience any of the anti-aging results, I found myself struggling with skin congestion while using this face serum. My complexion also looked very dull, dirty, and waxy, making it unattractive both with and without makeup on.
While the ease of use is undeniable, and the price tag competitive in today's market for anti-aging serums, Olay Regenerist Micro-Sculpting Serum simply isn't worth the money, or the negative effects it'll have on your skin. I'd definitely recommend seeking out other face serum options for better results, anti-aging and otherwise.
Detailed Opinion:
Texture/Feel
Olay Regenerist Micro-Sculpting Serum is very thick, and has the appearance of hand soap. Despite the thickness of the serum, it's still very easy to apply to your face, which is nice. It actually glides right on, which was surprising since most other thick face serums require some muscle to rub them in.
Once the product has been applied to your skin, it leaves behind a very greasy residue. Weirdly enough, it doesn't give off an oily/sheen look, but it feels very slick and greasy on your face.
Application
Overall, the application for Olay Regenerist Micro-Sculpting Serum is easy and straightforward. Cleanse and dry your skin and apply one pump of the serum to your face and neck. Once absorbed, follow up with your moisturizer and any other products you use in your skincare routine.
You're supposed to use the serum both morning and night, but I found that to be really difficult. I think because of the greasy residue it leaves behind, it was really unattractive under my makeup. It made me extremely oily throughout my T-zone, and you could see my foundation and powder separating on my face.
I have pretty normal skin, so if you have oily skin to begin with, this may give you a lot of trouble. If you have dry skin, I'm not sure how this would work out for you, but it was really ugly under my makeup.
On the positive side, the slick residue Olay Regenerist Micro-Sculpting Serum leaves behind made it super simple to apply my other skincare products on top of, which I really enjoyed!
Drying Time
The dry time for Olay Regenerist Micro-Sculpting Serum is almost instantaneous. On the first night I tried it, I waited a really long time to feel the serum absorb into my skin, but it never really happened. It felt the same on my skin 5-10 seconds post application as it did 1-2 minutes later.
While I love a quick dry time, this aspect was a bit concerning for me. It sort of seemed like the face serum never actually sunk into my skin. Instead, it was just sitting like a greasy layer on top of my face. And the results I got from Olay Regenerist Micro-Sculpting Serum make me think that's true even more so.
Smell
Olay Regenerist Micro-Sculpting Serum is odorless.
Immediate Results
As I do with every new face serum I try, I used Olay Regenerist Micro-Sculpting Serum at night first. I'm not going to lie, I was a bit put off by the appearance of the serum since it looks identical to hand soap. However, it was still really easy to apply.
The next morning, I felt like my complexion looked really dull and dirty. I wasn't sure what the deal was, but it was definitely unattractive, and the serum was the only new product I had incorporated into my skincare routine.
I also had noticeably more blackheads on my nose, and some immediate congestion around my mouth. They weren't giant zits or anything, but little white bumps that just weren't cute. I was a little concerned and cautious about using the serum from that point on.
Long Term Results
I'm so disappointed in my experience with Olay Regenerist Micro-Sculpting Serum. Truthfully, I have a few friends who love this face serum, so I went into it excited to give it a go, and it was a total let down.
Firstly, I didn't experience any anti-aging benefits whatsoever. Olay promised this serum would increase skin elasticity and firmness, while decreasing fine lines and wrinkles, and none of that happened for me. I even continued to use the serum twice daily despite how it wore under makeup, and still no positive changes in my complexion.
On the flip side, I was really embarrassed at how my skin looked after using Olay Regenerist Micro-Sculpting Serum for a few weeks. My skin looked dull and dirty all of the time. It's almost as if the rest of my skincare products weren't able to break through the serum barrier, so my skin really struggled overall.
I had a major increase in blackheads on my nose, and even around my mouth, and my skin had a weird waxy sheen to it all the time. I was really excited to be done using this face serum because of how horrible I felt like my skin looked as a result of this product.
Price/Value
Olay is a skincare line found in many drugstores and grocery chains across the country, so its accessibility, partnered with the reasonable price tag, makes this a very easy brand to be drawn to. Unfortunately, when it comes specifically to Olay Regenerist Micro-Sculpting Serum, it's absolutely not worth the money.
I personally felt like my skin was much worse off after I used the serum than before I used it, and it didn't deliver on any of the anti-aging claims it made. It was also nearly impossible to wear under my makeup, so it made my complexion both with makeup and without look really poor.
Finally, you can't return the product after you've used it, so you're simply out of money if it doesn't work for your skin. I'd definitely look to other anti-aging face serums instead of Olay Regenerist Micro-Sculpting Serum.
Guarantee
In my opinion, Olay has a horrible return policy. You can receive a full money-back guarantee if you return the product within 30-days of receiving it. The catch? The product must be unopened and unused.
In other words, you can't actually try out Olay products to see if they do what they say they're going to do and still have the option to get your money back. This is disappointing for any brand, regardless of whether I've enjoyed their product or not.
Where To Buy
To purchase Olay Regenerist Micro-Sculpting Serum, click here.
Olay Regenerist Micro-Sculpting Serum: Summary
| | |
| --- | --- |
| Factor | Olay Regenerist Micro-Sculpting Serum |
| Overall Rating | |
| Texture/Feel | Thick serum – has a texture similar to hand soap. Leaves behind a greasy residue on face and neck. Easy to layer other face products on top of, however. |
| Application | Apply one pump of serum to clean, dry skin both morning and night. Follow up with moisturizer and other skincare products used daily. Difficult to wear under makeup. |
| Drying Time | 5-10 seconds |
| Smell | Odorless |
| Immediate Results | Dirty-looking complexion when I woke up, and an increase in skin congestion on nose and mouth |
| Long Term Results | Dull, waxy-looking complexion. Increase in blackheads and skin congestion on nose and around mouth. No improvement to fine lines, wrinkles, or skin elasticity. |
| Ingredients | Glycerin, Dimethicone, Olive Oil Carboxylate, Carob Fruit Extract, Citric Acid |
| Price | $33.49 |
| Guarantee | Horrible return policy – can receive money back if product is sent back within 30-days of receiving it, and is unopened and unused. |
| Where To Buy | Click Here |