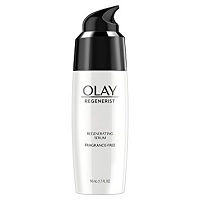 Product Name:  Olay Regenerist Regenerating Serum
Overall Rating: 

Serum Type:  Anti-aging
Size:  1.7 fl oz
Price:  $26.99
Cost Per Ounce:  $15.88
Where to Buy:  Click Here
# of Ingredients:  23
Notable Ingredients:  Glycerin, Dimethicone, Allantoin
Overall Opinion:
As a well-known skincare line, I had high expectations for the Olay Regenerating serum. Sadly, my experience was super negative with this product.
While the serum is anti-aging, I have no idea if these results are obtainable from using this product as I experienced a horrible breakout after using it for just two days. Even if anti-aging benefits could be achieved from daily use, the acne that occurred all over my face is honestly not worth those benefits.
The Olay Regenerating serum is supposed to be used both morning and night, and claims to give you younger looking skin by increasing your skin's elasticity. While the product was comfortable to wear, I woke up with blemishes all over my face. My initial thought was that something else could have caused the flare up, but the Olay serum is the only new product I added into my nighttime skincare routine.
Once I discontinued using the product, I saw the acne slowly start to clear up.
So based on that horrible experience, I do not think this product, though affordable, is worth the money. Since I do not have sensitive skin, and have not experienced a breakout with any other serum I've tried, I think many individuals would have a hard time using this product, and could experience a similar outcome.
Detailed Opinion:
Texture/Feel
The Olay Regenerating serum is a clear, water-based serum.
It is thicker than many other face serums, and has a texture similar to a face moisturizer.
When applied to my face, the serum had a slick, silicone texture to it. However, unlike other silicone-feeling serums that usually make my face feel pretty dry, this serum left my face feeling very sticky. That sticky feeling was extremely uncomfortable.
Application
Applying the Olay face serum is simple. After cleansing and toning my face, I used two pumps of the serum to cover my face and neck.
Once the product had sunk in, I applied my face moisturizer. Olay suggests using the product both morning and night to achieve ultimate results, which is what I did.
Drying Time
Since this serum left a very sticky feeling on my face and neck, it never really felt like it dried fully.
You could definitely tell that some of the product was working its way into my face and neck, since my face was less "wet" feeling after about a minute. However, that sticky feeling never went away, even after more than five minutes of waiting to apply anything over it.
I chose to wait 60 seconds before applying my moisturizer, which did get rid of the sticky feeling, so I would recommend waiting at least that long before applying another product on top.
Smell
Olay Regenerist Regenerating Serum is fragrance free, which is nice for women who are sensitive to odors in their skincare products.
Immediate Results
As I do with most face serums, I chose to apply the Olay Regenerating serum at night. While my skin felt sticky with initial application, that feeling did go away once I applied my nighttime moisturizer, so the serum overall was pretty comfortable to wear to bed.
When I woke up the next morning, I notice a bunch of tiny blemishes starting to form all over my face. Not just in one spot, but from my forehead down to my chin, and everywhere in between. I haven't had a breakout in forever, so I was pretty surprised to be having that reaction.
I decided to use the serum again that morning, hoping that by continuing on my normal skincare routine, and not picking at my face, the blemishes would slowly subside and disappear. Wrong. By that night, my face had exploded. I literally haven't had that bad of a breakout since middle school.
Since the face serum was the only new product I used, and the acne started to go away a few days after discontinuing use of the product, I found the Olay Regenerist serum to be the cause of my breakout.
Long Term Results
Since I discontinued using the product after just two uses, I can't speak to the long-term results of this product. I do think that my acne got worse as I continued to use it, so I can only assume that had I not stopped using the Olay Regenerist serum, my acne would be out of control.
While this face serum could have the potential to be anti-aging in nature, I don't think any woman, and definitely not me, is willing to have skin like they're in middle school in order to see fine lines and wrinkles slowly disappear (if you could even see the wrinkles behind all of the blemishes). Sure, this serum gave me younger looking skin; it made me have acne like a teenager.
Price/Value
At $27.00 for almost two ounces of product, this is definitely a cheaper face serum on the market, and from a brand that is very well known as a skincare line. You also get quite a bit of product for the money, especially compared to most serums that only provide an ounce of serum.
However, the extremely negative reaction I had to this product is not worth saving a penny by opting for a more affordable face serum.
There are many other face serums on the market that have an awesome price tag and even better results. This is absolutely, 100% not worth the money, and will end up leaving you with acne all over, taking days to start clearing up. This is definitely a face serum to skip.
Guarantee
Olay Regenerating Serum has a money-back guarantee if you aren't satisfied with the product. However, the money is returned on a prepaid card, not back on the credit or debit card you purchased it with.
Where To Buy
To purchase Olay Regenerist Regenerating Serum, click here.
Olay Regenerist Regenerating Serum: Summary
| | |
| --- | --- |
| Factor | Olay Regenerist Regenerating Serum |
| Overall Rating | |
| Texture/Feel | Thick, water-based serum. Has a silicone texture upon application and leaves the skin feeling very sticky |
| Application | Apply to cleansed, toned skin every morning and night. Apply moisturizer once dry |
| Drying Time | Never fully dries. At its "most dry" at 60 seconds after application |
| Smell | Fragrance free |
| Immediate Results | Breakout all over my face—from my forehead down to my chin |
| Long Term Results | Increase in acne. Blemishes from the previous night got bigger, and additional acne spots began popping up all over my cheeks and nose |
| Ingredients | Glycerin, Dimethicone, Allantoin |
| Price | $26.99 |
| Guarantee | Full money-back guarantee, but money is returned on a prepaid card |
| Where To Buy | Click Here |