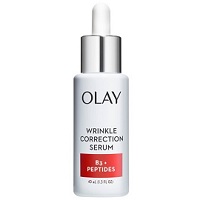 Product Name:  Olay Wrinkle Correction Serum
Overall Rating: 

Serum Type:  Anti-aging
Size:  1.3 fl oz
Price:  $28.99
Cost Per Ounce:  $22.30
Where to Buy:  Click Here
# of Ingredients:  17
Notable Ingredients:  Dimethicone, Glycerin, Vitamin B3, Peptides
Overall Opinion:
I am beyond impressed with Olay Wrinkle Correcting Serum. This serum isn't just good for a drugstore brand. This is a great serum period.
This anti-aging product delivered almost immediate results, and after just a week, I found my skin looked younger, healthier, and altogether gorgeous.
While the results and affordable price tag are both impressive and exciting, I'm really unimpressed with the return policy Olay has, which led me to lower my star rating for this product.
I loved this serum and think it's a great option for nearly every skin type, but there is a risk involved with the purchase due to the poor return policy.
Detailed Opinion:
Texture/Feel
The texture of Olay Wrinkle Correcting Serum is consistent with most other face serums on the market, so there's nothing to report there.
However, when you apply it to your face and neck and when it absorbs, it feels a lot more like a moisturizer than it does a serum. This made it very comfortable to wear.
The serum also doesn't leave behind much of a residue. My skin just felt moisturized, which made the application piece of the serum super easy and straightforward.
Application
Olay Wrinkle Correcting Serum is super easy to apply both in your daytime and nighttime skincare routines.
You simply apply the serum to clean, dry skin both morning and night. Once absorbed, continue with your other skincare products used daily.
It was very easy to layer my other skincare products on top of this serum because it doesn't leave behind much of a residue. This also allowed me to seamlessly wear it underneath makeup, which is always a factor for me in how I rate these face serums.  
Drying Time
The dry time for Olay Wrinkle Correcting Serum is average—about 20-30 seconds.
Smell
Olay Wrinkle Correcting Serum is odorless.
It just has a clean scent to it, which is really nice and not bothersome to anyone using the product.
Immediate Results
I definitely experienced immediate results with Olay Wrinkle Correcting Serum. The morning after I first applied the product, I saw an increase in skin hydration. My skin simply looked and felt much healthier than it had before introducing this product into my skincare routine.
Secondly, I also saw a decrease in the redness on my face. It wasn't color correcting my sun/age spots per se, but my skin just looked less irritated as a whole.
Long Term Results
Olay Wrinkle Correcting Serum delivered me some seriously gorgeous skin, and I'm thrilled about it!
From an anti-aging perspective, I saw a decrease in the fine lines and wrinkles around my eyes and mouth, and a decrease in my skin discoloration—both in redness and in color correcting for brown spots on my complexion.
Beyond those benefits, I also experienced a ton of skin hydration and had an overall gorgeous, healthy-looking complexion.
The best part? I only used this serum for a week before seeing these results, so this is a fast-acting product, as well.
Price/Value
I definitely think Olay Wrinkle Correcting Serum is worth the money! You get more face serum than the average brand, and it has an affordable price tag, too.
The results I achieved with this product, both immediately and in the long-term, make Olay Wrinkle Correcting Serum well worth the money!
Guarantee
I'm very surprised at how awful the return policy is at Olay. For such a large company, you'd think they'd provide better customer service!
You have 30 days to return unopened, unused product. So basically, you don't have an option to see if the product works for your skin without being willing to lose your money on it if it doesn't.
I may have personally loved Olay Wrinkle Correcting Serum, but that doesn't mean it's going to work for everyone's skin type, and it definitely doesn't excuse a return policy like this.
Where To Buy
To purchase Olay Wrinkle Correcting Serum, click here.
Olay Wrinkle Correcting Serum: Summary
| | |
| --- | --- |
| Factor | Olay Wrinkle Correcting Serum |
| Overall Rating | |
| Texture/Feel | Normal face serum consistency. Feels more like a moisturizer when applied and absorbed into your skin. Very comfortable to wear |
| Application | Apply pea-size amount on clean, dry skin both morning and night. Once absorbed, continue with other skincare products. Wears well under makeup |
| Drying Time | 20-30 seconds |
| Smell | Odorless |
| Immediate Results | Hydration of the skin, and more clear skin tone (decrease in redness) |
| Long Term Results | Decrease in fine lines and wrinkles, and skin discoloration. Increase in skin hydration and healthy-looking glow. Very pleased with long-term results |
| Ingredients | Dimethicone, Glycerin, Vitamin B3, Peptides |
| Price | $28.99 |
| Guarantee | 30-day money-back guarantee on unopened and unused products. Terrible return policy |
| Where To Buy | Click Here |