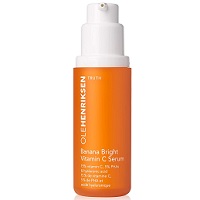 Product Name:  Ole Henriksen Banana Bright Vitamin C Serum
Overall Rating: 

Serum Type:  Skin Brightening
Size:  1 fl oz
Price:  $65.00
Cost Per Ounce:  $65.00
Where to Buy:  Click Here
# of Ingredients:  45
Notable Ingredients:  Orange Oil, Orange Peel Oil, Orange Fruit Extract, Sunflower Seed Oil, Glycerin, Hyaluronic Acid, Caramel
Overall Opinion:
I'm a huge fan of almost all the Ole Henriksen products I've tried, so I was really excited to try out the brand's Banana Bright Vitamin C Serum.
There are plenty of things to love about this serum. The application is simple, and the product itself doesn't leave behind any uncomfortable residue. It also has a delicious scent to it, and wears well underneath makeup and other skincare products.
The results I achieved are undeniable—my complexion was definitely brighter. However, I'm not totally sure the results justify the expensive price tag.
While I loved how my skin looked after using this product, I do believe there are other options on the market that deliver comparable results at a more affordable price, so it's really up to the individual if the price tag is worth it!
Detailed Opinion:
Texture/Feel
The overall texture is that of an average serum, so there aren't any surprises there.
Once the serum dries down, it doesn't leave behind much of a residue at all. You can definitely feel that you have something on your skin, but it's not overly tacky or oily.
Overall, this was one of the most comfortable face serums to wear, which is a total plus!
Application
Ole Henriksen Banana Bright Vitamin C Serum is very easy to apply. Simply use one pump of product on clean, dry skin both morning and night.
Once the product has absorbed into your skin, layer your other skincare products on top.
This was seamless to incorporate into both my daytime and nighttime skincare routines since it's easy to layer other skincare products on top of, and it wears beautifully under makeup.
Drying Time
The dry time is pretty quick—about 30 seconds.
The nice thing about this dry time is that once it's fully absorbed into your skin, there really isn't much of a residue left behind, so it's pretty clear when it's actually dried down completely.
Smell
Ole Henriksen Banana Bright Vitamin C Serum has a sweet citrus odor, which I really enjoyed.
I was a little surprised by the scent since the product has 'banana' in the name, but it's clear after looking at the ingredient list how many variations of orange are in the serum, so the smell makes sense.
Personally, the odor of this face serum was a plus for me, but even if you're sensitive to odors, I don't think this one is overpowering, and it does dissipate once absorbed into your skin.
Immediate Results
I used this serum at night first, and the next morning, I could see a slight change in my complexion.
While the changes weren't over-the-top, I did see an increase in skin brightness, and could just tell that this was going to be a product that worked well with my skin.
Long Term Results
The longer I used Ole Henriksen Banana Bright Vitamin C Serum, the more I liked how my complexion looked. It was very obvious that my skin looked brighter and healthier as a result of using this face serum.
I also think this product helped decrease some skin discoloration, mostly in terms of some of the brown sun/age spots I have, so that was a nice element to this serum, as well!
Overall, I'm really happy with how my complexion looked after using this Ole Henriksen serum.
Price/Value
The price is actually the reason why I didn't give this serum a higher star rating.
Don't get me wrong—I really like this serum and I think that it does what it says it's going to do. It made my complexion undeniably brighter.
However, it doesn't do anything special or more than that to improve your complexion, so the price tag seems really steep to me. In all honestly, there are plenty of other skin-brightening serums that do just as good of a job and are much more affordable.
So whether this product is worth the money or not is really up to each individual's own discretion.
Guarantee
Ole Henriksen offers a 60-day money-back guarantee. The 60 days does begin after the purchase date, however, not the date you receive the product, so make sure you keep track of that information.
Where To Buy
To purchase Ole Henriksen Banana Bright Vitamin C Serum, click here.
Ole Henriksen Banana Bright Vitamin C Serum: Summary
| | |
| --- | --- |
| Factor | Ole Henriksen Banana Bright Vitamin C Serum |
| Overall Rating | |
| Texture/Feel | Average face serum consistency. Leaves behind a minor residue on your skin once absorbed but not overly tacky or oily. Very comfortable serum to wear and layer products on top of |
| Application | Apply 1 pump of serum to clean, dry skin both morning and night. Once absorbed, apply other skincare products. Wears well underneath makeup, too |
| Drying Time | 30 seconds |
| Smell | Sweet citrus smell—loved the scent! Goes away once the serum absorbs into skin |
| Immediate Results | Slight increase in skin brightness |
| Long Term Results | Glowing, clear skin. Overall brighter appearance of skin, and decrease in skin discoloration |
| Ingredients | Orange Oil, Orange Peel Oil, Orange Fruit Extract, Sunflower Seed Oil, Glycerin, Hyaluronic Acid, Caramel |
| Price | $65.00 |
| Guarantee | 60-day money-back guarantee |
| Where To Buy | Click Here |