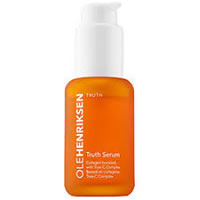 Product Name:  Ole Henriksen Truth Serum Collagen Booster
Overall Rating: 

Serum Type:  Skin brightening; Anti-aging
Size:  1 fl oz
Price:  $48.00
Cost Per Ounce:  $48.00
Where to Buy:  Click Here
# of Ingredients:  27
Notable Ingredients:  Truth-C Complex, collagen, glycerin, orange and green tea extracts, aloe juice
Overall Opinion:
Ole Henriksen Truth Serum is one of the more impressive face and neck serums on the market today. As a skin brightening serum, it does exactly as advertised. While I didn't experience immediate results, after using the Truth Serum for several weeks, my skin gave off a radiant, natural glow that I've never achieved before.
The Ole Henriksen face serum also has anti-aging components as it contains collagen as one of its main ingredients. The collagen helped smooth out and tighten my skin, giving me a youthful, airbrushed appearance. I actually preferred my skin without makeup on because of how naturally beautiful my skin looked after using this product.
Application of this serum is simple, and was easy to work into my daily skincare routine. While the website and instructions don't provide a lot of guidance, using the product once daily in the morning helped me achieve my results. The serum does have a very strong, sweet citrus smell, which I loved, and felt like it added to the overall experience of using the product.
As one of the best face serums on the market, the Ole Henriksen Truth Serum is also one of the more expensive. At $48.00 for a single ounce, this definitely costs a bit more to achieve results. However, the radiant results are undeniable, making this product worth every cent I spent on it.
Detailed Opinion:
Texture/Feel
Ole Henriksen Truth Serum is an orange, water-based face serum. The texture is similar to many other face serums on the market. Rather than a thick, gel-like consistency, the Truth Serum has more of a thin, oily feel to it.
Application
Applying the Ole Henriksen face serum is super easy, and seamlessly worked into my daily skincare routine. Unfortunately, the website and the instructions on the packaging don't go into much detail on how to apply this product beyond explaining that it should be used daily. The Truth Serum should be applied to both your face and neck, and should be followed up with a moisturizer. Since the instructions were lacking, I chose to use it like most other serums—after cleansing and toning. I also chose to use this just in the morning, rather than applying it twice daily. Since the product feels more like an oil, I applied it by rubbing it in circular motions onto my skin, versus tapping it into the face and neck area.
One word of caution—the pump expels way too much product! At this price point, I don't think you want to use more serum than you need on a daily basis.  Every drop is costly!  So, I'd advise slowly pushing the pump down until you have enough product to cover your face and neck.
Drying Time
The drying time for the Ole Henriksen Truth Serum is a bit longer than other serums. Since it's a thinner product that requires you to rub it into your face and neck skin, it takes 30-45 seconds before the product feels absorbed into the skin.
However, unlike other serums, once the Truth Serum is absorbed, it didn't feel like I had anything on my skin. Zero tacky residue or slick feeling remains. Instead, it feels just like your cleansed skin before applying the product. This makes it easy to apply whatever face moisturizer I was using in my daytime skincare routine.
Smell
This face serum has a very strong scent, but in my opinion, it smells amazing! If you're an individual who can't stand scents in their skincare products, this is definitely not for you. The Ole Henriksen face serum has an incredible, sweet citrus smell that makes you feel like you're in a high-end spa. While the scent does not linger after the product has been worked into the skin, it's a very nice touch to the serum, and added a relaxing feel to my skincare regimen.
Immediate Results
I didn't experience immediate results with this product. Since it's a skin brightening serum, and not a hydrating or exfoliating serum, it's more difficult to see immediate results. However, I didn't experience any skin irritation or breakouts from using the product initially, which can happen when introducing a new product into my skincare routine.
Long Term Results
The long term results of using the Ole Henriksen Truth Serum were incredible. I couldn't believe how much of a natural glow my skin had after using this product. As someone who loves to wear makeup, I rarely go a single day without using liquid foundation and some sort of highlighter. However, after using this product for a few weeks, I was often leaving the house without using foundation, which is huge for me! I just found that my natural complexion was prettier than any foundation could give me.
Additionally, while I wouldn't say this serum is an acne fighting serum, I did find that my complexion overall was much smoother, with fewer acne spots or blackheads. This added to the overall healthy look and feel of my skin, and gave me the confidence to go out in public bare face.
I also found that the collagen in the serum had a powerful effect on my skin. My face specifically felt tighter, giving my skin a smooth, airbrushed look naturally.
Price/Value
At $48.00 for a single ounce, this is definitely one of the pricier serums on the market. However, I believe it is worth every penny. It truly delivers on what it sets out to do as far as giving me a healthy glow, and smoothing out my skin. Since the pump expels significantly more product than you need, users should be aware of slowly pumping out the amount of product they actually need so as to not waste a single drop.
Guarantee
Ole Henriksen offers a 60-day money back guarantee on all of their products, including the Truth Serum. This is super generous compared to the traditional 30 days most other brands have. The 60 days begin from the purchase date, but if a customer is not satisfied, they do not have to pay for the return shipping or handling fees.
Where To Buy
To purchase Ole Henriksen Truth Serum, click here.
Ole Henriksen Truth Serum Collagen Booster: Summary
| | |
| --- | --- |
| Factor | Ole Henriksen Truth Serum Collagen Booster |
| Overall Rating | |
| Texture/Feel | This is an orange, water-based serum that feels thin and oily. |
| Application | Easy to apply; use daily on face and neck. Follow with a moisturizer. |
| Drying Time | Dries in 30-45 seconds; doesn't leave any residue on the skin once absorbed. |
| Smell | Strong, sweet, citrus smell. Dissipates once absorbed into the skin. |
| Immediate Results | No immediate results were experienced. |
| Long Term Results | Skin gave off a natural glow, complexion became smoother and tighter due to collagen. |
| Ingredients | Truth-C complex, collagen, glycerin, orange and green tea extracts, aloe juice |
| Price | $48.00 |
| Guarantee | 60-day money back guarantee. Customer does not have to pay to return product. |
| Where To Buy | Click Here |