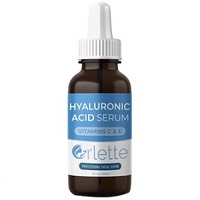 Product Name:  Orlette Hyaluronic Acid Serum
Overall Rating: 

Serum Type:  Serum
Size:  1 fl oz
Price:  $13.95
Cost Per Ounce:  $13.95
Where to Buy:  Click Here
# of Ingredients:  15
Notable Ingredients:  Vitamin C, Vitamin E, Jojoba Oil
Overall Opinion:
I didn't expect much from Orlette Hyaluronic Acid Serum when I first started trying it because truthfully, I'd never heard of the brand before, but I was pleasantly surprised that this serum did deliver some results.
This face serum is thick in texture, which normally doesn't feel very nice on the skin, but this one is surprisingly non-greasy and absorbs right into the skin. I like the dropper applicator and despite being pretty thick, you don't need too much product to cover the entire face and neck.
After using Orlette Hyaluronic Acid Serum for a short amount of time, I was actually really impressed with the fast results that I saw. I noticed a difference in my fine lines; they were looking plumped up and my skin felt noticeably smoother as well.
Long term, I was disappointed because after seeing the quick results short term, I thought I was going to see major improvements in my skin, but that wasn't the case. The improvements that I saw short term were pretty much all the difference I ended up seeing in my skin. It did plump up my fine lines and smooth out the texture of my skin but there was no big difference in the deeper lines around my face and it didn't help with any discoloration.
Overall, Orlette Hyaluronic Acid Serum was a pretty average face serum that helped with some minor skin concerns but didn't deliver as much as I would hope for.
Detailed Opinion:
Texture/Feel
The texture and feeling of Orlette Hyaluronic Acid Serum are kind of thick for a face serum, but despite the thick texture, it doesn't feel greasy on the skin and it absorbs really nicely. I was actually surprised how moisturizing this serum was as well. Normally, face serums aren't hydrating to the skin, but this felt nice and hydrating.
Application
This face serum comes in a bottle with a dropper which makes it really easy to apply and to control the amount of product used. You need about half a dropper full to cover the entire face and neck. I noticed a few people mentioned applying this one to their hands, so after I applied the product to my face and neck, I found myself rubbing the rest into my hands.
Drying Time
Orlette Hyaluronic Acid Serum is pretty thick, but it actually absorbs into the skin and dries pretty quickly. It takes about 30-40 seconds to totally dry and absorb.
Smell
There is no added fragrance and not much of a smell at all to Orlette Hyaluronic Acid Serum, which as I've said before, I definitely prefer.
Short Term Results
Short term, I noticed that my skin was feeling softer and more supple. I noticed that it was definitely plumping up my skin and making the overall appearance smooth, which was pretty impressive after a short amount of time.
Longer Term Results
After using Orlette Hyaluronic Acid Serum for a longer period of time, I had some improvements to my skin, but not major differences to my deeper lines on my forehead and around my eyes. The main differences I saw were plumped fine lines, smoother skin, and even texture. I also didn't notice much of a difference to my hyperpigmentation which is something I typically like to see from a face serum. I will also note, this helped the texture of my hands a lot. I can see why many people like to use this on the backs of their hands!
Ingredients Analysis
Orlette Hyaluronic Acid Serum is full of a lot of ingredients I found interesting, but a few that stood out to me were Vitamin C, Vitamin E, and Jojoba Oil.
First, Vitamin C is a great ingredient in helping fight anti-aging because it is known to neutralize free radicals on the skin that can cause premature aging.
Next, Vitamin E helps the skin fight against sun damage and can help firm the skin by encouraging the production of collagen and elastin.
Lastly, Jojoba Oil acts as a moisturizing agent which can help plump up the skin and smooth out fine lines and wrinkles.
Price
The cost of Orlette Hyaluronic Acid Serum is $13.95 for 1 oz of product.
This is a pretty average price for a face serum.
Guarantee
Unfortunately, there is no money back guarantee for Orlette Hyaluronic Acid Serum.
Where To Buy
To Buy Orlette Hyaluronic Acid Serum, click here.
Orlette Hyaluornic Acid Serum: Summary
| | |
| --- | --- |
| Factor | Orlette Hyaluornic Acid Serum |
| Overall Rating | |
| Texture/Feel | Thick serum that feels non-greasy |
| Application | Easy to apply with a dropper |
| Drying Time | Dries within 30-45 seconds |
| Smell | No added fragrance |
| Immediate Results | Skin was plumped up |
| Long Term Results | Fine lines were smoothed and plumped |
| Ingredients | Vitamin C, Vitamin E, Jojoba Oil |
| Price | $13.95 for 1 oz of product |
| Guarantee | No money back guarantee |
| Where To Buy | Click Here |