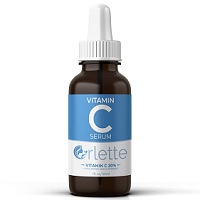 Product Name: Orlette Vitamin C Serum
Overall Rating:

Serum Type: Anti-aging
Size: 1 fl oz
Price: $13.95
Cost Per Ounce: $13.95
Where to Buy: Click Here
# of Ingredients: 15
Notable Ingredients: Vitamin C, Aloe, Botanical Hyaluronic Acid, Witch Hazel, Vitamin E, Organic Jojoba Oil
Overall Opinion:
I'm going to cut right to the chase with Orlette Vitamin C Serum—it's probably not worth your time or money. Truthfully, there's nothing overly terrible about it. I didn't experience any terrible breakouts and it's fairly easy to use and incorporate into your daily skincare routine.
The main issue is the results, or lack thereof. While Orlette Vitamin C Serum is an anti-aging serum, I didn't experience any anti-aging results at all. Additionally, I found that the longer I used the face serum, the worse my skin appeared. I had an increase in dry skin and blemishes popping up on my face. Neither of those side effects are terrible or overwhelming, but I was fearful that if I kept using the serum, those negative results would only continue.
The good news is that this product is sold on Amazon, which is notorious for having a great return policy. So if the cheap price tag is still too appealing for you to pass up, you can always give it a try and likely return it if it doesn't work for you. But my recommendation would be to select a different anti-aging serum altogether.
Detailed Opinion:
Texture/Feel
The texture of Orlette Vitamin C Serum is considerably thicker than many other face serums I've tried. It almost has a gel-like consistency to it. However, the thickness of the serum doesn't make it difficult to apply, so the consistency isn't really an issue.
It does leave behind a bit of a sticky residue. It isn't overpowering or uncomfortable, but you can definitely feel that you have a thicker product on your face. I also had to work a bit harder to rub in my other face products because of the residue left behind, but again, it wasn't overly difficult.
Application
Orlette Vitamin C Serum has simple and straightforward application instructions. As you should with any face serum, you'll want to apply the product on clean, dry skin. Also, if you use a toner, make sure you apply that and let it dry before using this serum.
Apply a small amount of product to both your face and neck. You'll want to massage the serum into your face fairly quickly since it almost seems to dry as you apply it.
Once the serum has fully absorbed into your face and neck—just seconds later—apply your sunscreen, moisturizer, and anything else you use on a daily basis.
Finally, the serum should be applied both morning and night, and can easily be worn under makeup as it doesn't impact the appearance or wear-time of your foundation. (Major bonus for any serum!)
Drying Time
As I mentioned above, Orlette Vitamin C Serum almost dries while you're applying it, so the dry time is really quick. I would say about 10 seconds.
Normally I love a quick dry time for a face serum, but when face serums dry as quickly as this one dries, it can make application a bit trickier, so make sure you act fast J
Smell
Orlette Vitamin C Serum is completely odorless.
Immediate Results
As I do with every new face serum I try, I used Orlette Vitamin C Serum at night first. Nothing about it was really noteworthy or stuck out in my mind with that initial application.
The next morning, my skin looked exactly the same, and that was the case for the next week or so as well, so I wouldn't say I experienced any immediate results.
Long Term Results
Orlette Vitamin C Serum is an anti-aging serum, so I was obviously expecting to experience anti-aging results. Unfortunately, that wasn't the case with this serum. My face looked exactly the same in every anti-aging category—fine lines and wrinkles, skin discoloration, elasticity, etc.
Additionally, the longer I used Orlette Vitamin C Serum, the worse my skin looked, which was super disappointing. It wasn't anything super extreme, but I noticed my skin became drier, especially around my mouth, and I had random blemishes popping up around my face.
So overall, I wasn't happy with the long-term results I achieved.
Price/Value
Orlette Vitamin C Serum is insanely affordable, which is obviously appealing to anyone. Unfortunately, it's not worth the money.
Not only does the serum fail to deliver any anti-aging results, but also, the longer I used the serum, the worse my skin seemed to appear. I began experiencing more acne spots and drier skin, so regardless of the price, this probably isn't a product you want to invest any money in.
Guarantee
Orlette sells their products on third-party websites such as Amazon. The return policy is dependent on each individual retailer, so make sure you check with the website you buy it from before moving forward with the purchase.
Where To Buy
To purchase Orlette Vitamin C Serum, click here.
Orlette Vitamin C Serum: Summary
| | |
| --- | --- |
| Factor | Orlette Vitamin C Serum |
| Overall Rating | |
| Texture/Feel | Thicker than the average face serum. Almost had a gel-like consistency, but is still easy to apply |
| Application | Apply small amount to clean, dry face and neck both morning and night. Apply other products on top of serum once absorbed |
| Drying Time | 10 seconds |
| Smell | Odorless |
| Immediate Results | No immediate results, good or bad |
| Long Term Results | I didn't see any anti-aging results, but I do think my skin was started to look worse the longer I used this. Blemishes started to pop up and I was experiencing more dry skin than normal |
| Ingredients | Vitamin C, Aloe, Botanical Hyaluronic Acid, Witch Hazel, Vitamin E, Jojoba Oil |
| Price | $13.95 |
| Guarantee | Orlette sells their products on third-party sites such as Amazon. Return policy dependent on each individual retailer |
| Where To Buy | Click Here |