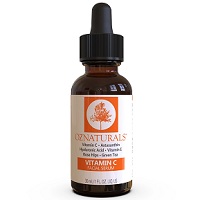 Product Name:  OZNaturals Vitamin C Facial Serum
Overall Rating: 

Serum Type:  Skin Brightening
Size:  1 fl oz
Price:  $18.00
Cost Per Ounce:  $18.00
Where to Buy:  Click Here
# of Ingredients:  20
Notable Ingredients:  Glycerin, Witch Hazel, Vitamin E, Rose Hips Extract, Hyaluronic Acid, Green Tea Leaf Extract
Overall Opinion:
There is a lot to love about OZNaturals Vitamin C Serum! I'd never heard of this skincare line before, but with an affordable price tag and promises of brighter skin, I had to give it a try.
This serum is very easy to use and wears well with both your daytime and nighttime skincare products. It's super comfortable to wear, has a delicious cinnamon scent to it (if you like that sort of thing!), and the brand itself has an awesome return policy.
Unfortunately, you may need to use that return policy since this face serum didn't deliver any results, skin brightening, or otherwise. So while this may be a great product in many ways, it won't do much for improving your complexion.
Detailed Opinion:
Texture/Feel
OZNaturals Vitamin C Serum is much thinner than the average face serum. It has a consistency identical to water, so that aspect of the serum definitely caught me off guard.
However, when I applied it to my face and neck, it felt much more gel-like than anything else. It was very easy to rub into my skin, and once it absorbed, it left behind a slightly slick residue.
Overall, this serum was very comfortable to wear both during the day and at night!
Application
Almost everything about OZNaturals Vitamin C Serum makes the application simple! However, since the serum is so thin and water-like, I had a little trouble keeping it on my fingers for application.
Besides that, this serum is a breeze. Simply cleanse, tone, and dry your face before application. Once the serum is absorbed, apply your other skincare products used daily on top.
This serum should be used both morning and night, and can be done easily. This OZNaturals face serum didn't impact the wear of my makeup or change the way my other skincare products felt on my face.
Drying Time
The dry time is 15-20 seconds.
I was surprised at the dry time for this serum because of how "wet" of a product it is. However, it was a short added step in my skincare routine, which I always appreciate.
Smell
I was super surprised at the smell of OZNaturals Vitamin C Serum! From the moment you open the bottle, you can smell a very strong cinnamon scent.
I personally love that odor, so this was a bonus for me! However, it's very strong, even after other products are applied on top, so I wanted to make sure to mention that.
Immediate Results
I first applied OZNaturals Vitamin C Serum at night, and the next morning, I started to experience a bit of dryness on my face, specifically around my nose and chin.
Over the course of the next few days, I had some skin peeling in those areas. I wasn't sure if that was the serum getting rid of dead skin, or if the serum itself was drying.
After about 3-4 days, the dry skin and peeling subsided, so the product wasn't drying after the initial first few uses.
Long Term Results
Unfortunately, I didn't experience any changes to my complexion after using OZNaturals Vitamin C Serum, skin brightening or otherwise.
I thought the initial peeling I was experiencing would lead to more refreshed, brighter-looking skin. However, I don't look any different, which is a big bummer.
Price/Value
I don't think OZNaturals Vitamin C Serum is worth the money. While it's an affordable price for the amount of product you get and simple to incorporate into your daily life, it just doesn't deliver any skin brightening results.
For that reason, I think this serum is one to skip and instead put your money toward a different skin-brightening product.
Guarantee
OZNaturals offers a 30-day money-back guarantee on any products purchased from their website.
You can also do the entire return process through their website, which is really nice!
Where To Buy
To purchase OZNaturals Vitamin C Serum, click here.
OZNaturals Vitamin C Serum: Summary
| | |
| --- | --- |
| Factor | OZNaturals Vitamin C Serum |
| Overall Rating | |
| Texture/Feel | Consistency similar to water—very thin. When applied, it feels gel-like and moisturizing. Once absorbed, it leaves behind a slick residue. Very comfortable to wear |
| Application | Apply a 1/3 of the syringe to clean, dry skin both morning and night. Once absorbed, apply other products. Wears well underneath makeup and easy to incorporate into skincare routines |
| Drying Time | 15-20 seconds |
| Smell | Strong cinnamon scent |
| Immediate Results | Slight drying around nose and chin within first few days; no other immediate results experienced |
| Long Term Results | No noticeable changes to my complexion |
| Ingredients | Glycerin, Witch Hazel, Vitamin E, Rose Hips Extract, Hyaluronic Acid, Green Tea Leaf Extract |
| Price | $18.00 |
| Guarantee | 30-day money-back guarantee |
| Where To Buy | Click Here |