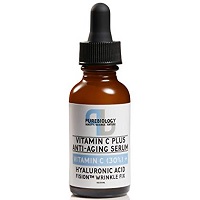 Product Name: PureBiology Vitamin C Plus Anti-Aging Serum
Overall Rating:

Serum Type: Anti-aging
Size: 1 fl oz
Price: $24.95
Cost Per Ounce: $24.95
Where to Buy: Click Here
# of Ingredients: 19
Notable Ingredients: Jojoba Oil, Witch Hazel, Glycerin, Vitamin E, Vitamin C, Hydrolyzed Rice and Pea Proteins
Overall Opinion:
If you have normal to oily skin, and you're looking for impressive anti-aging benefits from a face serum, PureBiology Vitamin C Plus Serum is definitely an option to consider.
As one of the easiest face serums to incorporate into both daytime and nighttime skincare routines, and an affordable price tag to go along with it, the only thing better is the results it achieves. From decreased fine lines and wrinkles, to an overall more youthful, supple complexion, there is a lot to love about PureBiology Vitamin C Plus Serum.
A word of warning, however. If you are prone to dry skin, or thinking of using this during the winter months, definitely take time to reconsider before moving forward. This serum is more drying than others on the market and could leave you with unwanted dry skin in sensitive areas.
While PureBiology Vitamin C Plus Serum isn't perfect, it sure is close, and it's a face serum that should be considered if you're looking for fast, impressive anti-aging results.
Detailed Opinion:
Texture/Feel
PureBiology Vitamin C Plus Serum has a very average consistency and texture for a face serum. For that reason, it was super simple to actually apply it to my face and neck.
Once the serum dries, it doesn't leave any residue at all behind. You can feel that you have something on your face and neck when you touch that skin with your hand, but other than that, it doesn't feel like you have anything on. This was super helpful for layering products and wearing the serum underneath makeup during the day!
Application
The application for PureBiology Vitamin C Plus Serum is super easy. It doesn't directly say to use it both morning and night, but I chose to use it twice daily. As you do with every other face serum, you apply this serum on clean, dry skin. Once the serum has absorbed into your skin (which happens quickly!), apply your moisturizer and other skincare products you use.
I found that layering my acne medication, eye cream, moisturizer, etc. was super easy because PureBiology Vitamin C Plus Serum doesn't leave any residue behind. That, mixed with the quick dry time, made this one of the easiest face serums to apply!
The packaging is a dropper applicator, which isn't my favorite, but I'm just getting picky now J
Drying Time
I absolutely love how quickly PureBiology Vitamin C Plus Serum dries! In just 15 seconds after application, the face serum is completely dry and no residue is left behind.
I'm someone who hates getting ready for bed, or waiting to layer my different face products, so I loved that this didn't add any time at all into my daytime or nighttime skincare routine. Major bonus in my book!
Smell
PureBiology Vitamin C Plus Serum is completely odorless. I'm definitely not someone who minds when face products have a nice smell to them, but I know a lot of people are sensitive to it, so this is probably a plus for many of you!
Immediate Results
As I do with every new face serum I try, I used PureBiology Vitamin C Plus Serum at night first. My initial thoughts were how easy the face serum was to apply and how quick the dry time was!
When I woke up the next morning, my skin looked tighter and more plump already. And, while I normally have lines on my face and neck from my pillow, I didn't have that when I woke up! So I could definitely see the anti-aging benefits of Pure Biology Vitamin C Serum right off the bat.
Long Term Results
Overall, I'm impressed with the results I achieved from using PureBiology Vitamin C Plus Serum! I saw a significant decrease in the fine lines and wrinkles on my face, and my overall complexion looked much more youthful and beautiful. Any skin discoloration went away, and while I did have a few blemishes while using this serum, for the most part, my face stayed completely clear!
I also felt like my skin looked much more plump. I definitely wasn't puffy—in fact, I saw a lot less puffiness in my under-eye region. Instead, I just felt like I had an overall more supple look to my skin, which was awesome!
While I think PureBiology Vitamin C Serum delivers on most of its anti-aging claims, I don't think this face serum is hydrating at all. In fact, I would caution anyone who has dry skin to avoid using this. I would also make sure to avoid it during winter months or in drier climates, or make sure to have a really hydrating moisturizer with it because I felt like it zapped my face of hydration quite a bit.
Price/Value
I definitely think PureBiology Vitamin C Plus Serum is worth the money! It's on the cheaper end of the spectrum as far as skincare products go, and it actually delivers on most of its anti-aging claims.
That, partnered with the ease of use, makes this face serum absolutely worth the money!
Guarantee
PureBiology products are sold on third-party sites such as Amazon. The return policy and other money-back guarantees vary based on individual retailers policies.
Where To Buy
To purchase PureBiology Vitamin C Plus Serum, click here.
PureBiology Vitamin C Plus Serum: Summary
| | |
| --- | --- |
| Factor | PureBiology Vitamin C Plus Serum |
| Overall Rating | |
| Texture/Feel | Average consistency and feel of a normal face serum. Once dry, it doesn't leave behind any residue at all. Very comfortable to wear. |
| Application | Apply to clean, dry skin both morning and night. Use about a dime-size amount of product to cover face and neck. Wait for serum to dry to apply moisturizer and other face products. |
| Drying Time | 15 seconds; very quick dry time! |
| Smell | Odorless |
| Immediate Results | Skin felt tighter almost immediately, and gave off the appearance of a more youthful complexion. |
| Long Term Results | Significant change in fine lines and wrinkles, skin plumpness, and overall appearance. Did not do a very good job at hydration, unfortunately, so be careful using this during colder months or in drier climates. |
| Ingredients | Jojoba Oil, Witch Hazel, Glycerin, Vitamin E, Vitamin C, Hydrolyzed Rice and Pea Proteins |
| Price | $24.95 |
| Guarantee | Sold on third-party sites such as Amazon; return policy varies for individual retailers |
| Where To Buy | Click Here |