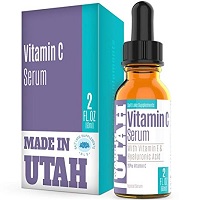 Product Name: Salt Lake Supplements Vitamin C Serum
Overall Rating:

Serum Type: Anti-aging
Size: 2 fl oz
Price: $17.97
Cost Per Ounce: $8.98
Where to Buy: Click Here
# of Ingredients: 17
Notable Ingredients: Aloe, Vitamin C, Hyaluronic Acid, Witch Hazel, Vitamin E
Overall Opinion:
Nearly every aspect of Salt Lake Supplements Vitamin C Serum is enjoyable, except for the results it delivers. While it promises to bring your complexion undeniable anti-aging results, instead you're left with dry, tight skin that sadly makes you look the exact opposite of young.
I'm super bummed by these results, because, as I stated above, this serum is so easy and enjoyable to use! The dry time is quick, the serum is odorless, and the application is as easy as it gets. Not to mention, the price tag is cheap for a lot of product. It seems like a complete winner.
That is, until you use it for a couple of weeks. At that point, you'll start to regret incorporating this serum into your skincare routine, because your skin will end up a lot worse than it was before you starting using this product.
If you're looking for an anti-aging serum, there are many others that deliver actual results with an enjoyable user-experience, as well, so I would recommend looking elsewhere.
Detailed Opinion:
Texture/Feel
The texture of Salt Lake Supplements Vitamin C Serum is average and straightforward, so there aren't any surprises there.
The surprising part to me was that this serum doesn't leave behind any residue. Normally a serum always leaves behind a sticky or oily residue, unless it has a consistency closer to a moisturizer, but that isn't the case here.
I found this aspect to be very refreshing, and made this serum easy to incorporate into my daytime routine and wear underneath my makeup.
Application
This Vitamin C Serum has very easy application steps to follow. Like most other face serums, you'll want to apply the serum to clean, toned skin both morning and night. I found that I needed about a dime-size amount of product to cover my face and neck completely.
As I mentioned previously, this was a super easy serum to wear underneath makeup, which was a major bonus for me and made incorporating this serum into my daytime skincare routine seamless.
Once the serum absorbs into your skin, apply other products you use daily, such as your moisturizer and sunscreen. Super easy!
Drying Time
The dry time is pretty quick—about 15 seconds!
You'll definitely know when this serum is absorbed because, as I stated previously, there is absolutely no residue left behind. I love both of these aspects—the quick dry time and lack of residue—because it made incorporating this into my morning and nighttime skincare routine super easy.
Smell
This product is completely odorless.
Immediate Results
I didn't experience any immediate results with Salt Lake Supplements Vitamin C Serum. For the first week of using this face serum, my skin looked and felt unchanged.
This was a bummer on one hand because I like seeing immediate results with face serums (who doesn't?), but I've also had immediate negative reactions to face serums, such as in the form of an acne breakout, so there's my positive spin to that aspect of it haha.
Long Term Results
After a week or so of using this serum, my skin started to become very dry, to the point that my face felt very tight when I moved it. A few days after that, my skin was peeling because it was so dry, and the fine lines around my eyes were much more noticeable because of how dry and tight my complexion was.
Additionally, I didn't see any anti-aging results whatsoever, which was a bummer and surprising since this serum is meant to be an anti-aging serum.
Price/Value
As far as price is concerned, Salt Lake Supplements Vitamin C Serum is definitely affordable. This is especially the case since you get two fluid ounces of product, whereas most other serums only provide you with one.
Unfortunately, despite the enticing price tag, this product isn't worth the money—at least not in my opinion. It left my skin worse off than when I began using it, and didn't deliver any anti-aging results, so I just ended up being out $20.
Guarantee
Salt Lake Supplements sell their products, including this Vitamin C serum, on third-party websites. For example, I purchased my bottle from Amazon.
Before purchasing from Amazon or any other website, make sure you check their return policy with them directly as each retailer is different.
I recommend that specifically with this face serum since it didn't work for me, so you'll want to make sure you can get your money back if you have a similar experience.
Where To Buy
To purchase Salt Lake Supplements Vitamin C Serum, click here.
Salt Lake Supplements Vitamin C Serum: Summary
| | |
| --- | --- |
| Factor | Salt Lake Supplements Vitamin C Serum |
| Overall Rating | |
| Texture/Feel | Average face serum consistency, and doesn't leave behind any residue at all. Overall, a very comfortable face serum to wear. |
| Application | Apply a dime-size amount to clean, dry skin both morning and night. Once absorbed, apply other products used daily. Very easy to wear underneath makeup. |
| Drying Time | 15 seconds |
| Smell | Odorless |
| Immediate Results | No immediate results |
| Long Term Results | No anti-aging results achieved; very drying for my skin and actually increased the fine lines around my eyes due to the dryness of my face overall |
| Ingredients | Aloe, Vitamin C, Hyaluronic Acid, Witch Hazel, Vitamin E |
| Price | $17.97 |
| Guarantee | Sold on third-party websites so return policy dependent on individual retailers |
| Where To Buy | Click Here |