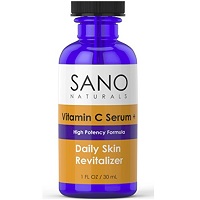 Product Name:  SANO Naturals Vitamin C Serum
Overall Rating: 

Serum Type:  Reparative, Renewing
Size:  1 fl oz
Price:  $6.95
Cost Per Ounce:  $6.95
Where to Buy:  Click Here
# of Ingredients:  15
Notable Ingredients:  Botanical Hyaluronic Acid, Organic Aloe, Organic Jojoba Oil, Wild Geranium, Organic Dandelion
Overall Opinion:
For a face serum that has as many great ingredients in it as SANO Naturals Vitamin C serum has, it's truly confusing how it's as horrible as it is.  Maybe there's something missing from it that would make it a serum that could actually be worn, but everything about the experience of using SANO Naturals screams "Don't put this on your face!"
From the overwhelming, disgusting smell to the inability to use any product on your skin after you've applied this, I'm not sure how this face serum could be a good fit for anyone, regardless of skin type, age, environment, etc.
The cheap price tag is the perfect representation of what you get when you buy this.  SANO Natural Vitamin C Serum is a serum you'll probably find you won't bother using more than once, and is worth skipping altogether.
Detailed Opinion:
Texture/Feel
SANO Naturals Vitamin C Serum has an average serum texture and consistency, and it's easily applied to your face, neck, and chest when you initially apply it.
Once the face serum has dried, however, it's extremely uncomfortable.  It feels very sticky, and not the type of stickiness that would be normal with any skincare product.  It almost feels like you've taken a food item, such as pancake syrup, that shouldn't be applied to your skin and allowed it to dry.
It's also one of those awful experiences where the longer you leave the product on your skin, the more uncomfortable it gets.
Application
To apply SANO Naturals Vitamin C Serum, cleanse, dry, and tone your skin first.  Once your toner has absorbed, apply the serum to your face, neck, and chest.  I found that I needed almost a full syringe of the product to cover all three areas. The serum is also intended to be used daily.
After using any face serum, you should follow with your moisturizer and any other products you may use (acne treatment, eye cream, etc.).  However, this is where you run into major problems with SANO Naturals Vitamin C Serum.  You literally cannot apply anything on top of it.
Not only is it impossible to even spread moisturizer on top of the serum, but when you actually work to rub the other products in, the face serum starts to rub off and clump up into little balls on your face.
I mean it when I say I literally don't know how you wear this serum… you can't apply anything on top, but not using moisturizer with it would be beyond uncomfortable, and probably impact your skin negatively.
So as far as application goes, SANO Naturals Vitamin C Serum is nearly impossible to figure out, and a major fail.
Drying Time
I was shocked at how quickly this face serum dried. Honestly, within 5 seconds of applying it to my skin, it felt dry (albeit sticky) to the touch.
I do normally enjoy a quick dry time because I don't want to wait forever to use my other products, but this was almost too quick—like it was a layer of quick-drying glue I was putting on my face.
Smell
SANO Naturals Vitamin C Serum smells absolutely terrible.  It actually smells like a product you would clean your house with—similar to Windex.
I hated putting this on my skin, and the smell does not go away once the serum dries.  Without applying something over it (or at least attempting to), I would have definitely gotten a headache from the odor— and I am not sensitive to smells at all.
Immediate Results
As I do with every new face serum I try, I used SANO Naturals Vitamin C Serum at night first.  My first thought was how horrible of an experience it was to actually use this face serum—literally every aspect of it.
I was also concerned that none of my other face products would absorb into my skin because of how difficult it was to apply them on top of the serum.
When I woke up the next morning, I didn't see any difference in my skin.
Long Term Results
SANO Naturals Vitamin C Serum didn't deliver any positive results for my skin.  With promises to combat the effects of free radicals, the aging process, sun damage, and pollution, I sure didn't see any results from that protection.
Not only did my skin fail to change for the positive, but I also found that my skin was much drier from using this.  On multiple occasions, I was embarrassed to look in the mirror and see my chin covered in dry, flaky skin.  I also had a lot of redness around my nose and on my chin while using it.
So if anything, SANO Naturals Vitamin C Serum actually harmed my skin rather than helped it in the long term.
Price/Value
I don't care if SANO Naturals Vitamin C face serum was being given away for free—it still wouldn't be worth the money.  From the experience of using it, to the effect it has on your skin, this is a total fail of a face serum.
It is also extremely strange to me that you can buy some products on their website, but not all of them.  That just makes me feel weird about buying anything from SANO Naturals in general.
Overall, this face serum is not worth the money, or the time you spend trying to work it into your skincare routine.
Guarantee
If you look on SANO Naturals website, it says that they have a 100% satisfaction guarantee, and will offer a full refund if you aren't satisfied with your product. However, they only sell three of their products on their website… and this serum is not one of them.
This serum can only be purchased on Amazon, so refund policies are on a case-by-case basis and up to the discretion of Amazon.
Where To Buy
To purchase SANO Naturals Vitamin C Serum, click here.
SANO Naturals Vitamin C Serum: Summary
| | |
| --- | --- |
| Factor | SANO Naturals Vitamin C Serum |
| Overall Rating | |
| Texture/Feel | Average texture and consistency; feels overly sticky and uncomfortable once dried |
| Application | Apply on clean, dry skin daily. Attempt to use moisturizer and other products after (if you're able to) |
| Drying Time | 5 seconds |
| Smell | Very strong, horrible scent; smells like cleaning products |
| Immediate Results | No immediate results besides feeling uncomfortable and doubting whether any other products will sink into your skin |
| Long Term Results | Dry skin, specifically on my chin. Redness and irritation on chin and around nose. No positive effects |
| Ingredients | Botanical Hyaluronic Acid, Organic Aloe, Organic Jojoba Oil, Wild Geranium, Organic Dandelion |
| Price | $6.95 |
| Guarantee | SANO Naturals has 100% satisfaction guarantee but this serum can only be purchased on Amazon. |
| Where To Buy | Click Here |