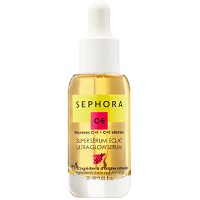 Product Name:  Sephora C+E Ultra Glow Serum
Overall Rating: 

Serum Type:  Skin Brightening
Size:  1.01 fl oz
Price:  $20.00
Cost Per Ounce:  $20.00
Where to Buy:  Click Here
# of Ingredients:  24
Notable Ingredients:  Castor Oil, Glycerin, Sugar Cane Extract, Sunflower Seed Oil, Rosemary Leaf Extract
Overall Opinion:
The more products I use from the Sephora brand, the more I love, and that rings true for Sephora C+E Ultra Glow Serum.
As a skin-brightening serum, I found that the product truly delivered on promised results. After about a week of use, I noticed obvious increased brightness to my complexion, and my skin looked healthier overall. I also feel like the serum helped even out my skin tone by reducing any redness and congestion, as well.
Not only are the results stellar, but this product is also easy to incorporate into your skincare routines, and the price tag won't break the bank.
Aside from the patience required to experience results, this Sephora serum is a total winner if you're looking for an affordable, skin-brightening face serum!
Detailed Opinion:
Texture/Feel
Sephora C+E Ultra Glow Serum definitely has more of an oily nature than the average face serum. However, when you actually apply the product to your skin, it feels like an average face serum.
Once the serum absorbs, it doesn't leave behind any residue at all. I love that for two reasons—first, it makes me feel like the product is actually getting into the deeper layers of my skin, and second, my other products apply much easier on top of it.
Overall, this was a comfortable serum to wear and incorporate into my skincare routines.
Application
The application is very easy. I normally don't like serums that use a dropper, but it actually works really well with this formula since it's a thinner product than most serums.
I found I needed 4-5 drops to fully cover my face and have a little extra to drag down to my neck.
Once the serum absorbed, I layered my other skincare products on top of it. One thing I noticed while using this serum is that my makeup lasted a lot longer than it normally does. So this almost acted like a makeup primer, as well.
All that to say, this was a very easy serum to incorporate into both my daytime and nighttime skincare routine.
Drying Time
Since Sephora C+E Ultra Glow Serum has a more oily consistency pre-application, I was fearful the dry time would be long. However, that wasn't the case!
In just 10-15 seconds post-application, the serum had absorbed entirely into my skin. I love this aspect about this product!
Smell
Sephora C+E Ultra Glow Serum is odorless.
Immediate Results
I used Sephora C+E Ultra Glow Serum at night first, and in all honesty, I felt a little nervous about the product itself. I don't normally do well with products that contain Castor Oil, as this serum does, and it had an oilier feel to it than most other serums I use. With my normal skin tone, oily products aren't always a great fit for me.
When I woke up the next morning, I didn't have any reaction to the serum. There was no increase in skin congestion and my skin felt clean, not dirty as it has with other oil-based products like this.
On the flip side, I also didn't experience any positive immediate results with this serum.
Long Term Results
After about a week of use, I noticed very obvious changes to my skin. Sephora C+E Ultra Glow Serum made my complexion brighter and gave it an overall healthier look.
In addition to the radiant effect it had on my skin, I didn't experience any major skin congestion while using this serum, and saw a decrease in skin redness, as well.
I'm very happy with the results I experienced, and it was well worth the short wait to achieve them!
Price/Value
I absolutely think Sephora C+E Ultra Glow Serum is worth the money. For starters, the serum will last you a long time since you only need a small amount of product each time.
Additionally, it genuinely provides the results it says it's going to deliver, so if you're looking for brighter, more radiant skin, this is an awesome option at an affordable price.
Guarantee
Sephora offers a 30-day money-back guarantee on all lightly used products with proof of purchase. I think this is a reasonable return policy as it gives you plenty of time to see whether this serum is a good fit for your skin type or not.
Where To Buy
To purchase Sephora C+E Ultra Glow Serum, click here.
Sephora C+E Ultra Glow Serum: Summary
| | |
| --- | --- |
| Factor | Sephora C+E Ultra Glow Serum |
| Overall Rating | |
| Texture/Feel | More oily consistency than the average face serum, but feels totally normal once applied. No residue left behind once absorbed |
| Application | Apply 5 drops of serum to clean, dry skin both morning and night. Once absorbed, layer other products on top |
| Drying Time | 10-15 seconds |
| Smell | Odorless |
| Immediate Results | Took a few days before any results became apparent. No negative immediate reaction to the formula |
| Long Term Results | More radiant, clear skin. Definitely delivered skin-brightening results, as promised |
| Ingredients | Castor Oil, Glycerin, Sugar Cane Extract, Sunflower Seed Oil, Rosemary Leaf Extract |
| Price | $20.00 |
| Guarantee | 30-day money back guarantee with proof of purchase |
| Where To Buy | Click Here |