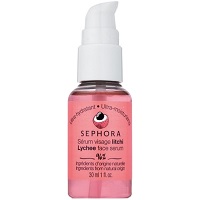 Product Name:  Sephora Lychee Face Serum
Overall Rating: 

Serum Type:  Hydrating
Size:  1 fl oz
Price:  $9.00
Cost Per Ounce:  $9.00
Where to Buy:  Click Here
# of Ingredients:  17
Notable Ingredients:  Glycerin, Lychee Fruit Extract
Overall Opinion:
I'm a big fan of most of Sephora's cosmetic line, so I was intrigued to try out Sephora Lychee Face Serum, my first product from their skincare line.
Overall, I'm super impressed! This hydrating face serum is not only affordable, but it genuinely delivers immediate hydrating results. And after a couple of weeks, I started to see anti-aging benefits, as well.
The serum does have a scent to it, which I found enjoyable, and leaves behind a noticeable residue. However, it's still an easy serum to incorporate into your skincare routines.
I'm happy with how my complexion looks after using this product, and think it's a great, affordable option for anyone looking for a hydrating face serum.
Detailed Opinion:
Texture/Feel
The texture is consistent with an average face serum, so there's not much to report there.
Once the serum dries down, it leaves behind a tacky residue. I was still able to layer my other products on top, and it's overall a comfortable serum to wear, but the residue is definitely noticeable on your skin.
Application
Sephora Lychee Face Serum is super easy to apply. I needed one pump of product to cover my face and neck, so a little goes a long way.
I also made sure to massage the serum into my skin. Once the serum had fully absorbed, I layered my other face products on top of it.
Despite the tacky residue left behind from the serum, it was still easy to apply my other face products, and the serum wore well underneath makeup, too.
This face serum should be used both morning and night, and I found it easy to incorporate into both my skincare routines.
Drying Time
The dry time is about 30 seconds, so pretty average for a face serum.
Smell
Sephora Lychee Face Serum has a slight floral scent to it.  I guess it could smell like lychee but I'm not entirely sure what that smells like!
I really enjoyed the odor. It's very refreshing and natural smelling. It also went away once I layered my other face products on top of the serum.
Immediate Results
I applied this face serum at night first, and I could tell the next morning that this face serum was seriously hydrating.
My skin looked and felt more hydrated, and my complexion had a dewy glow to it. I knew after that first use that I was really going to like this product, especially since I didn't have to wait even 12 hours before seeing results.
Long Term Results
The immediate results I experienced with Sephora Lychee Face Serum continued to increase. My skin looked and felt very hydrated, and I had a dewy, glowing complexion.
After a couple weeks of use, I started to notice some anti-aging results, as well.  There was a decrease in overall puffiness of my face, and in the fine lines on my face, as well.
I'm really happy with how my skin looks and feels after using this serum.
Price/Value
Sephora Lychee Face Serum is absolutely worth the money! Not only is it hydrating, but it also offers unexpected anti-aging benefits, as well.
The results alone make it worth the money, but the price tag is also very affordable, which makes this a great option at a nice price point.
Guarantee
Sephora offers a 60-day money-back guarantee. You can also return any online purchases to any retail store so overall they have a very generous return policy.
Where To Buy
To purchase Sephora Lychee Face Serum, click here.
Sephora Lychee Face Serum: Summary
| | |
| --- | --- |
| Factor | Sephora Lychee Face Serum |
| Overall Rating | |
| Texture/Feel | Average face serum consistency. Sticky residue remains once product has absorbed. Overall comfortable to wear |
| Application | Apply 1 pump of product to clean, dry skin both morning and night. Once absorbed, apply other face products. Wears well underneath makeup |
| Drying Time | 30 seconds |
| Smell | Slight floral scent; very natural smelling and refreshing |
| Immediate Results | Immediately hydrated skin; dewy, glowing complexion |
| Long Term Results | Dewy, hydrated look and feel to skin; decease in skin puffiness and fine lines |
| Ingredients | Glycerin, Lychee Fruit Extract |
| Price | $9.00 |
| Guarantee | 60-day money-back guarantee |
| Where To Buy | Click Here |