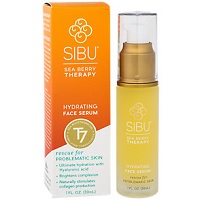 Product Name:  SIBU Sea Berry Therapy Hydrating Face Serum
Overall Rating: 

Serum Type:  Hydrating
Size:  1 fl oz
Price:  $44.95
Cost Per Ounce:  $44.95
Where to Buy:  Click Here
# of Ingredients:  23
Notable Ingredients:  Sea Buckthorn, Orange Peel Oil, Sodium Hyaluronate
Overall Opinion:
SIBU Sea Berry Therapy Hydrating Face Serum may be marketed as a hydrating serum, but what it does for your face is so much more than that.
With acne-clearing abilities anyone with blemishes would crave, and a natural glow that leaves your skin looking younger than before you started the serum, SIBU Sea Berry Therapy is a total winner when it comes to skincare products.
A little goes a long way with this face serum, and you can easily incorporate it into both your daytime and nighttime skincare routine, making it easy for anyone to use.
With a competitive price tag, and results that will leave you glowing, SIBU Sea Berry Therapy Hydrating Face Serum is a total winner.
Detailed Opinion:
Texture/Feel
SIBU Sea Berry Therapy Hydrating Face Serum has a texture of an average face serum—not too thick or watery, and doesn't feel creamy or gel-like like a moisturizer.
Once you've applied SIBU Hydrating Face Serum, it doesn't feel like there is anything on your face.  No sticky or slick residue is left behind.
It feels like most of it has been absorbed, so it doesn't impact how your other products feel on your face once they've been applied afterwards.
Application
Application of SIBU Sea Berry Therapy Hydrating Face Serum is super easy.  For starters, I love that it comes with a pump, especially since one pump of the face serum is all you need to cover your face, so it measures it out perfectly.
SIBU Hydrating Face Serum should be used twice daily, both morning and night, on clean, dry face and neck.  Once the product has been absorbed—which is almost immediately—follow up with your favorite moisturizer.
The only aspect of applying this face product that I found slightly difficult was just how quickly it dries.  It is one of those face serums that sort of feels like it is drying as you are applying it, so you want to make sure you apply it to all areas of your face quickly.
Drying Time
SIBU Sea Berry Therapy Hydrating Face Serum dries almost instantly.  In fact, it slightly complicates application because of how quickly it dries.
I would say that it's dry within 10 seconds of applying it, and there is absolutely no residue or feeling left behind from the serum once it has fully dried.
Smell
There is a very light smell with SIBU Sea Berry Therapy Hydrating Face Serum, but I honestly can't pinpoint exactly what it smells like.  Maybe it's what sea berry smells like and I just have no idea?
It is not overwhelming at all, and it goes away once it's been applied to your face and neck.  The smell is also really refreshing.
Immediate Results
As I do with every new face serum I try, I used SIBU Sea Berry Therapy Hydrating Face Serum at night first.  I initially noticed how it left no residue behind, which I really liked since I use so many other face products on top of my face serum.
The next morning, I immediately noticed how hydrated my skin was.  I definitely saw an added plumpness to my face, which I really liked.
I also noticed that it had started to clear up my acne spots, which I did not expect from a hydrating serum.
I also found that I could use SIBU Sea Berry Therapy under my makeup, which is always an added bonus for me with any face serum since so many of them make your makeup look strange.
Long Term Results
The long term results from using SIBU Sea Berry Therapy were awesome!  The hydrating element of this hydrating serum definitely proved to be true—I didn't experience any dry skin when using it, and I felt like my face was retaining more water in a plump, gorgeous-looking way.
I was most surprised at how well it worked at clearing up my congested skin and acne spots.  After having a baby, my skin has definitely experienced more hormonal breakouts, so any face serum that can help combat that is a winner for me.  SIBU Sea Berry Therapy Hydrating Face Serum cleared up my face completely.
In fact, once I had moved on to trying a new face serum that made my face break out, I returned to SIBU Hydrating Face Serum to help clear up my skin once again.
SIBU Sea Berry Therapy Hydrating Face Serum claims that it increases collagen production.  While that may be true, I don't think I would consider this an anti-aging serum.  I didn't see a difference in those fine lines that I have in certain areas on my face.
Price/Value
At $44.95 for an ounce of product, SIBU Sea Berry Therapy Hydrating Face Serum is definitely worth the money.  It's toward the cheaper end of the spectrum for face serums to begin with, but the results you get are worth more than the money you pay for it.
I definitely think this face serum is worth the money and would be a great fit for anyone with dry or acne-prone skin.
Guarantee
SIBU has a 60-day money-back guarantee on all products.
Where To Buy
To purchase SIBU Sea Berry Therapy Hydrating Face Serum, click here.
SIBU Sea Berry Therapy Hydrating Face Serum: Summary
| | |
| --- | --- |
| Factor | SIBU Sea Berry Therapy Hydrating Face Serum |
| Overall Rating | |
| Texture/Feel | Average face serum texture. Leaves no residue behind. |
| Application | Pump applicator. Use morning and night on face and neck after cleansing. Follow with favorite face moisturizer. |
| Drying Time | 10 seconds |
| Smell | Very light floral smell |
| Immediate Results | Very hydrated skin; noticeable improvement on blemishes on face |
| Long Term Results | Hydrated skin, more plumpness in face, gorgeous glow, decrease in skin breakouts and congestion |
| Ingredients | Sea Buckthorn, Orange Peel Oil, Sodium Hyaluronate |
| Price | $44.95 |
| Guarantee | 60-day money back guarantee |
| Where To Buy | Click Here |