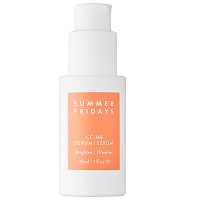 Product Name: Summer Fridays CC Me Serum
Overall Rating:

Serum Type: Skin Brightening
Size: 1 fl oz
Price: $64.00
Cost Per Ounce: $64.00
Where to Buy: Click Here
# of Ingredients: 40
Notable Ingredients: Glycerin, Squalane, Citric Acid, Soybean Oil, Apple and Apricot Extracts, Jasmine Flower, Coffee Seed Extract
Overall Opinion:
I am very impressed with Summer Fridays CC Me Serum, and based on the experience of using it and the results it delivered, I almost gave this product the perfect rating. However, there were two aspects that kept me from doing so.
On the positive side, Summer Fridays CC Me Serum is very easy to incorporate into your skincare routines, has a high-end scent to it, and delivers obvious results in a short period of time! In fact, after just a few days, I saw a major improvement in my skin discoloration and a healthy, gorgeous glow began to appear.
However, on the flip side, I did see an increase in blackheads on my nose, which was frustrating, and the return policy is terrible! You can't return any used products, which seems ridiculous given the price tag.
Overall, I'm really happy with Summer Fridays CC Me Serum and think this would be a great fit for most people looking for a skin-brightening face serum.
Detailed Opinion:
Texture/Feel
The texture of Summer Fridays CC Me Serum is really average, so there aren't any surprises there. However, when I applied the serum to my face, it felt much more like a moisturizer than a face serum.
This was also the case with the residue the face serum left behind. It had much more of a moisturizing feeling than a face serum normally leaves behind. It felt like I had just applied a moisturizer, not a face serum, which I actually really enjoyed.
Additionally, adding a moisturizer on top didn't seem like too much product, so it's not a residue you'll have to worry about in that regard—it's still very easy to layer products on top of.
Application
Summer Fridays CC Me Serum has simple application instructions, but I wouldn't totally listen to what the brand recommends. Of course, apply the serum to clean, dry skin. Summer Fridays only specifies to use it in the morning, but I personally like to use a serum both morning and night, so I chose to do that with this serum, as well, and didn't run into any issues.
Once dry, follow up with your favorite moisturizer and any other face products you use daily, such as sunscreen.
The part of the instructions I wouldn't follow is how much they say to use. I personally felt like a single pump of Summer Fridays CC Me Serum was the perfect amount to cover my face and neck. However, they recommend using a few drops.
I'm not sure how you get drops out of a pump applicator, but even if you could, I don't think that would be an adequate amount of product to cover your skin fully.
Drying Time
The dry time for Summer Fridays CC Me Serum is pretty quick—I would say about 30 seconds.
It may be slightly longer than other face serums because of that moisturizer-like residue it leaves behind, but it definitely doesn't take long before you can apply your other face products on top of the serum.
Smell
I absolutely LOVE the smell of Summer Fridays CC Me Serum. It smells super clean, like you just got out of the shower, and it's very light.
If you're sensitive to odors in your skincare products, you don't need to worry too much about this one. Like I said above, the scent of Summer Fridays CC Me Serum is super light, and it goes away once other products are layered on top.
However, I personally love it and think it smells very high-end.
Immediate Results
Since Summer Fridays CC Me Serum is technically a serum you're supposed to use in your daytime skincare routine alone, I used this in the morning first. It was hard for me to tell that night when I took off my makeup if I saw any true "immediate" results. But it did wear really well under my makeup and didn't impact the wear-time, which was a major bonus for me.
After a few nights of using the serum, however, I saw major changes in my complexion. The skin-brightening aspect was very clear, and I felt like my complexion looked very clear in regards to skin discoloration and redness in sensitive areas on my face.
Summer Fridays CC Me Serum was a serum I knew very early on was going to deliver impressive results.
Long Term Results
I absolutely love my complexion after using Summer Fridays CC Me Serum. I actually feel more confident now without wearing liquid foundation than I have in a long time, which is saying a lot for me!
This face serum genuinely delivered on the results it said it would provide. My complexion had a beautiful glow to it, and much of my skin discoloration from sun damage or redness from skin irritation went away completely. My face also looked really hydrated and healthy, which is huge in these dry, winter months.
One negative aspect I experienced was an increase in blackheads on my nose. I am very prone to blackheads, so this might not be the experience everyone has, but I wanted to make sure to point that out as it is part of the reason this didn't get 5/5 stars.
Price/Value
While Summer Fridays CC Me Serum is definitely a more expensive face serum than many others on the market, the price tag is a bit easier to swallow because of the results the product delivers.
However, a major issue for me is the return policy. I'll go into that more below, but you can't return this product after you use it, so this is an expensive risk to take if the serum doesn't work out for your skin.
And while this was a great fit for my skin, that might not be the case for everyone, so it's a little tricky to give a clear answer on whether the price tag is a fair one for this face serum.
Guarantee
I'm so bummed by the return policy Summer Fridays has for their products. You have 30-days to return your purchase for your money back, but the product must be unopened and unused.
I think this is totally inappropriate for any brand, but especially when the serum costs as much as Summer Fridays CC Me Serum does, this makes me super annoyed. This also led to me marking down this face serum on the star system.
Where To Buy
To purchase Summer Fridays CC Me Serum, click here.
Summer Fridays CC Me Serum: Summary
| | |
| --- | --- |
| Factor | Summer Fridays CC Me Serum |
| Overall Rating | |
| Texture/Feel | Average face serum consistency. However, it feels more like a moisturizer than a serum when applied, and the residue feels like that, as well. Very comfortable to wear. |
| Application | Apply a single pump to clean, dry skin both morning and night (different directions than brand instructs). Layer other products on top once serum has absorbed. |
| Drying Time | 30 seconds |
| Smell | Very good scent—light and fresh. Goes away once other products are layered on top. |
| Immediate Results | Saw results after just a few days—skin appeared to have a healthy glow, and any skin discoloration had disappeared completely. |
| Long Term Results | Amazing results—gorgeous glow to my complexion. Skin looked and felt hydrated and healthy, and all redness and other skin discoloration were gone completely. Did increase blackheads on my nose, however. |
| Ingredients | Glycerin, Squalane, Citric Acid, Soybean Oil, Apple and Apricot Extracts, Jasmine Flower, Coffee Seed Extract |
| Price | $64.00 |
| Guarantee | 30-day money-back guarantee on unopened, unused product. Terrible return policy |
| Where To Buy | Click Here |