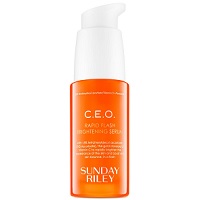 Product Name: Sunday Riley C.E.O. Rapid Flash Brightening Serum
Overall Rating:

Serum Type: Skin Brightening
Size: 1 fl oz
Price: $85.00
Cost Per Ounce: $85.00
Where to Buy: Click Here
# of Ingredients: 22
Notable Ingredients: Jojoba Esters, Beeswax, Glycolic Acid, Tangerine Peel Oil, Sweet Orange Oil
Overall Opinion:
Does Sunday Riley Rapid Flash Brightening Serum actually brighten your skin? Yep, absolutely. Is it worth the hype surrounding it? Heck no.
My skin absolutely looked radiant and healthy after using this face serum, and for that reason, it's definitely a winner! However, it's more expensive than many face serums on the market, and it's a difficult product to incorporate into your daily skincare routines.
The product itself is very thick, doesn't wear well under your makeup, and Sunday Riley wants you to use double the amount of product you actually need to thoroughly cover your entire face.
By no means is Sunday Riley Rapid Flash Brightening Serum a flop. At the end of the day, it really does what it says it will do for your skin! However, it's just not a major winner in the brightening category of skin serums for many other reasons.
Detailed Opinion:
Texture/Feel
Sunday Riley Rapid Flash Brightening Serum has a very thick consistency. It actually has a texture and appearance identical to most face moisturizers, so that should tell you just how thick it is!
Once I applied it to my face, it felt like a moisturizer should feel, not like most face serums feel. It also leaves behind a pretty greasy residue, which made applying other products on top easy, but didn't do me any favors as far as how greasy my skin looked. Yikes!
Application
In some ways, applying Sunday Riley Rapid Flash Brightening Serum is super easy—at least according to the instructions. It says to apply two pumps of the serum to clean skin, both morning and night. Easy enough, right?
For starters, two pumps are WAAAAYYYY too much product. Even one pump felt like a lot! This to me seemed like a scam. They want you to waste a ton of product, so you go through the bottle faster. Call me a conspiracy theorist but I have no idea who would need that much product.
Also, the serum is so similar to a face moisturizer that applying a moisturizer on top of the serum, even when I just used one pump of product, felt super thick and overwhelming on my skin. I just felt like I had a ton of product on my face, which wasn't comfortable for me.
It didn't specifically instruct to use a moisturizer after, but that's always what I do with a face serum, so I stuck with that while using Sunday Riley Rapid Brightening Serum, too.
Drying Time
Since Sunday Riley Rapid Flash Brightening Serum is so thick, it took forever to dry. It was at least 60 seconds, if not longer, before I felt like it had absorbed enough to apply my other products. And even then, they applied so easily because of the slick feeling on my skin that I'm not even sure how absorbed it really was.
Smell
I absolutely love the smell of Sunday Riley Rapid Flash Brightening Serum! The Tangerine Peel Oil and Sweet Orange Oil in the ingredients totally come through and give off the most delicious, sweet citrus smell. I really loved it!
The odor definitely isn't overpowering, and it makes you feel like you're in a spa. Once you apply other products on top, the smell doesn't linger, which made me sad but is a bonus for anyone who doesn't like scents in their skincare products!
Immediate Results
As I do with every new face serum I try, I used Sunday Riley Rapid Flash Brightening Serum at night first. I followed the directions for the first application and quickly realized that two pumps of face serum were way too much! So I wasted a lot of serum that first night. My initial observation was how thick the serum was too, which was pretty strange.
The next morning, I didn't see any changes to my skin—good or bad. I didn't have any breakouts or skin irritation, which is always a bonus!
When I applied it in the morning, I made sure to only use one pump, which was still a lot of product, but much more manageable and allowed me to drag some serum down my neck. What I noticed throughout the day was how terribly this face serum wears under makeup! I was so much greasier all over my face, not just in my T-zone, from using this serum, which was super disappointing.
Long Term Results
After about 10 days of using Sunday Riley Rapid Flash Brightening Serum both morning and night, I began to see results. My skin definitely looked more radiant, and I could see a gorgeous healthy, youthful glow to my skin.
I found that my skin looked really beautiful without using any foundation, which is always my goal when it comes to any skincare product I'm using! Any skin discoloration I had was gone, as well, and my skin tone was very even. They were undeniable results!
Other than the youthful glow to my skin, I didn't experience any firmness or plumping that Sunday Riley advertised with this face serum, so I definitely think it's a skin brightening serum, not an anti-aging serum.
Price/Value
Sunday Riley Rapid Flash Brightening Serum is $85.00 for one ounce, so it's definitely more expensive than many face serums on the market, skin brightening or otherwise. While it does deliver on its skin brightening claims, it has a lot of other aspects about it that make it difficult to wear and incorporate into your daily life.
For that reason, I don't think this serum is worth the money! There are plenty of other skin brightening serums available at a cheaper price point that work just as well and can be worn under makeup and with a moisturizer without that cakey feeling. This is one to skip, in my opinion!
Guarantee
Sunday Riley products are sold through third-party retailers, such as Sephora and Amazon. For return policies on this serum, reach out to your chosen retailer directly.
Where To Buy
To purchase Sunday Riley Rapid Flash Brightening Serum, click here.
Sunday Riley Rapid Flash Brightening Serum: Summary
| | |
| --- | --- |
| Factor | Sunday Riley Rapid Flash Brightening Serum |
| Overall Rating | |
| Texture/Feel | Looks and feels identical to a face moisturizer, not a face serum. Once you apply it to your skin, it's very moisturizing and leaves behind a greasy residue. |
| Application | Apply one pump (not two as directed) to clean skin both morning and night. I applied moisturizer once the serum had absorbed, which felt like a ton of product. |
| Drying Time | 60 seconds or longer |
| Smell | Delicious sweet, citrus smell. Not overpowering and goes away when other products are layered on top. |
| Immediate Results | No obvious immediate results, but had difficulty wearing it under makeup (very greasy face). Did not cause any skin breakouts or irritations despite thickness of products on my face. |
| Long Term Results | Radiant, youthful glow to skin. Evened out skin tone and skin looked beautiful without foundation. No anti-aging benefits as advertised. |
| Ingredients | Jojoba Esters, Beeswax, Glycolic Acid, Tangerine Peel Oil, Sweet Orange Oil |
| Price | $85.00 |
| Guarantee | Return policy dependent on third-party retailers where product is sold |
| Where To Buy | Click Here |