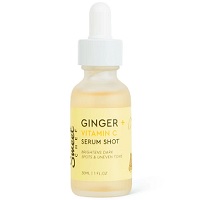 Product Name:  Sweet Chef Ginger + Vitamin C Serum Shot
Overall Rating: 

Serum Type:  Skin Brightening
Size:  1 fl oz
Price:  $20.00
Cost Per Ounce:  $20.00
Where to Buy:  Click Here
# of Ingredients:  23
Notable Ingredients:  Glycerin, Ginger Root Extract, Red Algae Extract, Turmeric Root Extract, Sugarcane
Overall Opinion:
When it comes to Sweet Chef Ginger + Vitamin C Serum Shot, the great aspects about it are stellar, and the bad aspects about it are terrible.  So giving it an average rating is really the best way to do it justice.
On the positive side, I really loved the scent of the face serum, and it truly delivers on the skin-brightening results it promises.  Additionally, Sweet Chef is a brand you want to give your money to because of their awesome customer service and return policy.
However, on the flip side, this serum shot is a very difficult serum to incorporate into your skincare routines as it leaves behind an overwhelming, tacky residue, which makes layering other products and wearing it under makeup very difficult.  It also doesn't deliver on its promise to even out skin tone, unfortunately, and takes longer than average to see results.
Overall, this may be a face serum that works well for some people, and the skin-brightening results are undeniable.  But there are definitely better face serums available that are easier to work with.
Detailed Opinion:
Texture/Feel
Sweet Chef Ginger + Vitamin C Serum Shot has an average face serum consistency.  However, that's why the residue it leaves behind is so surprising!
Once the serum has absorbed into your face, it leaves behind such a strong, tacky residue.  It took a long time to absorb into my face, and once it did, it was really tricky to layer my other products on top of because of the intense residue it leaves behind.
This aspect of the face serum played a role in my rating because it made it difficult to use during the day and just wasn't a very comfortable face serum to wear.
Application
While the application instructions are mostly straightforward, I'm definitely not a fan of the applicator itself.  Though the consistency of the serum is very average, the dropper applicator was almost impossible to work with.
No matter how much product I got into the syringe, I could never get out a pea-size amount, which was super annoying.  Sweet Chef also doesn't specify how much product to use, but I found that a pea size was the perfect amount to cover my face.
Other than that, there aren't any surprises with the application instructions.  Simply cleanse and tone your face, allow your skin to fully dry, and apply the serum.  Once absorbed, layer your moisturizer and any other face products you use daily.
As I stated above, layering the products was pretty tricky since a very tacky residue is left behind post-application, so I found this to be a harder face serum to use during the day.
At night, I don't care too much if my skin looks oily or looks like I have a bunch of product on my face, but I do care about that during the day when I'm wearing makeup.  So this was a hard serum to incorporate into my daytime skincare routine.
Drying Time
The dry time for Sweet Chef Ginger + Vitamin C Serum Shot takes longer than average, about 60 seconds.
This surprised me at first since it isn't an overly thick serum.  However, it does leave behind an extremely tacky residue, so that might be why the dry time is as long as it is.  And as I mentioned above, it was pretty difficult to layer my other face products on top of, even after waiting a full 60 seconds.
Smell
Sweet Chef Ginger + Vitamin C Serum Shot has a very nice scent, in my opinion, but it wasn't the scent I was expecting!  Since ginger is in the name of the product, I was expecting a ginger scent, but that isn't the case.
Instead, the serum smells much more floral, which I really enjoyed.  It isn't too overpowering and it dissipates once you apply other products on top, which is nice.  However, I felt that it had a nice high-end scent to it, similar to products you might encounter in a nice spa.
Immediate Results
I didn't experience any immediate results with Sweet Chef Ginger + Vitamin C Serum Shot.  My skin didn't react poorly to the serum when I first began using it, but it took longer than most serums before I saw any real change to my skin.
Additionally, I had to get used to how the serum felt on my skin.  While the consistency isn't thick, it leaves behind a very tacky residue that made layering my moisturizer and other face products on top of difficult, leaving me with the feeling of having a lot of product on my face.  So that was definitely an adjustment.
Long Term Results
After a few weeks of using Sweet Chef Ginger + Vitamin C Serum Shot both morning and night, I started to see an increase in skin brightness on my complexion.  The longer I used this serum the better my skin looked in this department, so the skin-brightening aspect of this face serum is undeniable.
The serum also promised to even out skin tone, which wasn't a result I personally experienced.  My dark spots remained just as dark, and I continued to have discoloration in the areas I normally struggle with it.  So unfortunately, I don't think the serum delivered on that aspect of its promised results.
However, given the fact that it's a skin-brightening serum, not an anti-aging serum, I'm pretty happy with the results I achieved.  I just wish I had seen them a little quicker!
Price/Value
While I may have given Sweet Chef Ginger + Vitamin C Serum Shot an average star rating, I do believe that it's worth the money.  For starters, it's only $20, which I think is very reasonable for a face serum.
Secondly, it did deliver on some of the results it promised.  I may not have achieved perfectly even skin tone, but the increase of skin brightness for my complexion was undeniable.  So if that's something you're looking to achieve (hence purchasing a skin-brightening serum), I definitely think it's worth the money.
Guarantee
I'm really impressed with Sweet Chef's return policy.  Not only do they offer a 30-day money-back guarantee, but they also send you the shipping label to send it back to them, so they even cover the return shipping.  I think that's pretty rare for any brand, so this brand has great customer service, in my opinion.
This doesn't apply to this face serum, but I did want to mention that Sweet Chef doesn't accept returns on single-use products.  This totally makes sense to me, but I wanted to mention it in case you end up loving Sweet Chef Ginger + Vitamin C Serum Shot and want to try other products from their line.
Where To Buy
To purchase Sweet Chef Ginger + Vitamin C Serum Shot, click here.
Sweet Chef Ginger + Vitamin C Serum Shot: Summary
| | |
| --- | --- |
| Factor | Sweet Chef Ginger + Vitamin C Serum Shot |
| Overall Rating | |
| Texture/Feel | Average face serum consistency that leaves behind a very strong, tacky residue. It actually made it difficult to layer other products on top of because of how tacky the residue is. Overall, uncomfortable serum to wear |
| Application | Apply pea-size amount of serum to face post-cleansing and toning. Once absorbed, layer moisturizer and other products on top. Difficult dropper applicator to work with, unfortunately |
| Drying Time | 60 seconds |
| Smell | Surprisingly no ginger scent; smells more floral than anything. Not an overpowering scent and smells like a product in a high-end spa. Dissipates once other products are applied on top |
| Immediate Results | No immediate results; definitely a serum that took longer to achieve results |
| Long Term Results | Slight increase in overall skin brightness but no improvement with evening out dark spots or skin tone |
| Ingredients | Glycerin, Ginger Root Extract, Red Algae Extract, Turmeric Root Extract, Sugarcane |
| Price | $20.00 |
| Guarantee | 30-day money-back guarantee EXCEPT single-use products (does not apply to this serum); free return shipping, as well |
| Where To Buy | Click Here |