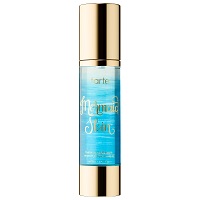 Product Name: Tarte Mermaid Skin Serum
Overall Rating:

Serum Type: Hydrating Serum
Size: 1.7 fl oz
Price: $42.00
Cost Per Ounce: $24.70
Where to Buy: Click Here
# of Ingredients: 9
Notable Ingredients: Hyaluronic Acid, Vitamin B5, Algae and Marine Extracts, Glycerin
Overall Opinion:
When I first looked at the ingredient list for Tarte Mermaid Skin Serum, I was shocked to find that it only had 9 ingredients. I don't think I've ever used a serum with that few ingredients, so I was really intrigued to see how it would perform. Additionally, I'm a big fan of many of the products in their makeup line, so I was optimistic about how their skincare line would stack up.
Unfortunately, as a hydrating serum, or really any type of serum period, Tarte Mermaid Skin Serum was a letdown. I found it really difficult to incorporate into my daily skincare routine, and the instructions provided by Tarte proved to be really confusing.
Most importantly, I didn't experience any positive skincare results, and actually found that the congestion in my skin increased while using this serum. I was simply more self-conscious about my complexion while using this serum than when I've used other serums. So for that reason, I recommend finding a different hydrating serum if you're looking for that.
Detailed Opinion:
Texture/Feel
The texture of Tarte Mermaid Skin Serum itself is pretty straightforward. It feels and looks like most other face serums on the market. However, the residue it leaves behind on your skin is so strange.
Since it's a hydrating serum, many of those leave behind an oily residue, or the feeling of a light moisturizer instead of a serum. Tarte Mermaid Skin Serum is almost the exact opposite. It's very sticky, and once it's absorbed into your skin, it makes your face and neck feel extremely uncomfortable. It almost felt like I'd left a facemask on for too long.
This strange feeling on your face and neck doesn't go away when you apply other face products either. I had to use way more moisturizer than normal for my face to feel like it could move normally.
Application
The application for Tarte Mermaid Skin Serum is a little confusing. Personally, I chose to use it both morning and night after I had cleansed and dried my skin. However, the instructions provided by Tarte say to "apply a generous amount to face and neck as often as you'd like for instant hydration."
I totally disagree with these instructions. The serum didn't provide my skin with instant hydration (or any hydration) at all, and I have no idea why you'd apply a serum sporadically throughout the day?
Tarte also recommends that if you have oily skin, you can use Mermaid Skin alone. I have normal skin, but I can't imagine how this could replace a moisturizer for any skin type. I actually found I needed way more moisturizer than normal for my face and neck to feel remotely normal. So I chose to use it and then layer my other face products on top of it, which is how I would recommend using the serum.
So overall, I think these are really confusing instructions. One positive, however, is that this face serum wears easily under makeup, which I always appreciate!
Drying Time
Tarte Mermaid Skin Serum has an extremely fast dry time—maybe the fastest I've ever used. Within 5-10 seconds of applying it, my face started to feel extremely sticky and tight, and was difficult to even move my skin.
Smell
Tarte Mermaid Skin Serum is completely odorless.
Immediate Results
As I do with almost every new face serum I try, I used Tarte Mermaid Skin Serum at night first. My initial thoughts were how uncomfortable the serum was to wear, even after I had applied a generous amount of moisturizer.
The next morning, my skin looked and felt exactly the same.
When I applied the serum in my morning skincare routine, I was happy to see that it didn't impact the wear of my makeup, which is always a bonus in my book!
Long Term Results
Unfortunately, there's not much to report when it comes to the long term results I achieved with Tarte Mermaid Skin. While this promises to be a hydrating serum, it didn't provide me with any of the expected benefits of a hydrating serum. Additionally, I didn't see any other positive changes to my face either, which is a definite bummer.
While the serum didn't cause me to break out, per se, I did see an increase in skin congestion in the form of black heads on my nose and small white bumps around my mouth. They never turned into actual zits, but I just felt a little more self-conscious about my complexion while using Tarte Mermaid Skin Serum.
So overall, I'm really unimpressed with how this serum performed, and found it to be difficult to work into my daily skincare routines.
Price/Value
I don't think that Tarte Mermaid Skin Serum is worth the money. While the price tag isn't outrageous, especially when compared to what their cosmetics sell for, I just don't think anything that doesn't provide real results is worth spending even a penny on.
Also, as I've stated throughout this review, it was a really difficult serum to work into my daily skincare routines, which is always a big turnoff for me.
Guarantee
Tarte offers a 30-day money-back guarantee on all purchases. This is a pretty standard return policy for skincare companies, so I think it's completely fair.
Where To Buy
To purchase Tarte Mermaid Skin Serum, click here.
Tarte Mermaid Skin Serum: Summary
| | |
| --- | --- |
| Factor | Tarte Mermaid Skin Serum |
| Overall Rating | |
| Texture/Feel | Average face serum consistency. Almost immediately after application, it makes your skin and neck feel very sticky and difficult to move. Uncomfortable serum to wear overall |
| Application | Apply a generous amount on clean, dry skin both morning and night (how I chose to use it). Didn't follow the instructions provided by Tarte as they were very confusing and unrealistic. Make sure to use a lot of moisturizer after application, as well |
| Drying Time | 5-10 seconds |
| Smell | Odorless |
| Immediate Results | No immediate results—skin looked exactly the same. I did like how the serum wore under makeup, however |
| Long Term Results | No positive results, hydrating or otherwise. Increased skin congestion in the form of blackheads on nose and small white bumps around mouth |
| Ingredients | Hyaluronic Acid, Vitamin B5, Algae and Marine Extracts, Glycerin |
| Price | $42.00 |
| Guarantee | 30-day money-back guarantee |
| Where To Buy | Click Here |