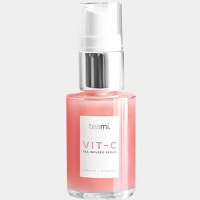 Product Name:  Teami Vit-C Tea Infused Serum
Overall Rating: 

Serum Type:  Hydrating
Size:  1 fl oz
Price:  $44.99
Cost Per Ounce:  $44.99
Where to Buy:  Click Here
# of Ingredients:  22
Notable Ingredients:  Vitamin C, Hyaluronic Acid, Organic Aloe, Collagen Protein, Green Tea, Witch Hazel, Vitamin E
Overall Opinion:
Nothing about Teami Vit-C Tea Infused Serum led me to believe that I'd have such a negative experience with the product itself.  And yet, sadly, that's exactly the kind of experience I had.
The ingredients seem rock solid, containing everything from Hyaluronic Acid and Vitamin C, to Collagen Protein and Organic Green Tea.  The residue the serum leaves behind isn't overpowering, and the product is actually quite comfortable to wear.  However, within 12 hours of applying it, I had a massive breakout all over my face.
If the nasty breakout I experienced wasn't reason enough to avoid using this face serum, I'm also out $50 because Teami doesn't accept any returns on used products.
Overall, I'm super disappointed in both this brand and face serum specifically, and don't recommend it to anyone.
Detailed Opinion:
Texture/Feel
The texture of Teami Vit-C Tea Infused Serum is pretty straightforward and feels like an average face serum.  Once you apply the serum to your skin and it's absorbed, the residue it leaves behind is very mild.
You can tell you have something on your face, but it isn't slick or tacky.  In fact, this was a very comfortable face serum to wear and was easy to apply my other face products on top of.
Application
Teami Vit-C Tea Infused Serum is really easy to apply.  The instructions say to use 1-3 pumps, and I found that two pumps was the perfect amount.
This serum should be used both morning and night on clean, dry skin.  Once it's absorbed into your face and neck, apply any other face products you use daily, such as sunscreen and moisturizer.
Normally in this section I comment on whether the face serum can be worn easily under makeup or not, but I wasn't able to use this product long enough to find out.  However, based on the lack of residue it leaves behind, I don't think you'll run into this problem if you choose to use the serum.
Drying Time
I really liked how quickly it dried!  Within 15 seconds of applying it, it's completely absorbed, which makes incorporating it into your skincare routine super easy.
Smell
Teami Vit-C Tea Infused Serum has a really interesting smell.  The "tea-infused" aspect of the face serum really comes through here as it has an odor similar to tea.
I'm not sure if the scent is good or bad—it's just really unique!  However, regardless of how you feel about the odor, it goes away once it absorbs into your skin, so you don't have to deal with it for long.
Immediate Results
As I do with almost every new face serum I try, I used Teami Vit-C Tea Infused Serum at night first.  My initial thoughts were all positive—it didn't impact the layering of my other face products, it absorbed quickly, and the residue it left behind was really comfortable.
That's why I was so surprised when I woke up the next morning to a terrible breakout.  I had blemishes in locations on my face I never break out, and I had horrible skin congestion everywhere.  This serum might do an amazing job at hydrating your skin, but I had a terrible reaction.
Long Term Results
After my initial breakout, I chose to discontinue using Teami Vit-C Tea Infused Serum.  Slowly, my skin has started to clear up and the skin congestion has decreased.
Unfortunately, for that reason, I have no idea what the long-term results are with this this product.  It's not worth it to me to use a face serum, even if it's super hydrating, that's going to make me break out terribly.
Price/Value
Teami Vit-C Tea Infused Serum is definitely not worth the money!  The product not only gave me a nasty breakout, but it definitely isn't cheap either.  And after trying a zillion hydrating face serums, I can say with confidence that there are plenty of more affordable hydrating serums on the market.
Additionally, as you'll see below, you can't return the product after using it, so if you have a similar experience as I did, you're out almost $50.
Guarantee
Teami offers a 30-day money-back guarantee.  However, there are two catches.  First, it's 30 days after the purchasing date, not when you receive the product.  This is important to note because they make it clear on their website that they won't issue any refunds after that date.
Second, the product must be unopened and unused.  So this return policy is awful, in my opinion.  How in the world are you supposed to know if a product works for your skin if you aren't allowed to open it?  Aside from my terrible breakout, this would be another reason to avoid this face serum, in my opinion.
Where To Buy
To purchase Teami Vit-C Tea Infused Serum, click here.
Teami Vit-C Tea Infused Serum: Summary
| | |
| --- | --- |
| Factor | Teami Vit-C Tea Infused Serum |
| Overall Rating | |
| Texture/Feel | Average face serum consistency; once absorbed into your skin, it barely leaves behind a residue. It's very comfortable to wear |
| Application | Apply two pumps daily to clean, dry skin. Once absorbed, apply other face products used daily |
| Drying Time | 15 seconds |
| Smell | Tea-like scent—not good or bad. A very unique odor that goes away once absorbed into your skin |
| Immediate Results | Terrible breakout the next morning after application—blemishes in spots I rarely get zits, and major congestion all over my face |
| Long Term Results | I didn't use the serum long enough to achieve long-term results due to my initial breakout |
| Ingredients | Vitamin C, Hyaluronic Acid, Organic Aloe, Collagen Protein, Green Tea, Witch Hazel, Vitamin E |
| Price | $44.99 |
| Guarantee | 30-day money-back guarantee but there are two catches |
| Where To Buy | Click Here |