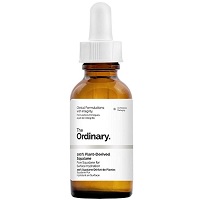 Product Name: The Ordinary 100% Plant-Derived Squalane
Overall Rating:

Serum Type: Hydrating
Size: 1 fl oz
Price: $7.90
Cost Per Ounce: $7.90
Where to Buy: Click Here
# of Ingredients: 1
Notable Ingredients: Squalane
Overall Opinion:
If you're like me, then reading the ingredient list for The Ordinary 100% Plant-Derived Squalane is bound to confuse you. With one simple ingredient I know nothing about—squalane—I had no idea what to expect when I started trying this face serum. After just a single use, I was totally sold! (And I still have no idea what squalane is.)
If hydration is your main skincare goal, or if you're simply looking for a dewy, plump complexion, this face serum is a great option. Not to mention, it's insanely affordable and only requires a small amount of product each day. Partner all of that with the brand's amazing return policy, and this serum is a total slam-dunk.
Unfortunately, the oily nature of The Ordinary 100% Plant-Derived Squalane makes it nearly impossible to wear under makeup and is harder to pull off in the hotter summer months. However, if you have dry skin to begin with or aren't one to wear face makeup, then definitely give this serum a try!
Detailed Opinion:
Texture/Feel
The texture of The Ordinary 100% Plant-Derived Squalane is exactly what you would expect it to be—oily. It's a very thin consistency, and when applied to your face and neck, it leaves behind an oily, sheen residue.
Surprisingly, the oily residue left behind isn't uncomfortable. You can definitely tell you have an oil on your face, but the residue itself isn't overpowering.
Application
The application for The Ordinary 100% Plant-Derived Squalane is relatively simple. Apply 3-4 drops to clean, dry skin both morning and night. I personally found it difficult to use this serum during the day as it made my makeup look really caked on and my foundation was separating in different parts on my face. This could also be because I'm using it during the summer, which is hard to pull off with an oily serum in general.
I don't think the serum fully absorbs into your skin—at least not in a timely manner to apply your other face products—but after about a minute, apply any other face products you use daily.
I was pleasantly surprised that the oily residue didn't impact the application of my other products. Normally my moisturizer is sliding all over the place, but it was actually really easy to layer on top of the serum.
Drying Time
As I mentioned above, I don't think The Ordinary 100% Plant-Derived Squalane actually has a dry time. It may be absorbed the next morning, but it's not "dry" in the amount of time you would normally wait before applying other products. And in all fairness, the instructions don't say you have to wait to layer other products on top of the serum—that's just how I prefer to do it.
With that being said, after about 60 seconds post-application, the residue is significantly less oily, so that's when I chose to apply my other face products!
Smell
The Ordinary 100% Plant-Derived Squalane is completely odorless.
Immediate Results
As I do with almost every new face serum I try, I used The Ordinary 100% Plant-Derived Squalane at night first. I was a little worried about how oily it was, but was pleasantly surprised at how easy it was to layer my other products on top of.
The next morning, I was really surprised at how my skin looked! I had a dewy glow to my skin, and I could even see an increase in the plumpness on my inner cheeks. Overall, I was really impressed at how quickly I saw results.
Unfortunately, when I used the serum the next morning, I quickly found out that this isn't a product I can wear under makeup. My makeup looked really caked on and my foundation was separating in different places on my face. This was definitely a bummer but not that surprising given how oily the face serum is.
Long Term Results
The initial results I achieved with The Ordinary 100% Plant-Derived Squalane only continued as I used the serum more. And I only used it once a day if I was wearing makeup, so I think that speaks to its effectiveness, as well.
I didn't experience any dry skin while using this face serum, and my complexion had a very pretty, dewy glow to it. I also saw an increase in plumpness, specifically on my cheeks and around my eyes, which gave me a youthful appearance.
Overall, I'm really impressed with the results and think the serum does exactly what it says it's going to do. Clearly squalane (whatever that is) does a great job at hydrating skin!
Price/Value
All of the products from The Ordinary are extremely affordable, and for the Hydrators & Oils serum specifically, you only have to use a very small amount daily to achieve results, so the bottle will last you a long time.
This face serum is absolutely worth the money! It delivers actual results immediately, and leaves you with a gorgeous, dewy complexion. This is a great option for a hydrating face serum that doesn't break the bank.
Guarantee
The Ordinary has an amazing return policy, especially given how affordable their prices are to begin with. They offer a 365-day full refund policy, which entirely eliminates the risk of trying any of their products. I find this very impressive!
Where To Buy
To purchase The Ordinary 100% Plant-Derived Squalane, click here.
The Ordinary 100% Plant-Derived Squalane: Summary
| | |
| --- | --- |
| Factor | The Ordinary 100% Plant-Derived Squalane |
| Overall Rating | |
| Texture/Feel | Very oily consistency; leaves behind an oily sheen to your face that never quite absorbs into your skin |
| Application | Apply 3-4 drops to cleansed, dry skin both morning and night. Difficult to wear under makeup due to oily nature of the serum. Apply other face products after a minute or so |
| Drying Time | 60+ seconds |
| Smell | Odorless |
| Immediate Results | Immediately saw an increase in hydration of skin—very dewy complexion the next morning |
| Long Term Results | Impressive hydrating results. I didn't experience any dry skin while using the serum, and my face had a dewy glow to it. Skin also looked and felt plump while using the product. |
| Ingredients | Squalane |
| Price | $7.90 |
| Guarantee | 365-day full refund return policy—extremely impressive |
| Where To Buy | Click Here |