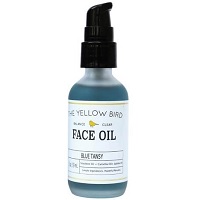 Product Name: The Yellow Bird Blue Tansy Face Oil
Overall Rating:

Serum Type: Acne-fighting; Hydrating
Size: 2 fl oz
Price: $22.00
Cost Per Ounce: $11.00
Where to Buy: Click Here
# of Ingredients: 12
Notable Ingredients: Jojoba Oil, Milk Thistle, Tea Tree and Lavender Essential Oils, Extra Virgin Olive Oil
Overall Opinion:
The Yellow Bird Blue Tansy Face Oil might be the most confusing face serum-type product I've ever used. For starters, the last thing I thought an extremely oily face product would do is clear up my skin, but that's exactly what it did. I actually didn't have a single blemish while using this, and found that my overall complexion (in regards to redness and skin discoloration) looked amazing.
Weirdly enough, I also found that this face oil didn't make my makeup look nasty either, which was a major shock. I will say that this is a more difficult serum to incorporate into your daily skincare routine, however. It has a very strong scent, which I personally disliked, and it takes FOREVER to sink into your skin enough to apply other products.
The results you achieve with The Yellow Bird Blue Tansy Face Oil are undeniable, but you'll have to be willing to add quite a bit of length to your daytime and nighttime skincare routine. However, if you're looking to clear up unwanted blemishes or redness, this is definitely a product to consider!
Detailed Opinion:
Texture/Feel
When The Yellow Bird labeled this face product as Blue Tansy Face Oil, they were being extremely literal. The texture of it is exactly what you would expect oil to feel like. I guess that's not surprising since one of the ingredients is olive oil, but that's exactly how it feels when you apply it to your face and neck.
Not only does this product feel oily when you apply it, but it looks extremely oily, too, even when using a small amount of product. You can tell that the product gradually absorbs into your skin, but even minutes after application, it still leaves behind a very oily residue. Once you apply your other products, the oiliness still remains, but dissipates completely after about 10 minutes or so.
Application
Whenever I've used any other face oil, it's been the final step of my skincare routine. With The Yellow Bird Blue Tansy Face Oil, they instruct to cleanse and tone your skin, and immediately apply the face oil to damp skin. Even though it was a foreign concept to me, I followed through on the directions as stated.
One aspect I definitely didn't listen to, however, was the number of pumps it says to use. The Yellow Bird directs using 1-3 pumps, which would be WAY too much product. All you need is a single pump to thoroughly cover your face and neck, so make sure you don't go crazy when dispelling the product.
Sadly, you have to wait a long time before applying your other face products. They say 1-3 minutes, and I found that to be pretty accurate. My other face products definitely slide on more easily because of the oily residue of Blue Tansy Face Oil, but after about 10 minutes, everything seemed to absorb as it normally does.
One aspect of this face product that really surprised me is its ability to be worn under makeup. Normally adding any sort of oily product to my skincare routine during the day is a total disaster for my makeup game, but that wasn't the case here!
Drying Time
The dry time for The Yellow Bird Blue Tansy Face Oil is forever. Okay, maybe not literally but it genuinely took at least 2 minutes before the oil was absorbed enough to apply my moisturizer and other face products.
I found this to be super annoying. I guess I didn't expect otherwise with face oil, but I hated having to wait that long to get ready for bed or get my skin prepped for my makeup. So this was definitely a negative for me as far as this product is concerned.
Smell
I absolutely hate the smell of The Yellow Bird Blue Tansy Face Oil. I'm actually pretty surprised because it has such delicious-smelling ingredients in it, such as lavender essential oil and tea tree oil. However, it smells like cough medicine to me, which is not what I'm looking for in a face product.
The other downside to the odor is how strong it is. Holy smokes! It literally took my breath away when I first applied it, so be prepared. It takes a long time for the scent to go away, too. I would say about as long as it takes for it to completely dry (10 minutes). If you're sensitive to scents in your products, definitely watch out for that aspect of Blue Tansy Face Oil.
Immediate Results
Truthfully, The Yellow Bird Blue Tansy Face Oil made me really nervous when I first applied it. It took me out of my comfort zone with application, and the scent made me a little wary. However, the next morning, I had a feeling that I may actually like this face product after all.
After just one use, I could see a total calming effect on my face. Any redness I had was completely gone, and my skin just looked healthier when I woke up. So there are definitely immediate results to witness with this product!
Long Term Results
I'm really impressed with the long-term results I achieved with The Yellow Bird Blue Tansy Face Oil. I didn't have many blemishes on my face when I started using this face serum, but since I'm pregnant, my skin is constantly throwing me surprises. However, during the entire time I used this face oil, I didn't have a single zit. That is insanely impressive to me!
Additionally, this totally cleared up my complexion. Any redness I had on my face was gone, and it genuinely made a noticeable difference in my skin discoloration. I actually went and got my makeup done after using this face product for two weeks, and the makeup artist commented on how even and beautiful my skin tone was. Major score!
If you have acne or struggle with skin redness, this product definitely does what it says it's going to do, and I for one am really impressed at both the results I achieved and how quickly I achieved them.
Price/Value
The Yellow Bird Blue Tansy Face Oil is absolutely worth the money! First, you get a ton of product for a very affordable price point, and very little product is needed twice daily.
Beyond that, this product actually does what it says it's going to do. Achieving the results of clearing up acne and eliminating skin discoloration is worth $20 any day of the week, in my opinion.
Guarantee
The Yellow Bird offers a 30-day money-back guarantee with proof of purchase. Since I saw results within two weeks of using this face oil, I think this is a very fair return policy, and comparable to most other skincare brands.
Where To Buy
To purchase The Yellow Bird Blue Tansy Face Oil, click here.
The Yellow Bird Blue Tansy Face Oil: Summary
| | |
| --- | --- |
| Factor | The Yellow Bird Blue Tansy Face Oil |
| Overall Rating | |
| Texture/Feel | Very oily—feels like you're applying olive oil to your skin. Leaves behind an oily residue and sheen look to your face and neck |
| Application | Apply one pump to cleansed and toned skin both morning and night. Use on damp skin and wait until product has begun to absorb before applying other face products |
| Drying Time | 1-3 minutes |
| Smell | Very strong, nasty scent—smells like cough medicine and does not go away for a long time |
| Immediate Results | Immediately took away skin redness and quickly showed signs of clearing up complexion completely |
| Long Term Results | Zero blemishes, and very clear complexion (no redness or skin discoloration) |
| Ingredients | Jojoba Oil, Milk Thistle, Tea Tree and Lavender Essential Oils, Extra Virgin Olive Oil |
| Price | $22.00 |
| Guarantee | 30-day money-back guarantee with proof of purchase |
| Where To Buy | Click Here |