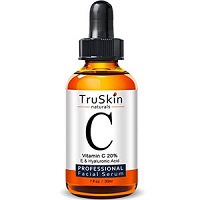 Product Name:  TruSkin Naturals Vitamin C Serum
Overall Rating: 

Serum Type:  Anti-aging
Size:  1 fl oz
Price:  $19.99 or $89.99
Cost Per Ounce:  $19.99 or $89.99
Where to Buy:  Click Here
# of Ingredients:  16
Notable Ingredients:  Hyaluronic Acid, Sodium Ascorbyl Phosphate (Vitamin C), Organic Aloe Barbadensis Leaf
Overall Opinion:
TruSkin Naturals Vitamin C Serum gets a lot of hype on Amazon, but I'm not sure it's warranted.
While it's advertised as an anti-aging face serum, I actually think it falls more in the category of skin-brightening face serums.  Or, at least, that's how my skin reacted to this face serum.
I like the fact that they supposedly use all-natural ingredients, and sell their products on Amazon.  However, there's a ton of differing information on their website, which makes me a little hesitant to use their products or trust how they market them.
Application is relatively simple, but I opted to use the product a bit differently than directed.  It says to wait 1-2 minutes for the serum to dry, but that made for a very uncomfortable feeling on my face, so I applied my other products on top of it sooner than that.
I didn't see any difference in fine lines or wrinkles, or any additional plumpness to my face.
However, I did notice some lightening of my sun and age spots, and saw an increase in skin brightness overall.
I ended up giving this 2 out of 5 stars.  It did produce some results, but they weren't enough to make up for some of the irritation with both the product and the irregular pricing.
Detailed Opinion:
Texture/Feel
TruSkin Vitamin C Serum is thicker than a lot of other serums on the market.
It doesn't have the consistency of a face moisturizer, but it's definitely thicker than many other face serums I've tried.
If you leave the face serum on your skin for a long period of time without applying a moisturizer on top of it, the serum becomes super uncomfortable to wear.
It made my skin so tight that it actually felt like I had applied glue on my face and neck.
Application
To apply TruSkin Natural Vitamin C Serum, begin my cleansing and toning your face.
The instructions then say to apply a small amount of the serum to your face, neck, and décolleté.  Since a small amount means something different to everyone, I used an entire syringe full to cover all of those areas.
Once you've applied a thin layer, it says to wait 1-2 minutes before applying anything else on top.
Since that made for a super uncomfortable feeling on my skin, I only waited 30 seconds before applying my other skin products on top.  Once I did that, the serum was super comfortable to wear.
Drying Time
If you go off of what the packaging says, the drying time for TruSkin Naturals Vitamin C serum is 1-2 minutes.
However, my skin felt so tight and sticky.  It almost felt like the product wasn't sinking in at all.
I think it's mostly dry after 30 seconds, which is when I chose to add my other face products on top of the serum.
Smell
TruSkin Naturals Vitamin C face serum is odorless, which is perfect for anyone who is sensitive to strong scents in their skincare products.
Immediate Results
With TruSkin Naturals Vitamin C Serum, I actually experienced some skin brightness.
I applied the face serum at night first, and the next morning, I felt like my skin was brighter, especially in my T-zone area, oddly enough.
The immediate results I experienced only happened on my face, however.  I didn't notice any change on my neck or décolleté.
Long Term Results
The skin brightness I experienced initially continued while using the product.  This made my skin feel nice, and gave it a hydrated (but not plump) look.
Oddly enough, the serum doesn't market that it will brighten your skin, so I was really surprised by this result both initially and long term.
As I used TruSkin Naturals Vitamin C face serum longer, I saw a some changes in my sun and age spots.  While none of them totally disappeared, they diminished enough that I barely noticed them myself, which is saying a lot.
Price/Value
The price of TruSkin Naturals Vitamin C face serum is super confusing.
It says on their official website that the product costs $89.99.  Then it provides a link for customers to purchase the product directly on Amazon.
On Amazon, the product costs $19.99.  So, I'm not totally sure what the actual price is supposed to be, but you can buy it for $19.99.
The discrepancies in price, along with some other things on the website, make me a little hesitant to believe everything the product claims.
However, the skin brightness and changes in my sun and age spots make the serum worth the $19.99 you can pay for it.  I would not spend $89.99 on it, though.
Guarantee
TruSkin Naturals is sold through Amazon, so returns are on a case-by-case basis.
Where To Buy
To purchase TruSkin Naturals Vitamin C Serum, click here.
TruSkin Naturals Vitamin C Serum: Summary
| | |
| --- | --- |
| Factor | TruSkin Naturals Vitamin C Serum |
| Overall Rating | |
| Texture/Feel | Thicker serum, feels very sticky on face until other products are applied on top |
| Application | After cleansing and toning face, apply a small amount to face, neck, and décolleté. Wait 1-2 minutes before applying other products. |
| Drying Time | 30 seconds |
| Smell | No odor |
| Immediate Results | Noticeable increase in skin brightness, specifically in T-zone area on face |
| Long Term Results | Increase in skin brightness, decrease in sun and age spots, more hydrated-looking skin |
| Ingredients | Hyaluronic Acid, Sodium Ascorbyl Phosphate (Vitamin C), Organic Aloe Barbadensis Leaf |
| Price | $19.99 |
| Guarantee | TruSkin Naturals products are sold on Amazon, so returns are on a case-by-case basis through Amazon. |
| Where To Buy | Click Here |