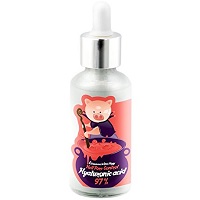 Product Name:  Witch Piggy Hell Pore Control
Overall Rating: 

Serum Type:  Anti-aging, Skin Brightening
Size:  1.69 fl oz
Price:  $9.30
Cost Per Ounce:  $5.50
Where to Buy:  Click Here
# of Ingredients:  10
Notable Ingredients:  Sodium Hyaluronate, Hydrogenated Castor Oil
Overall Opinion:
Nearly everything about Witch Piggy Hell Pore Control face serum is as weird as the actual name of the face serum.  From an extremely thick texture and horrible feeling on your skin, to the downright fact that is does NOTHING for your skin, this face serum is beyond puzzling.
With the price tag as low as it is, especially compared to the amount of product you receive, and with promises to minimize pores and brighten your skin, every single part of me wanted to love this face serum.  Unfortunately, the results don't warrant anyone loving this face serum, and the experience of actually using it is totally uncomfortable.
Witch Piggy Hell Pore Control fails to control, or improve, any aspect of your skin, and is definitely one you can pass on when shopping for your perfect serum.
Detailed Opinion:
Texture/Feel
Witch Piggy Hell Pore Control face serum may just be the thickest face serum I have ever used.  Honestly, everything about the texture feels like it shouldn't be applied to your skin, but should instead be used as some sort of glue substance.
It almost has the thickness and consistency of hot glue (minus the hot part, obviously), and it feels BEYOND sticky when applied to your face.  I actually found applying it to be super difficult since it almost went on like a face mask that dries down to be peeled off later.  Except you can't peel this horrible feeling off.
The longer I left the face serum on my skin, the more uncomfortable it became.  It felt like it was suffocating my skin, and creating a glue-like barrier that wasn't going to let any other products touch my skin.
Application
If you've read any of my other face serum reviews, then you already know I hate when serums have droppers for their applicators.  This is exactly what Witch Piggy Hell Pore Control face serum has.
The directions state to apply 2-3 drops of the serum around "rough and dull areas".  First, 2-3 drops of this serum was a TON of product.  Probably because the drops were massive due to how thick the face serum is.
Second, I was confused if I was supposed to apply this to my whole face or what?  It specifically says not to apply near your eyes, which is probably because it is so sticky and tightening that you wouldn't be able to even blink if the serum dried around your eyes.
I opted to use it on my entire face and neck, avoiding the eye area.  After you've rubbed it into your skin, you're supposed to lightly tap the face serum into your face and neck to help it absorb.
Once I had done that, I applied my other face products on top, which I truly don't think even touched my skin because of the barrier the face serum had created.
Drying Time
It's hard to really decipher when Witch Piggy Hell Pore Control face serum actually dries.  As I explained earlier, the longer I wore this face serum, the more uncomfortable it became.
I would say that I do actually think tapping my fingers on my skin, as directed, helped the serum to absorb and dry faster.  Around 15 seconds is when I started to feel uncomfortable, so that is likely when it was considered "dry".
Smell
Witch Piggy Hell Pore Control has a very light fragrance to it.  When I applied it initially, it really appeared more odorless than anything else, but when I actually sniffed the bottle (I know, I'm weird), you can smell a very slight floral perfume smell to it.
Unless you're planning on sniffing the bottle like I did, or you are beyond sensitive to smells, I think this is mostly odorless.
Immediate Results
As I do with every new face serum I try, I used Witch Piggy Hell Pore Control face serum at night first.  I will admit, I was overly excited to try this serum.  I have massive pores on my inner cheeks, so I'm a sucker for anything that promises to help diminish those.
After I applied it, my first thought was how uncomfortable the serum was… and how the discomfort was only growing.  There was part of me that really wanted to wash it off, but if it was going to minimize my pores…well then, beauty is pain.
When I woke up the next morning, I didn't notice any difference in my skin.  There weren't any breakouts either, so that's always good! But no improvements were visible.
Long Term Results
Witch Piggy Hell Pore Control delivers zero results.  It promised to minimize pores, brighten skin, and reduce wrinkles.  Except none of that happened.
I even used this serum both morning and night, despite how uncomfortable it was, and I saw absolutely zero change in my skin. This face serum was a major disappointment.
Price/Value
No matter how cheap a face serum is, or any product for that matter, it is never worth the money if it doesn't do what it claims to do, or at least deliver some sort of positive results.
Witch Piggy Hell Pore Control face serum is a total waste of money and time.  You'll be putting up with a lot of discomfort for absolutely no results.
This is, without a doubt, not a serum that anyone should invest even a cent into.
Guarantee
Products sold on Amazon are on a case-by-case basis as far as returns and money-back guarantees.
Where To Buy
To purchase Witch Piggy Hell Pore Control, click here.
Witch Piggy Hell Pore Control: Summary
| | |
| --- | --- |
| Factor | Witch Piggy Hell Pore Control |
| Overall Rating | |
| Texture/Feel | Extremely thick, similar to hot glue. Feels like a peel-off mask when you rub it in. Extremely uncomfortable |
| Application | Apply 2-3 drops on "rough and dull areas". Avoid eye area. Tap fingers lightly on skin to help absorb product |
| Drying Time | 15 seconds |
| Smell | Slight perfume smell, very minor |
| Immediate Results | Extremely uncomfortable to wear, didn't allow other face products to absorb |
| Long Term Results | No long term results at all—no skin brightening, smaller pores, or less wrinkles |
| Ingredients | Sodium Hyaluronate, Hydrogenated Castor Oil |
| Price | $9.30 |
| Guarantee | Products sold on Amazon are on a case-by-case basis for returns. |
| Where To Buy | Click Here |