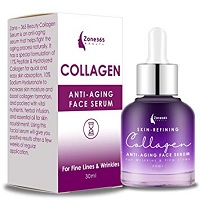 Product Name:  Zone 365 Beauty Collagen Serum
Overall Rating: 

Serum Type:  Anti-aging
Size:  1 fl oz
Price:  $16.45
Cost Per Ounce:  $16.45
Where to Buy:  Click Here
# of Ingredients:  19
Notable Ingredients:  Sea Kelp, Glycerin, Hydrolyzed Collagen
Overall Opinion:
It's no surprise that Zone 365 Beauty Collagen Serum is completely sold out on their website, and currently unavailable on Amazon. This anti-aging serum is a total win, and delivers undeniable results in a matter of days.
Nearly everything is straightforward when it comes to this product. The application, lack of residue and odor, and the results achieved are exactly what you would expect from an awesome face serum. However, the price tag that comes with it is totally unexpected.
This face serum is extremely affordable, which gives you just another reason to love this product. And with an increase in skin firmness and elasticity, and a decrease in fine lines and wrinkles, I'd be willing to pay much more for this product.
Whether you're specifically looking for anti-aging results, or simply want a gorgeous, glowing complexion, this product is without a doubt a serum to consider!
Detailed Opinion:
Texture/Feel
Zone 365 Beauty Collagen Serum has a thinner consistency than the average face serum, but it's still super easy to apply.
When applied to your skin, it has a watery feel to it, which is probably why it doesn't leave behind any sort of residue. While most serums have an oily or tacky residue they leave behind, this face serum doesn't leave behind any texture at all.
The lack of residue made it super easy to layer my other face products on top of, and made it seamless to wear underneath makeup, which is always a win in my book.
Application
The application for Zone 365 Beauty Collagen Serum is pretty straightforward, but I didn't apply it exactly as the instructions said. The way I used the serum was to apply a pea-size amount on clean, dry skin both morning and night. Once absorbed, I layered my other products that I use daily on top.
The only real difference between how I applied this face serum and how they recommend applying it is that they say to apply it on damp skin, which made no sense to me.
I think this is how other Zone 365 serums I've trialed before recommended applying it, and while I've tried previously to follow that part of the instructions, it definitely didn't work, so I just decided to skip trying it with this serum altogether.
Drying Time
The dry time is really fast, which I love! After about 15 seconds, it had completely absorbed into my face.  And since there's really no residue left behind once absorbed, it's pretty obvious when that occurs.
I love this aspect of the product because it made incorporating it into my morning and nighttime skincare routine super easy.
Smell
Zone 365 Beauty Collagen Serum is completely odorless.
Immediate Results
After just a few days of using Zone 365 Beauty Collagen Serum, I saw a big transformation in my complexion. From an appearance standpoint, my skin looked radiant and super healthy.
However, my skin also felt better, too.  It felt hydrated, plump, and more elastic, which was very impressive. Most of the time my skin will look great but feel the same, but this serum seemed to work on a deeper level very quickly.
Long Term Results
After a couple weeks of using Zone 365 Beauty Collagen Serum, I was absolutely thrilled with my complexion. This serum genuinely delivers on the results it says you're going to achieve.
Building on the results I had achieved within the first few days, I saw a major increase in the firmness and plumpness of my skin, and a significant decrease in the fine lines and wrinkles on my face.
Overall, my skin just looked and felt amazing, and the results gave me the confidence to go about my day makeup-free, which is something to be said about the results!
Price/Value
Zone 365 Beauty Collagen Serum is absolutely worth the money! This product worked so well for me, and I love how my complexion looked after using it.
Additionally, this face serum is super affordable, and I'd personally be willing to pay way more for it based on the results I achieved. So in my opinion, this serum is a total steal!
Guarantee
Zone 365 Beauty doesn't mention any money-back guarantee on their website. In fact, there isn't much information period on their website, which is really weird.
If you want to contact them about returning a product, you can use the online form on their website. Thankfully, their products aren't expensive because the website definitely doesn't give me confidence that you'll actually get any money back if not satisfied.
Where To Buy
To purchase Zone 365 Beauty Collagen Serum, click here.
Zone 365 Beauty Collagen Serum: Summary
| | |
| --- | --- |
| Factor | Zone 365 Beauty Collagen Serum |
| Overall Rating | |
| Texture/Feel | Thinner consistency than the average face serum but still easy to apply. Leaves behind almost no residue, which is super nice |
| Application | Apply pea-size amount on clean, dry skin both morning and night. Once absorbed, apply moisturizer and other face products used daily. Easy to wear underneath makeup and layer other products on top of |
| Drying Time | 15 seconds |
| Smell | Odorless |
| Immediate Results | Skin looked radiant and healthier; complexion felt very plump and hydrated |
| Long Term Results | Amazing anti-aging results—noticeable increase in skin plumpness and firmness, and decrease in fine lines and wrinkles. Gorgeous complexion after just a couple weeks of using the serum |
| Ingredients | Sea Kelp, Glycerin, Hydrolyzed Collagen |
| Price | $16.45 |
| Guarantee | No guarantee listed on their website; only way to contact them is through a form online |
| Where To Buy | Click Here |