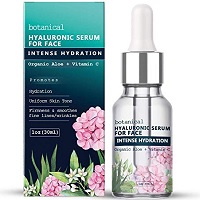 Product Name:  Zone 365 Botanical Hyaluronic Serum For Face
Overall Rating: 

Serum Type:  Hydrating
Size:  1 fl oz
Price:  $19.99
Cost Per Ounce:  $19.99
Where to Buy:  Click Here
# of Ingredients:  16
Notable Ingredients:  Botanical Hyaluronic Acid, Vitamin C, Organic Aloe, Organic Jojoba Oil, Witch Hazel
Overall Opinion:
I wish I had more positive things to say about Zone 365 Botanical Hyaluronic Serum, but unfortunately, this serum was kind of a disaster for me.
The instructions the brand provides for application are very confusing and didn't work for me.  And even when I applied the product the way I do with every other face serum, I ended up experiencing pretty awful results.  While my skin was unchanged for the first couple of weeks, things took a major turn for the worse after that.
I ended up with dry skin, acne spots, and major skin discoloration, all of which I'm still working to clear up after discontinuing the use of the serum.
All of that, mixed with strange website content that left me with reason not to fully trust the brand, led me to giving this a really low rating.
While you may not have as extreme of a reaction as I did, I recommend trying out a different hydrating face serum instead.
Detailed Opinion:
Texture/Feel
The texture of Zone 365 Botanical Hyaluronic Serum is average as far as the consistency, so there aren't any surprises there. Additionally, the dropper applicator worked really well with the consistency of the serum and I was able to get out the right amount needed each time, which I enjoyed.
However, the feeling of the serum as I applied it was much different than other face serums I've tried.  It seems very water-based, which might make sense since it's a hydrating face serum, but it made it a little difficult to rub into my skin to have it absorb.
Once the serum did absorb, it left behind a comfortable residue.  It was a bit tacky, but didn't make layering my other products on top of it difficult.
Application
Zone 365 Botanical Hyaluronic Serum has the strangest application instructions.  And in full transparency, I didn't use it the way they directed because when I tried, it made no sense at all.
The way the brand recommends applying the product is to apply it on damp skin, and use half the dropper to cover your face and neck.  I couldn't get the serum to stick to my face at all when my skin was wet, and half of the dropper was A TON of product.
So the way I ended up using the serum was the way I use almost every other face serum.  I applied a pea-size amount on clean, dry skin both morning and night.  Zone 365 didn't specify to use it both morning and night, but I like to incorporate a serum into both my daytime and nighttime skincare routine.
I found it super difficult to wear this serum underneath my makeup, which is a bit weird since it doesn't leave behind much of a residue.  However, I think it's because a waxy residue built up on my skin over time (more on that later).
Drying Time
The dry time for Zone 365 Botanical Hyaluronic Serum is super quick—I would say about 10-15 seconds.
It's almost difficult to apply because it dries as you're applying it, but if you move quickly, you should be able to cover your face and neck within that short timeframe.
Smell
For the most part, Zone 365 Botanical Hyaluronic Serum doesn't have a smell.  However, if I'm being super specific, it does smell a bit like bubbles.
The odor isn't very strong and isn't an unpleasant smell either.  And even if it does bother you a little bit, the scent goes away once the product absorbs into your skin, so you only have to experience it for about 10 seconds.
Like I said above, however, the smell is super minor so you might not even notice it unless you sniff the open bottle directly.
Immediate Results
I didn't experience any immediate results.  For the first week or so, my skin looked virtually unchanged, so I didn't see any positive or negative changes.
Long Term Results
Zone 365 Botanical Hyaluronic Serum had horrible long-term results for me.  For starters, this is supposed to be a hydrating face serum, and instead, I had absolutely terrible dry skin on my chin and around my nose.  The skin specifically on my chin is so chapped that it's red and painful to even put moisturizer on.
Additionally, the longer I used Zone 365 Botanical Hyaluronic Serum, the worse my skin looked.  It's almost like a waxy film was building up on my skin that I couldn't wash off, and my other skin products, such as my acne cream and moisturizer, couldn't break through the film to actually help my skin.  I just looked like I had a dirty complexion, which is super unfortunate.
I also had a major increase in blackheads, acne spots on random locations on my face, and I saw an increase in skin discoloration.  None of these are results I would ever want, so after three weeks, I completely stopped using Zone 365 Botanical Hyaluronic Serum.  And over a week later, my skin is still recovering.
Price/Value
While Zone 365 Botanical Hyaluronic Serum is very affordable, it's definitely not worth the money, in my opinion.  For me personally, I had a terrible experience with the serum itself, so that's a major reason why it's not worth $20.
The other big issue for me is their website.  It makes me feel like this isn't a trustworthy brand since they have two different websites, the copy on the website doesn't make any sense or offer any real information, and they have a lot of stock photography.
As I mention below, you can purchase the product from third-party websites, such as Amazon, which I would recommend given their strange website situation.  Make sure you double-check the return policy for wherever you purchase Zone 365 Botanical Hyaluronic Serum, though, since you may have a terrible outcome like I did.
Guarantee
Zone 365 doesn't list any sort of guarantee on their website.  Truthfully, their entire website is extremely weird, so I wasn't too surprised that they didn't list that information.  The website listed on their packaging is also different than the website you can actually purchase the product from, which is very strange.
I wouldn't trust the 'Contact Us' form on their website, so if you're serious about trying Zone 365 Botanical Hyaluronic Serum, I recommend purchasing it through Amazon and dealing with them for returns and whatnot.
Where To Buy
To purchase Zone 365 Botanical Hyaluronic Serum, click here.
Zone 365 Botanical Hyaluronic Serum: Summary
| | |
| --- | --- |
| Factor | Zone 365 Botanical Hyaluronic Serum |
| Overall Rating | |
| Texture/Feel | Average face serum consistency, but it feels a bit strange when applied. It definitely feels more water-based than other serums. Leaves behind a comfortable residue—only slightly tacky but easy to layer products on top of. |
| Application | Apply a pea-size amount to clean, dry skin both morning and night. Difficult to wear underneath makeup, so daytime use was challenging. Apply moisturizer and other products once serum has absorbed. (Different instructions than brand recommends) |
| Drying Time | 15 seconds |
| Smell | Smells like bubbles—not necessarily bad, and not overpowering, but a slight scent to it. Odor dissipates once absorbed. |
| Immediate Results | No immediate results |
| Long Term Results | The longer I used it, the worse my skin looked. It began to look waxy and feel like a layer of product was built up. My skin became drier and discoloration increase. Hated how my skin looked after a few weeks. |
| Ingredients | Botanical Hyaluronic Acid, Vitamin C, Organic Aloe, Organic Jojoba Oil, Witch Hazel |
| Price | $19.99 |
| Guarantee | No guarantee mentioned on their website; can also purchase product on third-party website such as Amazon and deal with their return policy instead |
| Where To Buy | Click Here |