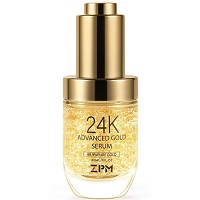 Product Name:  ZPM 24K Advanced Gold Serum
Overall Rating: 

Serum Type:  Anti-aging
Size:  1 fl oz
Price:  $14.99
Cost Per Ounce:  $14.99
Where to Buy:  Click Here
# of Ingredients:  18
Notable Ingredients:  Hyaluronic Acid, Coconut Oil, Rosehip Oil, Hydrolyzed Collagen, Gold
Overall Opinion:
When it comes to the wide range of face serums available today, ZPM 24K Advanced Gold Serum falls somewhere in the middle.
On the plus side, the price tag is very affordable, and it's simple to incorporate into both your daytime and nighttime skincare routines. And when it's all said and done, I found much of my skin discoloration, including my sun and age spots, had decreased significantly.
However, this serum also proved to be very drying for me, which really overtook the positive results I did achieve. Additionally, it took a few weeks before I even saw results, so patience is definitely a virtue here.
I think if you have oily skin, this could be an affordable, worthwhile anti-aging product for you. But for the most part, this serum is simply just average.
Detailed Opinion:
Texture/Feel
ZPM 24K Advanced Gold Serum has an average face serum consistency, so nothing noteworthy. However, there are gold flakes in the serum, which is really interesting.
I was curious if I would see a shimmer to my skin, or even random clumps of gold on my face when I applied it, but that wasn't the case.
Once the serum absorbed into my face and neck, it left behind a mild, tacky residue. It didn't impact the feel or ability to layer my other daily skincare products on top of it, so it's very comfortable overall.
Application
The application is fairly easy. My only real complaint is the applicator this serum comes with. I'm not a fan of dropper applicators in general, but this specific one is very difficult to work with.
The instructions say to use 3-4 drops, but it's nearly impossible to get out actual drops with this applicator. Instead, I found that a pea-size amount of product was the perfect amount to cover my face and neck.
Besides that, everything else about the application is simple. Apply the serum to clean, dry skin both morning and night. Once absorbed, layer other face products on top.
This serum was also really easy to wear underneath makeup, which is a major pro for me! Overall, this was seamless to work into my daytime and nighttime skincare routines.
Drying Time
The dry time is about 30 seconds, so pretty average.
Smell
ZPM 24K Advanced Gold Serum has an obvious perfume scent to it when you first apply it to your face. This could definitely be problematic for anyone who is sensitive to odors in their skincare products.
The good news is that the scent does go away once the serum absorbs into your skin, so you don't have to worry about it lingering too long post-application.
Immediate Results
Compared to other anti-aging face serums I've trialed, ZPM 24K Advanced Gold Serum took longer to show noticeable changes.
For that reason, I didn't experience any immediate results. However, I also didn't have any breakouts or skin irritation upon first using it, so that's always a bonus for me!
Long Term Results
I'm pretty torn on the long-term results I achieved with ZPM 24K Advanced Gold Serum.
On one hand, I saw a noticeable difference in skin discoloration, specifically in my sun and age spots. Whenever those start to diminish, I feel much more confident in my complexion. So that aspect of it was impressive, and was definitely inline with their anti-aging descriptor.
However, I am someone with a normal skin type, and I found this product to be really drying. I had flaking skin around my nose, chin, and all along my jawline. Regardless of the clear complexion I achieved, the dry skin really took away from the appearance of my skin.
So I think this could be great for someone with oily skin, but it's a harder product to use otherwise.
Price/Value
If you have a more oily skin type, I think ZPM 24K Advanced Gold Serum is worth the money! You may not achieve all of the anti-aging results you hoped for, but I think the results you do achieve reflect the affordable price of the product.
However, if you have dry or even normal skin, this probably wouldn't be worth the money. I personally think dry skin completely ruins the look of any complexion, even if you've achieved other results, and that's definitely what will happen with this serum if you have one of those skin types.
Guarantee
ZPM 24K Advanced Gold Serum is sold on third-party websites, such as Amazon.
The return policy is dependent on each individual retailer, so make sure you check before purchasing this product.
Where To Buy
To purchase ZPM 24K Advanced Gold Serum, click here.
ZPM 24K Advanced Gold Serum: Summary
| | |
| --- | --- |
| Factor | ZPM 24K Advanced Gold Serum |
| Overall Rating | |
| Texture/Feel | Average face serum consistency, but does have gold specks in it. Once absorbed, it leaves behind a slightly tacky residue. |
| Application | Apply a pea-size amount on clean, dry skin both morning and night. Once absorbed, layer other products on top. |
| Drying Time | 30 seconds |
| Smell | Perfume-like fragrance; goes away once absorbed into skin |
| Immediate Results | No immediate results |
| Long Term Results | Decrease in skin discoloration, specifically sun and age spots. Also experienced dry skin all over my face, which was a bummer. |
| Ingredients | Hyaluronic Acid, Coconut Oil, Rosehip Oil, Hydrolyzed Collagen, Gold |
| Price | $14.99 |
| Guarantee | Sold on third-party websites such as Amazon. Return policy differs for individual retailers. |
| Where To Buy | Click Here |